Guests on Sunday Talk Shows: Ukrainian President Volodymyr Zelensky will be on '60 Minutes'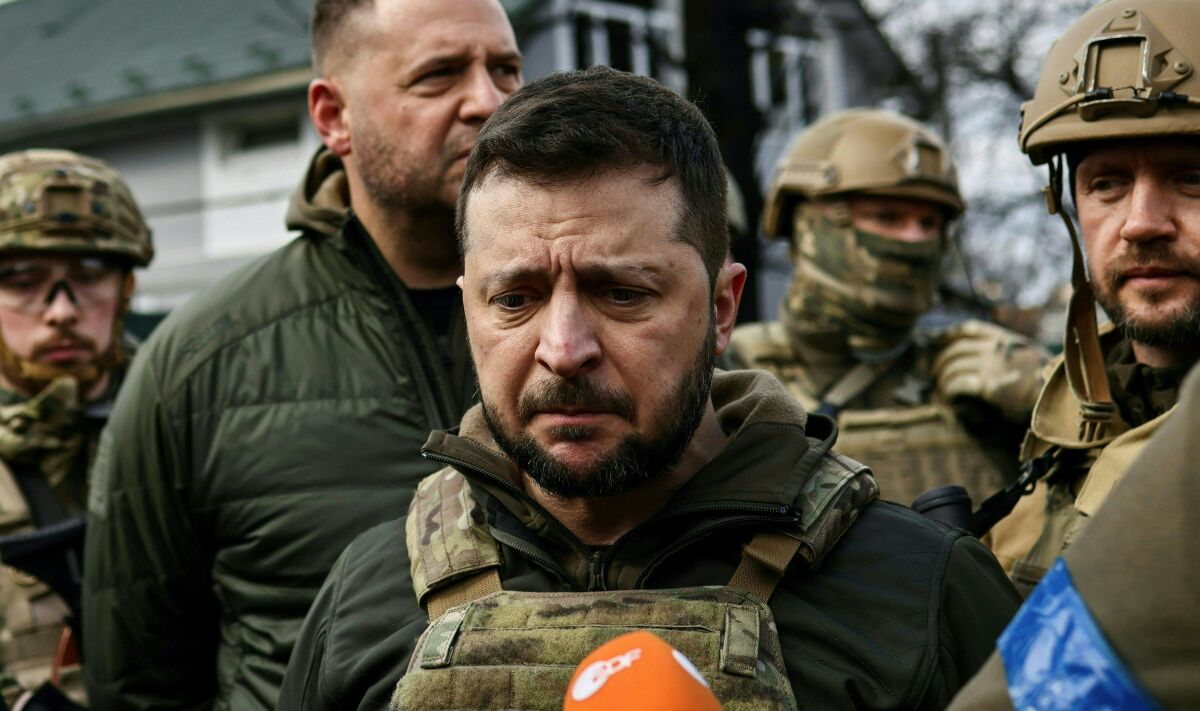 The prime-time TV grid is on hiatus in print. You can find more TV coverage at: latimes.com/whats-on-tv.
CBS News Sunday Morning (N) 6 a.m. KCBS; 10 a.m. KCAL
Good Morning America (N) 6 a.m. KABC
State of the Union Rep. Liz Cheney (R-Wyo.); Ursula von der Leyen, president of the European Commission; Justin Trudeau, prime minister of Canada; Hugh Evans, Global Citizen; former CIA director David Petraeus. (N) 6 and 9 a.m. CNN
Fareed Zakaria GPS Russia and accusations of war crimes: Former British Prime Minister Gordon Brown. How Russians see the war in Ukraine: Masha Gessen, the New Yorker. Europe buying Russian energy: Author Meghan O'Sullivan ("Windfall: How the New Energy Abundance Upends Global Politics and Strengthens America's Power "). (N) 7 and 10 a.m. CNN
Sunday Morning Futures With Maria Bartiromo Rep. Jim Jordan (R-Ohio); U.S. Senate candidate Herschel Walker (R-Ga.); House Minority Leader Rep. Kevin McCarthy (R-Bakersfield); U.S. House candidate Cory Mills (R-Fla.). (N) 7 a.m. and noon Fox News
The Sunday Show With Jonathan Capehart Pierre-Richard Prosper, former U.S. ambassador-at-large to the U.N. for war crimes; Labor Secretary Marty Walsh; Mayor Eric Adams (D-N.Y.). (N) 7 a.m. MSNBC
Face the Nation National Security Advisor Jake Sullivan; Oksana Markarova, Ukraine's ambassador to the U.S.; former FDA commissioner Scott Gottlieb; former Secretary of Homeland Security Jeh Johnson; Loretta Mester, Federal Reserve Bank of Cleveland. (N) 7:30 a.m. and Monday, 3 a.m. KCBS
Meet the Press Ukrainian Foreign Minister Dmytro Kuleba; National Security Advisor Jake Sullivan; former Treasury Secretary Larry Summers. Molly Hunter reports from Ukraine. Panel: Kimberly Atkins Stohr; Rep. Carlos Curbelo (R-Fla.); Josh Lederman; Anna Palmer. (N) 8 a.m. and 1:30 a.m. KNBC; 1 a.m. MSNB
This Week With George Stephanopoulos Mayor Vitali Klitschko, Kyiv, Ukraine. National Security Advisor Jake Sullivan; Dr. Anthony Fauci. National Institute of Allergy and Infectious Disease. Panel: Chris Christie; Donna Brazile; Rick Klein; Laura Barrón-López. (N) 8 a.m. and 2 a.m. KABC
Fox News Sunday Sen. Mitch McConnell (R-Ky.). House Press Secretary Jen Psaki. Panel: Brit Hume; Julie Pace, Associated Press; Harold Ford Jr.; Anchored by Dana Perino. (N) 8 a.m. KTTV; 11 a.m. and 11 p.m. Fox News
Reliable Sources With Brian Stelter Twitter; Warner Bros. Discovery and NBC: Kara Swisher, the New York Times; Oliver Darcy; Claire Atkinson, Insider. The disinformation war and Russia's invasion of Ukraine: Anne Applebaum, the Atlantic. Abigail Disney responds to right-wing media attacks against the Walt Disney Co. Study follows viewers who stop watching Fox News: David Broockman, UC Berkeley; Joshua Kalla, Yale. (N) 8 a.m. CNN
MediaBuzz Ben Domenech; Liz Claman; Dmitry Anopchenko, Ukrainian journalist; Charlie Gasparino; Richard Fowler. (N) 8 a.m. Fox News
Frank Buckley Interviews Author and professor William Deverell. 4:30 p.m. and 12:35 a.m. KTLA
60 Minutes Ukrainian President Volodymyr Zelensky; a village in El Salvador with a Bitcoin economy. (N) 7 p.m. KCBS
The Circus: Inside the Greatest Political Show on Earth Judge Jackson's confirmation vote: White House nomination advisor Minyon Moore. Midterm elections: Rep. Stephanie Murphy (D-Fla.); pollster Terrance Woodbury; Ted Lieu (D-Torrance). (N) 8 and 8:30 p.m. Showtime
TV highlights for April 10-16 include 'The Kardashians' on Hulu, the CMT Music Awards on CBS, and a documentary about chef Anthony Bourdain on CNN
Movies on TV this week: April 10: 'After Yang' on Showtime; 'American Beauty' on TCM; 'Star Wars' on TNT; '12 Years a Slave' on HBO; 'Copshop,' Bravo
Movies on TV for the entire week, April 10 - 16 in interactive PDF format for easy downloading and printing
TV Grids for the entire week of April 10 - 16 as PDF files you can download and print
We surveyed The Times TV team to come up with a list of the 75 best TV shows you can watch on HBO Max. And yes, your disagreement is duly noted.
We surveyed The Times TV team to come up with a list of the 75 best TV shows you can watch on Netflix. As in, tonight.
Looking for what to watch on TV? Here are television highlights from the Los Angeles Times.
Updates
5:41 p.m. April 9, 2022: Updated guests for "Meet the Press" on NBC and "This Week" on ABC.
Get our L.A. Goes Out newsletter, with the week's best events, to help you explore and experience our city.
You may occasionally receive promotional content from the Los Angeles Times.