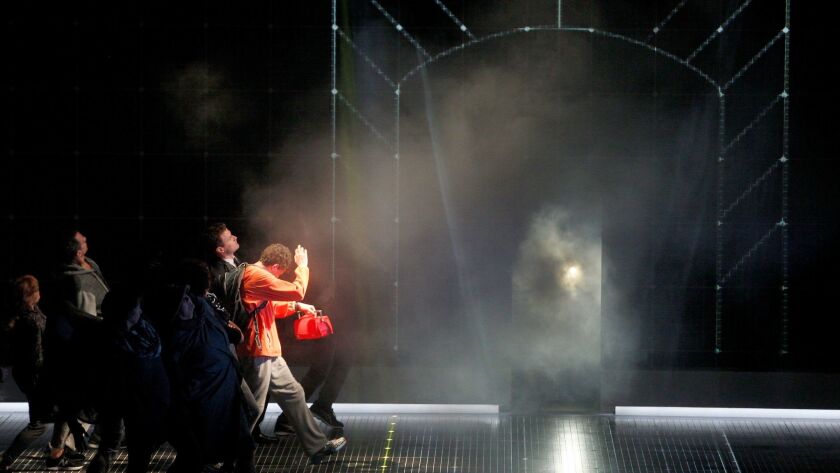 A classical farewell without the class, modern architecture on the movie screen, the loss and legacy of a theater legend. These scenes from the arts world kick off our weekly culture roundup. I'm Craig Nakano, The Times' arts editor, channeling the spirit of your usual newsletter host, Carolina A. Miranda, who has the day off but will be back soon. Let's dive in:
The staging takes the audience inside the mind of a young, accidental detective portrayed by Adam Langdon. Fifteen-year-old Christopher's head is full of algorithms, drawings and graphs.
(Kirk McKoy / Los Angeles Times)
Adam Langdon, center, finds himself with a mystery on his hands when a neighbor's dog is killed. In his search for the culprit, he happens upon mundane but no less curious mysteries.
(Kirk McKoy / Los Angeles Times)
The inventive staging, directed by Marianne Elliott, makes magic with technologies high and low. Here, Adam Langdon, as Christopher, is supported by other actors so that he can walk along a wall as his young character navigates an unfamiliar landscape.
(Kirk McKoy / Los Angeles Times)
A family meltdown is almost more than young Christopher can bear, enacted by, from left, Adam Langdon, John Hemphill, Felicity Jones Latta, Brian Robert Burns and Gene Gillette.
(Kirk McKoy / Los Angeles Times)
Christopher (Adam Langdon) makes a trip on London's Underground.
(Kirk McKoy / Los Angeles Times)
Adam Langdon's Christopher, center, tries to settle into a new family situation with his mother, portrayed by Felicity Jones Latta and her boyfriend, played by John Hemphill.
(Kirk McKoy / Los Angeles Times)
Adam Langdon's Christopher, right, encounters a policeman, played by Geoffrey Wade, who tries to help.
(Kirk McKoy / Los Angeles Times)
A most 'Curious Incident' at the Ahmanson
Hamlet isn't an obvious parallel for 15-year-old Christopher Boone, the young protagonist of "The Curious Incident of the Dog in the Night-Time," now at the Ahmanson Theatre. But in his review of Simon Stephens' Tony-winning adaptation of Mark Haddon's bestselling novel, Times theater critic Charles McNulty notes the similarities between Shakespeare's Prince of Denmark and Haddon's oft-misunderstood teen, who sets out to clear his name in the killing of a neighbor's pet. The process reveals more truths than he — or anyone else — expects. Under the direction of Marianne Elliott, who's also at the helm of the acclaimed "Angels in America" production in London starring Andrew Garfield — "Curious Incident" paints a "marvelously expressive" portrait of a beautiful mind, McNulty says.
In a separate review, our critic also explains why "Shout Sister Shout!" at Pasadena Playhouse probably would work better as a concert than a piece of theater. If you missed our earlier profile of the new leader of that stage, catch it here.
Out with a whimper
New York Philharmonic conductor Alan Gilbert ended his tenure as music director of what used to be America's most heralded orchestra, and Times music critic Mark Swed wasn't sure which was the stranger sight: the New York leader's farewell unfolding on a makeshift stage at Santa Barbara Community College, or his own players' barely acknowledging his departure.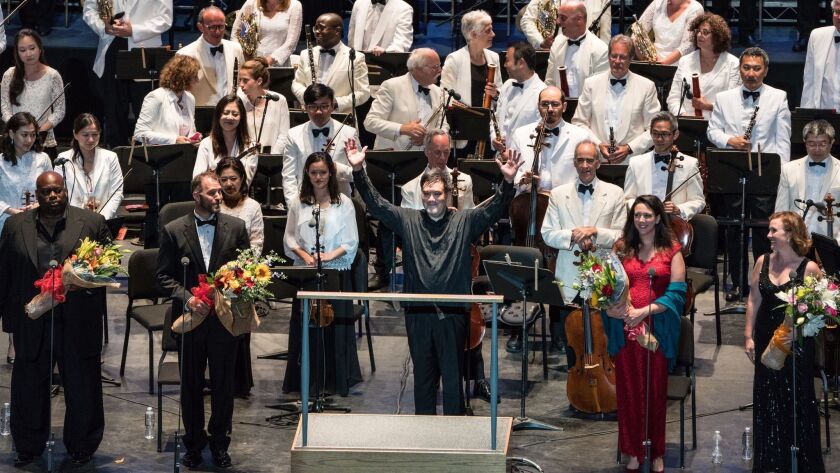 Sam Shepard, experimental cowboy of a wild West
"Buried Child," "True West," "Fool for Love." "The Right Stuff," "Steel Magnolias," "Bloodline." You could hear titles being dropped all day long in our staff meetings and water cooler moments after news of Sam Shepard's death early Monday. "He may have looked like a rodeo star, but he was a natural avant-gardist with a deep existentialist streak," writes McNulty, noting the emotionally naked drama of "The Tooth of Crime," "Curse of the Starving Class" and so much more. Film critic Justin Chang weighs in too, sifting through an acting career that reveals "a magnificent distillation of all his ideas about American masculinity in crisis and the beautiful desolation of the open road."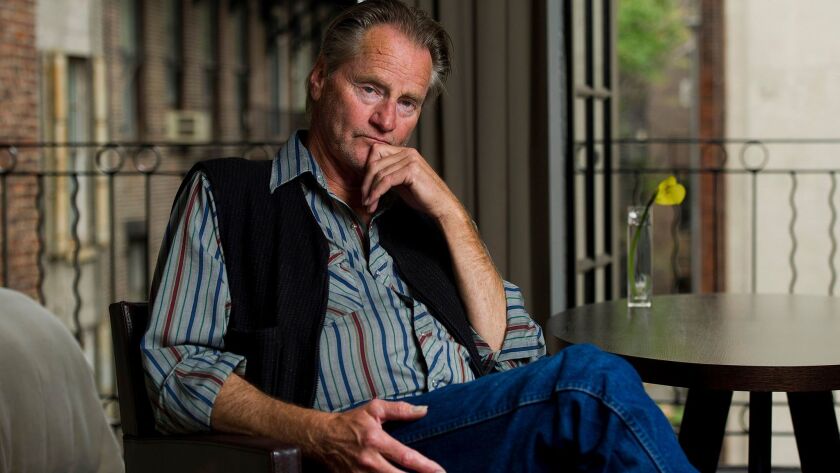 John & Parker & Eero & I.M.
Eero Saarinen and I.M. Pei practically earn their SAG cards for co-starring with John Cho, Parker Posey and rising actress Haley Lu Richardson in the new film "Columbus." Architecture critic Christopher Hawthorne notes how director Kogonada (yes, one name, like Adele and Madonna) uses the modern buildings of the Indiana city as a backdrop for characters feeling the push-pull of freedom versus obligation, big-city sophistication versus small-town comfort. (Can we just move into Saarinen's Miller House right now?)
California-Pacific Triennial
Architecture — and its impermanence as art — sits at the center of the Orange County Museum of Art's current exhibition. Though Times art critic Christopher Knight finds too much blandness, he does see some disarming work, including one piece by L.A. artist Olga Koumoundouros that actually undercuts the premise of the triennial's theme. Nicely played, Olga.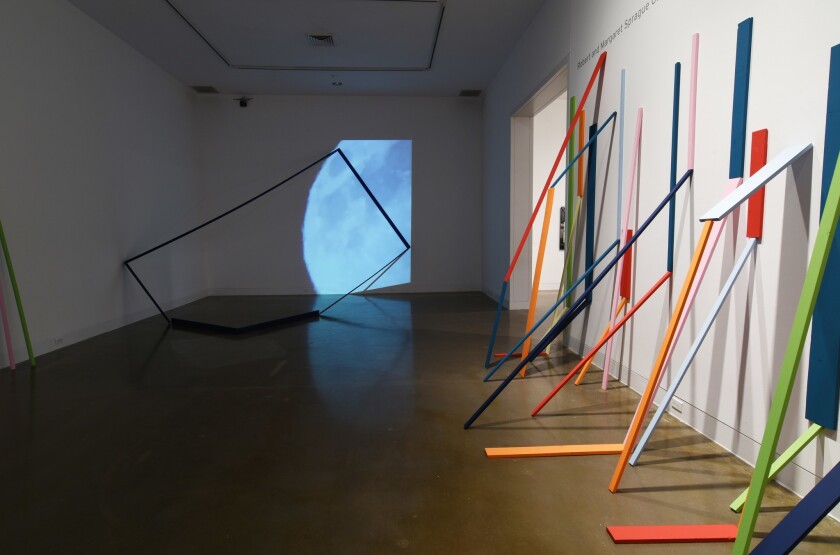 Plant the seeds of arts leadership, and 25 years later ...
The Getty Foundation's Multicultural Internship Program launched as a response to the Los Angeles riots in 1992. And though training programs for historically underrepresented groups can get written off as politically correct window dressing, Carolina Miranda opens the door to this particular effort and sees concrete results for the city, whether the arts leadership in the mayor's office, at community institutions such as Self Help Graphics in Boyle Heights or at places beyond.
Russian diplomacy, Hollywood Bowl style
I'll let music critic Mark Swed set the scene: "On Tuesday night, Vasily Petrenko walked onto the Hollywood Bowl stage and, as I've never seen before at the Bowl, led the national anthem while standing among the Los Angeles Philharmonic players." That was just one of the surprises the Russian conductor delivered in two concerts, the first as a last-minute substitution for Mirga Grazinyte-Tyla and the second in a rare instance of the amphitheater's giant video screens actually translating into better music-making.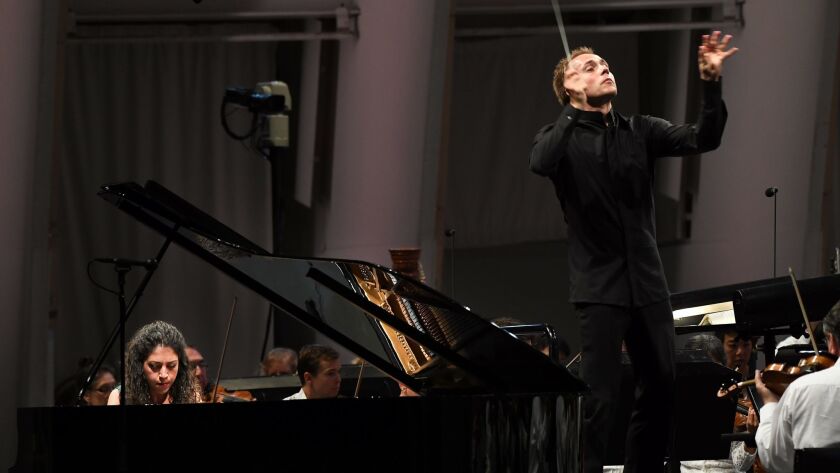 More reviews, if you missed 'em:
An ABBA-licious "Mamma Mia!" at the Hollywood Bowl (but if only the crowd could loosen up!).
Tiler Peck and the radiant dancing of "BalletNow" at the Music Center.
"King of the Yees" at the Kirk Douglas in Culver City.
In other news …
George Lucas and Mark Bradford will be the honorees of the annual Art + Film Gala at the Los Angeles County Museum of Art.
Wendie Malick will lead the cast announced for the world premiere of Paul Rudnick's "Big Night," opening next month at the Kirk Douglas.
Harold Williams, president of the J. Paul Getty Trust during the construction of the Getty Center, died at 89.
After a bit of casting controversy, Mandy Patinkin bowed out of a future engagement with "Natasha, Pierre & the Great Comet of 1812."
Sorry, fans of Ariel: ABC has postponed its live musical adaptation of "The Little Mermaid."
Finally, the Kennedy Center Honors' 2017 recipients included Norman Lear, who announced he's declining to appear at the reception hosted by President Trump. Another Kennedy Center honoree: L.A. native Carmen de Lavallade, whom we were lucky enough to interview last year. If you missed our follow-up story, Jessica Gelt's fly-on-the-wall piece trailing de Lavallade as she gives an inspirational speech — or tries to — at her old South L.A. school, don't let a great read pass you by again.
SIGN UP for the free Essential Arts & Culture newsletter »
Twitter: @cnakano
---