J.J. Abrams, theater producer: First 'The Play That Goes Wrong,' then two magic shows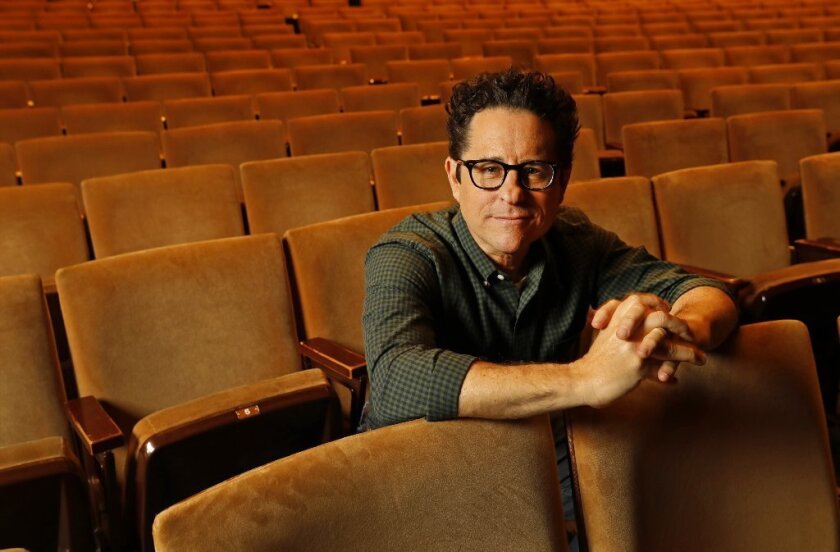 Producer-director J.J. Abrams had been filming "Star Wars: The Force Awakens" in London in 2014 when, on a day off, he popped into a West End theater to see "The Play That Goes Wrong," a madcap comedy from the Mischief Theatre company. The show spurred such uproarious communal laughter that the experience was transformative, Abrams said.
"I just became obsessed with this idea of trying to help in any way that I could if it were ever to move to Broadway," Abrams said, adding that he soon teamed up with veteran theater producer Kevin McCollum to do just that. "The Play Goes Wrong" opened on Broadway in 2017, and now a national tour of begins previews in Los Angeles on July 9.
Sitting with McCollum in an otherwise empty Ahmanson, Abrams was nostalgic about the theater. Though raised in L.A., he was born in New York and often returned to visit his grandmother, who'd take him to the theater. In high school, "the theater department sort of saved my life," he said.
When he was 12 and 13, visiting his TV producer father Gerald W. Abrams at Paramount Studios sparked theater pangs.
"The guards let me in to watch the actors and crew rehearsing 'Happy Days' and 'Laverne & Shirley' and 'Mork & Mindy.' I'd sit alone, in the bleachers, and it was theater. I was so desperate to get out of the bleachers and onto the floor, to be part of it, that it was palpable."
"The Play That Goes Wrong" is about an amateur drama troupe's misadventures staging a 1920s murder mystery — think flubbed lines, failing set pieces and at least one dead body. The national tour is directed by Matt DiCarlo, based on Mark Bell's Broadway direction.
REVIEW: Roberto Aguirre-Sacasa's 'Good Boys' at Pasadena Playhouse »
Abrams described his producing role as something of a cheerleader who helped with publicity and fundraising, among other things. But McCollum, whose Broadway hits include "Rent" and "Avenue Q," praised Abrams' "ability to find talent, to look for that thing that's different and get excited about it and figure out the best avenue to get it, on many platforms, to an audience."
Abrams also helped McCollum localize Mischief Theatre's farcical humor for an American audience that might not be as familiar with the British murder mystery genre.
"There were some adjustments that were additive and some adjustments that were just for cultural references," Abrams said. "But for the most part, it's such a physical show, so crazy-funny. My first thought was not, 'Let's change it,' but, 'This thing needs to travel.'"
As he finalizes a massive deal with WarnerMedia, Abrams intends to keep one foot in the theater. He and McCollum are producing a new show, co-created by Mischief Theatre and Penn & Teller, called "Magic Goes Wrong," that will open in London in December. Separately, Abrams is co-producing British illusionist Derren Brown's Broadway debut in September, "Derren Brown: Secret."
At the Ahmanson, Abrams hopes that "The Play That Goes Wrong" provides an antidote of sorts for our times: cramp-inducing laughter.
"We're in such a divisive and stressful and violent and sort of bitter moment," he said. "And I feel like this is a kind of salve, it feels healing. It's a unifier, laughter. It's a powerful medicine."
---
Your essential guide to the arts in L.A.
Get Carolina A. Miranda's weekly newsletter for what's happening, plus openings, critics' picks and more.
You may occasionally receive promotional content from the Los Angeles Times.