The new MacArthur winners. Springsteen does the Great White Way. And a look at what made Frank Gehry's Guggenheim Bilbao such a hit. I'm Carolina A. Miranda, staff writer with the Los Angeles Times, with the week's top culture stories:
New MacArthur crop
The MacArthur Foundation announced its annual no-strings-attached, $625,000 fellowships this week. The lineup includes a number of arts folks with connections to Southern California, including Pulitzer Prize-winning novelist Viet Thanh Nguyen, painter Njideka Akunyili Crosby, opera director Yuval Sharon of "Hopscotch" fame, and theater writer and performer Taylor Mac. The Times' Deborah Vankin has the full rundown. Los Angeles Times
In the meantime, Times art critic Christopher Knight looks at why the award is significant. "What important awards recognize is not 'the best,' whether it's a best picture or, with the MacArthur, a best anthropologist or poet," he writes. "Instead, they recognize the crucial importance of expertise in navigating daily life. Today, in public attitudes toward everything from science to politics, expertise is under enormous stress." Los Angeles Times
Plus, The Times' Jessica Gelt speaks with Yuval Sharon about what he plans to do with his award. Hint: Perhaps take a little time off. Los Angeles Times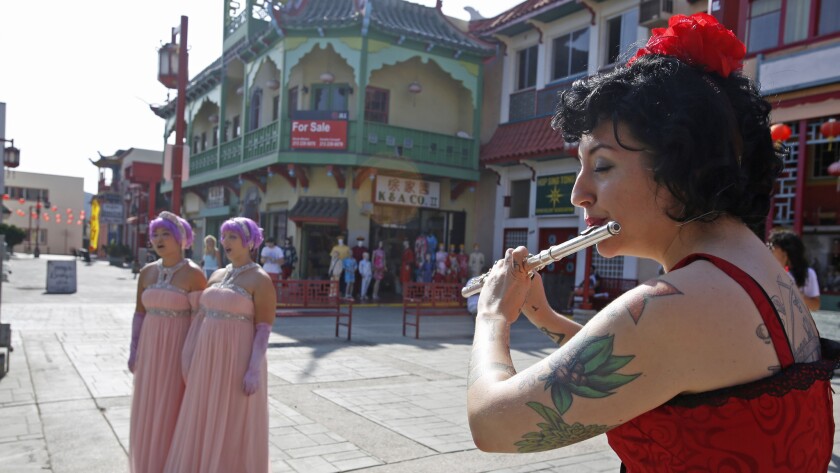 Gelt also looks back at how Taylor Mac's 24-hour musical extravaganza came to be. Los Angeles Times
The Boss on Broadway
When Times theater critic Charles McNulty went to see Bruce Springsteen's new show at the Walter Kerr Theatre in New York, he says he wasn't sure whether to expect an intimate cabaret concert or "a genuine theatrical offering." After seeing "Springsteen on Broadway," he reports: "I am still not sure how to categorize this intimate, dreamlike encounter with a music legend accustomed to selling out football stadiums. … Call it a confessional jam session." Los Angeles Times
The Times pop music critic Mikael Wood also saw Springsteen. He had quibbles with parts of the show, but of one "mesmerizing half hour" he writes, "you almost forget you're in a theater surrounded by other people, so evocative are his images and so natural his shifts between singing and talking." Los Angeles Times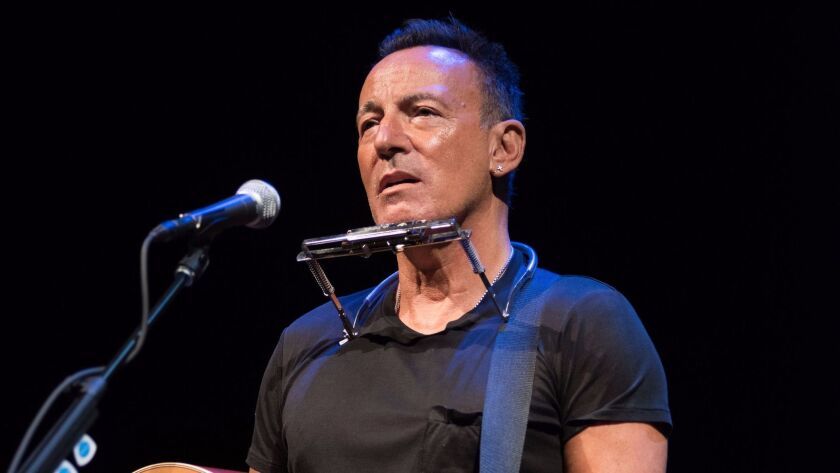 The Bilbao effect
It has been 20 years since Frank Gehry's sweeping Guggenheim Bilbao opened in Spain. Architecture critic Christopher Hawthorne considers the building's legacy and how its success lay in a string of urban planning decisions made in the years prior to its construction. He writes: "Properly measuring the museum's impact requires — in a way that's much different from typical architectural anniversaries — telling the story of what came before as much as what came after." Los Angeles Times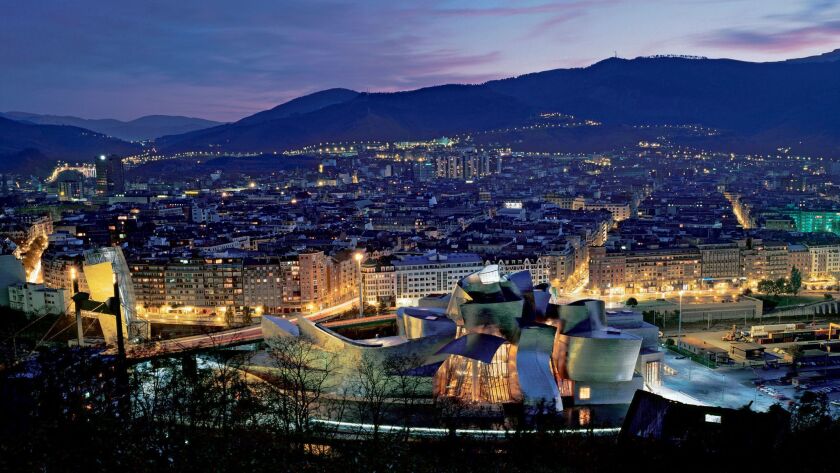 Get me a Bellini!
One of the most exciting museum shows to be held in the U.S. this year? According to Christopher Knight, that's the intimate display of works by Giovanni Bellini at the Getty Museum. The exhibition focuses on the way this devotional 16th century master employed landscape: "Often it is as complex and meaningful as the people portrayed, from whom it is inseparable." Los Angeles Times
Opera in space
Composer Paola Prestini's "The Hubble Cantata" employs virtual reality technology to take viewers inside the telescope and, ultimately, space. It's having its West Coast premiere at the Ford Theatres in Hollywood. Eliza McNitt, who designed the VR experience, tells Jessica Gelt: "We are trying to leave people with a sense of wonder and awe." Los Angeles Times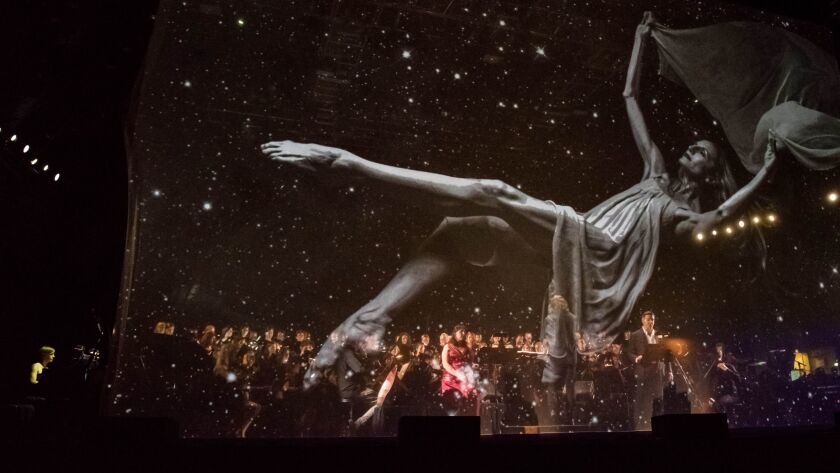 'Inferno' for Halloween
For the American Contemporary Ballet's next show, which will take place on Halloween, artistic director Lincoln Jones is getting a little spooky with a performance of "Inferno" from Charles Wuorinen's ballet "The Mission of Virgil," inspired by Dante's "Divine Comedy." "You can really draw a parallel between Dante's time and our time because of the incredible divisiveness," he tells The Times' Jeffrey Fleishman. Los Angeles Times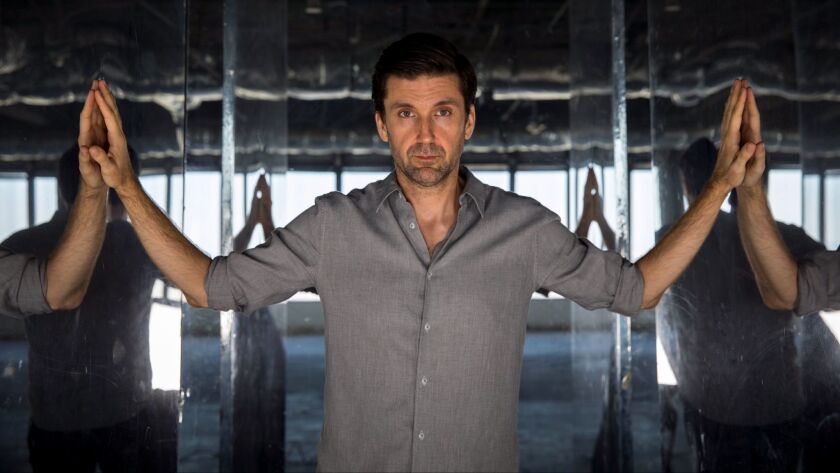 Karen Finley inhabits Trump and Hillary
I talk with performance artist Karen Finley about her new work, "The Expanded Unicorn Gratitude Mystery," at REDCAT through Sunday, and why she took on the politics of the presidential election. "It's about whiteness and dominance — white power," says Finley, who takes on the personas of Donald Trump and Hillary Clinton. Los Angeles Times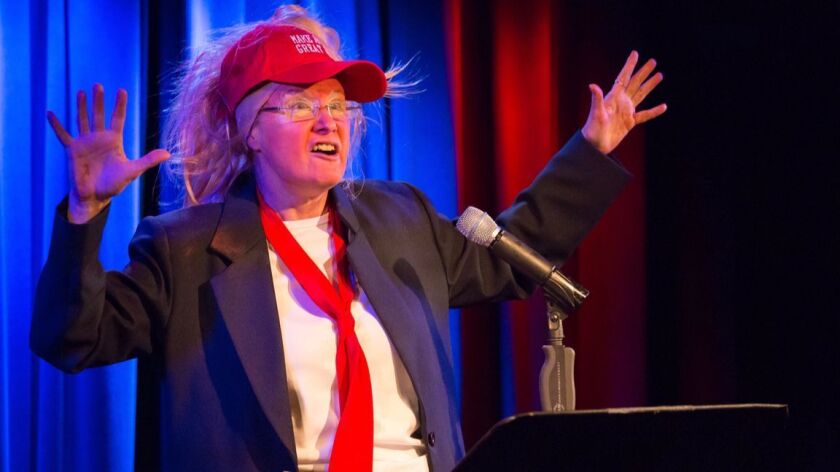 Union Station's piano man
On recent commutes through Union Station, I caught sight of a young homeless man playing the free public piano. His name is Matthew Shaver and he never fails to draw a crowd. "It's a meditation," he tells me. "Like, you pray about something and then you meditate on it. The piano is my meditation." Los Angeles Times
In the theaters
Times contributor Margaret Gray sits down with Broadway star Carmen Cusack, who is headlining Edie Brickell and Steve Martin's musical "Bright Star," soon to debut at the Ahmanson Theatre. Of the role, says Cusack: "I was like, I know exactly who this woman is, and it's me." Los Angeles Times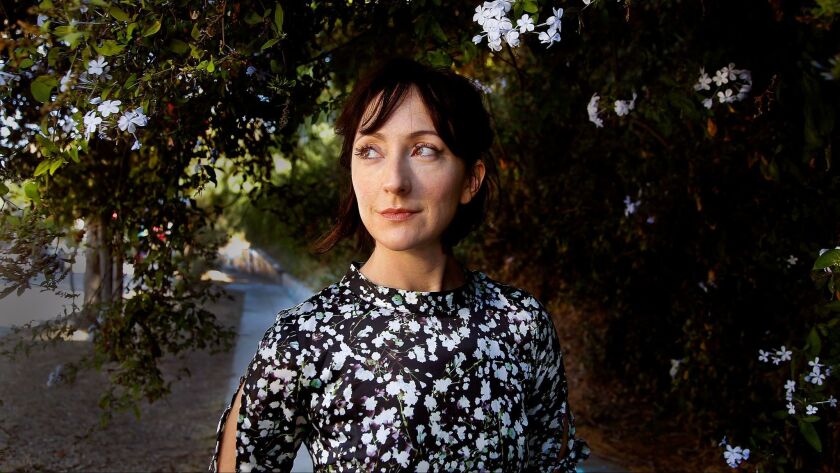 F. Kathleen Foley takes in a performance of "Mice," a new play by Schaeffer Nelson that emerged from the Ensemble Studio Theatre/L.A.'s New West Playwrights Program. The playwright, she says, represents an "intriguing new voice" on the scene. Los Angeles Times
And Philip Brandes reviews "With Love and a Major Organ," by Julia Lederer, at Theatre @ Boston Court in Pasadena. It's the writer's debut play, but Brandes says her dialogue "is laced with sophisticated poetry and wry insight." Los Angeles Times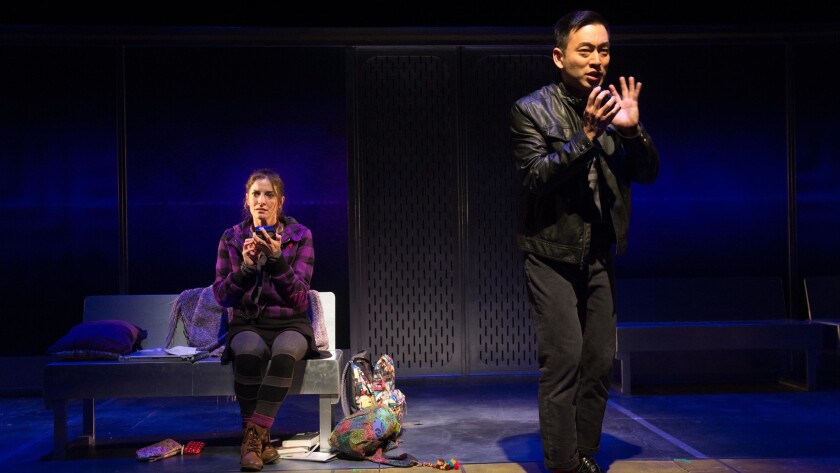 Daryl H. Miller, in the meantime, checked out the Actor's Gang production of "Captain Greedy's Carnival." He was not impressed — by the singing or the show's "predictable sameness." Los Angeles Times
Around the galleries
Christopher Knight has been making the art rounds, starting with Gary Simmons' massive installation at the California African American Museum. The piece memorializes "race movies," the films made by black casts for black audiences during the Jim Crow era. And it looks "almost as if the frames of film in a projector were stuck and fluttering," writes Knight, "somewhere between imminent annihilation and furious clawing to endure." Los Angeles Times
Plus, Knight has a look at "A Spaghetti Dress for World Peace," a group show at Park View Gallery that exudes a tone of "exhausted conflicted hope." Los Angeles Times
And he examines Billy Al Bengston's "Dento" paintings at Parrasch Heijnen — and notes that these works, which skillfully play with depth and material, "have never been the subject of a focused museum show." Los Angeles Times
In the meantime, I write about a mystical little canvas by Elsa Flores that depicts her late husband Carlos Almaraz, on view through Saturday at Craig Krull. Los Angeles Times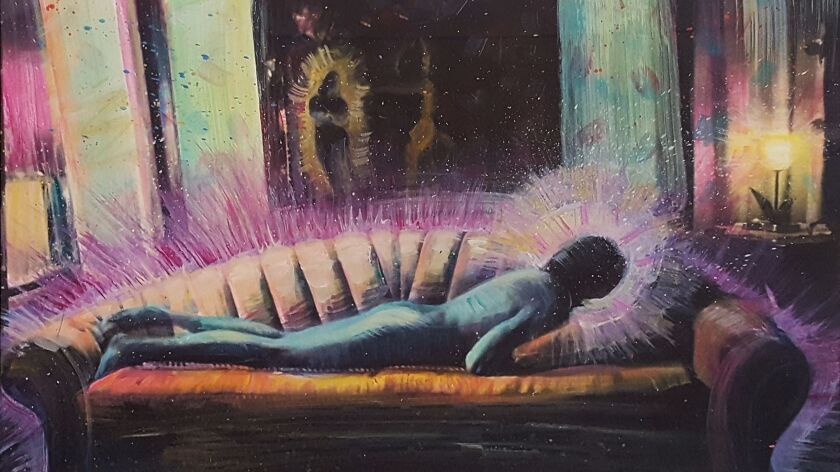 Long reads I'm diggin'
The Walker Art Center held an interesting roundtable discussion about the Native American presence in art. "Native people in the Americas are not Western Europeans with slightly darker skin," says multimedia artist Luzene Hill (Eastern Band of Cherokee). "Our worldview, our culture, is enormously different." Walker Reader
Related: Jeffrey Gibson, who is part of the chat, currently has a show on view at Roberts & Tilton in Culver City. Times contributor David Pagel has a profile. Los Angeles Times
Yet another to bookmark: Catherine Wagley's expansive look at what Mark Bradford's Art + Practice means for culture and real estate in Leimert Park. Momus
In other news…
— Eli Broad is stepping back from day-to-day operations at his namesake foundation. Guessing this won't stop him from picking up the phone now and again to tell L.A. what's what. Los Angeles Times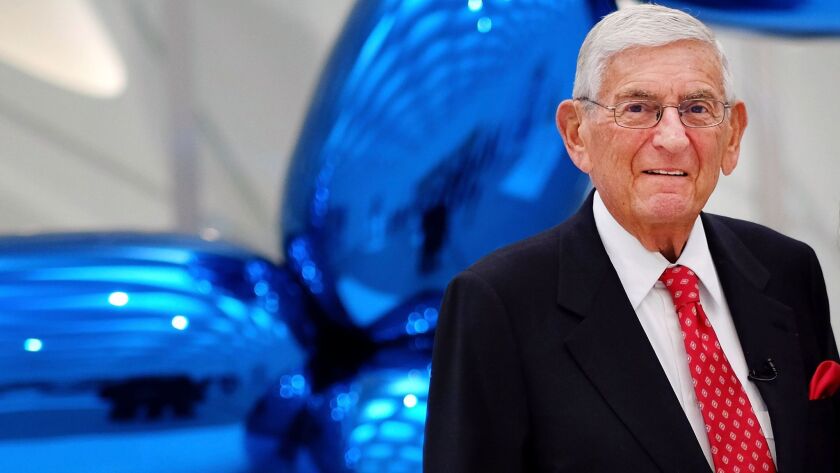 — How Northern California arts institutions are faring during the fires. ARTnews
— Puerto Rico's cultural institutions have begun to re-open. The Art Newspaper
— Plus, Lin-Manuel Miranda's song for Puerto Rico features a bevy of Latin music stars and nods to "West Side Story." YouTube
— Frida, the Mexico City rescue dog, is now the subject of her own mural. VICE
— Artists Kehinde Wiley and Amy Sherald have been commissioned by the National Portrait Gallery to paint portraits of Barack and Michelle Obama. ARTnews
— Andrew Lloyd Webber didn't want critics to review his "Phantom of the Opera" sequel during its Baltimore stop. That's not stopping the critics. Washington Post
— "It is no wonder that younger generations stay away from institutions whose programming makes Donald Trump's Cabinet look vibrantly diverse in comparison." Alex Ross reports that the new classical music season in New York is looking back, not forward. New Yorker
— Desert X, the public art show in the California desert, will be back for round two in 2019. Los Angeles Times
— Architect Rem Koolhaas will be designing an expansion for the New Museum in downtown Manhattan. New York Times
— Artists such as Ed Ruscha and Richard Serra are celebrating TV producer Norman Lear's 95th birthday with limited edition prints for charity. Hollywood Reporter
— The story of the New Mexico sculpture of a conquistador that is missing its foot. New York Times
— A fascinating discussion on the politics of being biracial covers the dialogue surrounding Dana Schutz's controversial painting "Open Casket." Still Processing
And last but not least…
John Oliver on Confederate monuments. Last Week Tonight
Sign up for our weekly Essential Arts & Culture newsletter »carolina.miranda@latimes.com
---