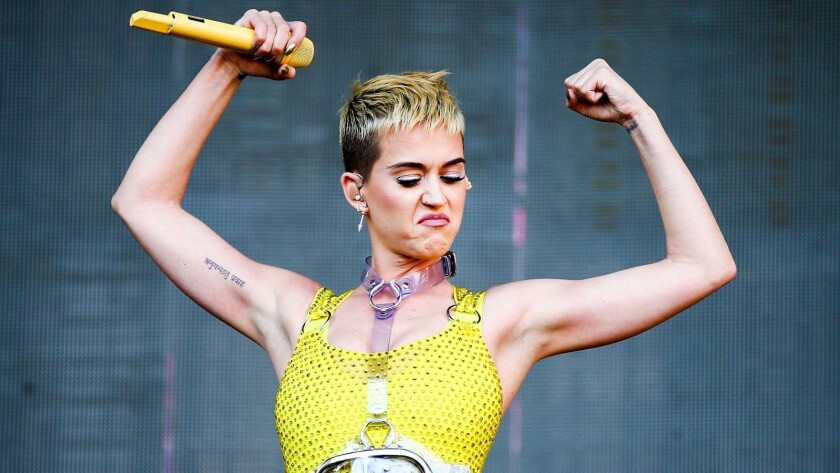 A pop singer ruled the roost, a rock star died by hanging, a beauty queen tackled big issues, a famous film festival opened and TV paraded its coming attractions. Here's all that news and more from this week in entertainment.
Purposeful pop, Katy Perry, or 'Purposeful poop'?
Katy Perry is new and improved. Well, this week she's mostly been new. There's a new job, a new album, a new tour and a third new track from that studio album. Just another week in the life of a pop superstar, capped with a buzz-inducing return to feudal territory: The aforementioned single, "Swish Swish" featuring Nicki Minaj, sounds an awful lot like a heavy-handed diss track aimed at fellow pop princess Taylor Swift — and TSwift squad member Ruby Rose was having none of it. The actress criticized the "Roar" singer for going low after promising an era of purposeful pop.
Soundgarden singer's death hits the music world hard
Chris Cornell, who helped reignite hard rock in the 1990s with Soundgarden, was found dead at age 52 in a Detroit hotel room Wednesday. Cornell was remembered as a Robert Plant for a generation too young for Led Zeppelin and a man with one of rock's great voices and most curious minds. The music world was rocked and saddened by the death of a guy whose career also included Audioslave and Temple of the Dog. Cornell's death was quickly labeled a suicide by hanging, but on Friday his wife disputed the medical examiner's ruling of intentional suicide; she said her husband's prescription anxiety medicine may have contributed to his death.
Miss USA pageant question trips up a nuclear scientist
Another year, another pageant winner, another kerfuffle springing from those pesky questions. Kára McCullough, who was Miss District of Columbia USA right up until she was crowned Miss USA on Sunday night, raised eyebrows with her thoughts on healthcare and feminism. Two days later, the 25-year-old Nuclear Regulatory Commission scientist clarified what she meant. about right-vs.-privilege and "equalism." Getting those pageant answers "right" can be even harder than announcing the right winner, eh?
That time the Cannes Film Festival was all about Netflix
OK, the Cannes Film Festival, which kicked off Wednesday with "Ghosts" and runs through May 28, isn't all about "Okja," but Netflix's first — and possibly last — entry in the prestigious competition did have people talking. There have also been some upbeat moments (see "Wonderstruck," "Let the Sunshine In"), Stanley Kubrick's right-hand man was telling tales and everyone is looking fantastic on the red carpets. The Los Angeles Times is camped out in the south of France with continuing coverage of the classic film event. And does the Palme d'Or still mean anything?
What to watch next? TV reveals what it has on tap
While film was getting its Cannes on in France, TV was letting it all hang out in New York for Upfronts 2017. CBS introduced spinoffs and procedurals, ABC was sticking a fork in "Scandal," the CW was still about youth, superheroes and catfights, and NBCUniversal's marathon presentation was lightened up with jokes by Seth Meyers. As in Cannes, Netflix had some tricks up its sleeve. CBS announced who'll be hosting the Grammy Awards in 2018, and ad-skipping viewers — yeah, we mean you — were top of mind. Plus, surprise surprise, everyone was looking fantastic on those red carpets too.
Domestic Goods — and Bads: Ben Higgins and Lauren Bushnell of "The Bachelor" ended their engagement. … "Big Bang Theory" star Jim Parsons married his longtime partner. … Model magnet Leonardo DiCaprio and swimsuit model Nina Agdal broke up. … Amy Schumer and boyfriend Ben Hanisch called it quits. … Kevin Hart is expecting a baby boy with wife Eniko Parrish.
Trumped: Ted Nugent expects a special counsel's investigation of President Trump won't end well for Democrats. … The Weinstein Co. has snapped up Michael Moore's secret anti-Trump documentary. … "Dude, let it go," an exasperated Seth Meyers told the president. … Stephen Colbert found out what it's like to kiss "Sean Spicer." … Stephen Colbert cut to the chase and told Trump, simply, "Please resign."
RIP: Brad Grey, who led Paramount Pictures for 12 years, died at 59. … Roger Ailes, the polarizing and controversial Fox News founder who changed cable news, died at 77. … Powers Boothe, an Emmy-winning actor known for "Deadwood" and "Tombstone," died at 68. … Oleg Vidov, a Russian actor known as the "Robert Redford of Soviet cinema," died at 73.
New Trailers:
Bonus Links: Is Hollywood out of touch? Three Southerners discussed media and politics. … A painting by Jean-Michel Basquiat that sold for $19,000 in 1984 was auctioned off for more than $110 million, a record for an American artwork. … A judge decided who's getting Prince's money.
Did You Hear …? runs Saturday in Entertainment at latimes.com.
cdz@latimes.com
Twitter @TheCDZ
---