Reader feedback: Can LeBron be a Hollywood mogul and play basketball too?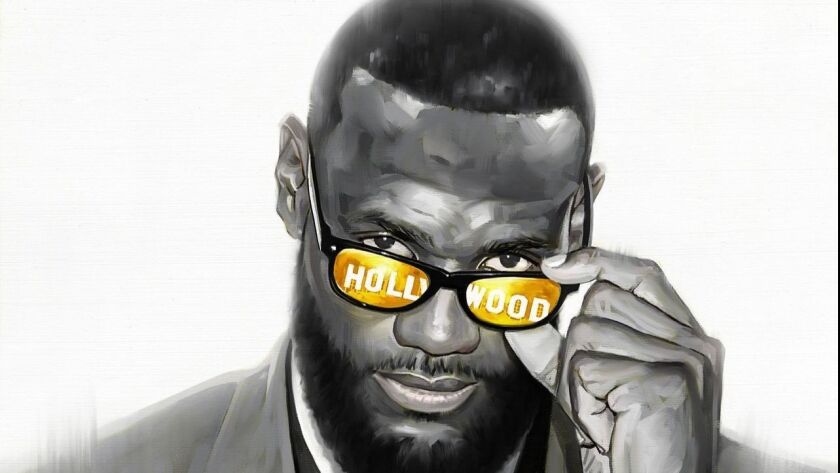 With Tania Ganguli's article and a full page image of LeBron James ["A New Game,"March 31], the timing couldn't have been better, what with the announcement in the Sports section the same day that James was "hanging it up" for the season.
I guess he can now concentrate on the main reason he came to Los Angeles: not to win another ring but to follow Kobe Bryant and focus on winning an Academy Award.
What were the Lakers thinking?
Richard Whorton
Studio City
Making the case for lawmakers
As a professor of comparative constitutional law, I read theater critic Charles McNulty's review ["The Champion of This Debate," April 1] of Heidi Schreck's play "Constitution" with keen interest. I was Supreme Court Justice Ruth Bader Ginsburg's first law clerk, and I am persuaded to her view that equal rights for women require that women have control of their reproductive choices.
That said, it struck me that both the playwright and critic seemed to adopt the view that the goal of the Constitution is to enshrine policies deemed essential for our "more perfect union." The problem with this approach is that, during the industrial age (1888-1937) and more recently, right-wing presidents appointed right-wing justices to enshrine their views of policies deemed essential.
In the long run, I think a very good case can be made that it is better to take our chances with presidents and legislators than those enshrined for life terms on the Supreme Court.
Stephen F. Ross
Professor of law
Pennsylvania State University
University Park, Pa.
Singing praises of K-Pop's BTS
If The Times is going to cover K-Pop ["K-Pop Sings to the U.S." by Mikael Wood, March 24], you should at least get a writer who is familiar with the genre. On the face of it, it's easy to dismiss the South Korean sound, with its slickly produced songs and tight controls over its artists. However, much like American pop music, there are exceptions.
The boy band BTS is hugely popular, but not because of its members' "gender fluidity." K-pop stylists love putting guys in frilly shirts — it's a thing.
Simply put, it's the music. The members of BTS writes their own songs, and their lyrics resonate with their fans. Yes, if you don't know Korean, it's a challenge to know what they are singing. However, thanks to YouTube, you can watch subtitled versions of their videos, making it easy for their millions of fans around the world to connect to their music. At their concerts, their multi-ethnic army of fans sing along in Korean. The fact that they are attractive and dance well doesn't hurt either.
As to the question of will they ever try singing in English? BTS did that last year with a version of "Mic Drop."
Since group has already hit the top of the album charts, getting a single on Top 40 seems insignificant in comparison. With multiple nights of sold-out concerts at Staples Center and the Rose Bowl, I'd say they've already achieved success.
Daphne Kwong
Los Angeles
And in the director's chair ... Chris Barton's article ["'Abby's' Bar. Live Audience, Outdoors"] and Robert Lloyd's review ["The Regulars"] of NBC's new comedy "Abby's" both failed to mention the director. Your allusions to "Cheers" made me think it might be James Burrows, but it was Pamela Fryman.
I'm wondering why she didn't get a single mention in either piece. Oh, that's right, the year of the woman was last year.
David Reid
Hollywood
Wherefore art thou, LACMA?
Christopher Knight's article on the Los Angeles County Museum of Art "The Art of Paying More for Less," April 2] was spot on. I'm hoping there is time to persuade the L.A. County Board of Supervisors to not approve the $117.5 million in taxpayer funds for this impractical, ill-conceived project.
LACMA Director Michael Govan has gone off the rails.
Kay Gerhard Waldman
Los Angeles
It's all about the volume of data
Regarding "Underrated/Overrated" [March 31], Chris Barton argues that by referring to the present era as the Information Age, we are guilty of self-delusion and deceit. He insists there is more information out there — important information — that we are not getting. So calling this the Information Age is misleading.
No one can deny that mankind is being inundated with more information than at any period in human history. But it's never been about depth or credibility. It's always been about volume. Which is why no one will ever refer to the present era as the Age of Understanding or the Age of Insight.
David Macaray
Rowland Heights
May-December pairings do work
Regarding Greg Braxton's interview with Kate Beckinsale ["Source of All That Buzz," March 31]:
One of the best relationships — and then marriage — I know of is one of a 75-year-old woman and 55-year-old man. It is not a matter of who's right, but rather what's right for those involved.
Carol Gurley
Carlsbad
Kudos to Times' music writers
Regarding "Surf Guitar Icon Sent Waves Across World" [March 18]: I'm writing this delinquently because I didn't want it to get lost amid the many letters you must have received regarding the death of Dick Dale. Reading the obituary by Randy Lewis and Randall Roberts felt like I was taking a Dick Dale 101 class and learning about the musician for the first time.
I cut my Calendar teeth starting at age 14 with Robert Hilburn. At every concert we attended (the Civic, Long Beach, the Forum, the Whisky, Madame Wong's, etc.) we'd look for him, then eagerly grab the next day's paper to read his review.
While I don't attend as many concerts as I did back then, I offer Lewis and Roberts the most sincere compliment I can: I look for your reviews and columns with the same enthusiasm as I did Hilburn's. And that's as good as it gets.
Cy Bolton
Rialto
An important subject, but why Calendar?
Regarding: "Confronting How We See Muslims" [March 24], Lorraine Ali presented a very pertinent article of the many ways Muslims have become scapegoats — especially in the United States. Of course, our president's anti-Muslim messages make things only worse.
I'm a bit curious why this article appeared in Calendar, when it's really front-page news.
Greg Golden
Van Nuys
A struggle to fit in
Regarding Stephanie Mendez's article "LGBTQ Latinx Punks' Safe Space" [March 30]: This piece really struck a chord with me, especially drag performer Daniel Lopez's comment, "I love going to a dance party and seeing people that look like me, seeing people that make me feel comfortable and accept me for who I am. "
For decades, I've gone to parties without seeing a full complement of San Francisco-born people of northern Italian descent. Disconsolate, I usually leave for home to wolf down salami on sourdough and pore over maps of Piedmont and Lombardy.
Gene Sculatti
Northridge
The conversation continues online with comments and letters from readers at
---
From the Oscars to the Emmys.
Get the Envelope newsletter for exclusive awards season coverage, behind-the-scenes stories from the Envelope podcast and columnist Glenn Whipp's must-read analysis.
You may occasionally receive promotional content from the Los Angeles Times.