Indie Focus: The independent roots of 'Captain Marvel'
Hello! I'm Mark Olsen. Welcome to another edition of your regular field guide to a world of Only Good Movies.
I am currently in Austin, Texas, for the South by Southwest Film Festival, which remains a premiere showcase for offbeat commercial films and for the discovery of fresh talents. I wrote a festival preview ahead of this year's event.
The festival opened with the world premiere of Jordan Peele's much anticipated "Us." Other titles premiering at this year's festival are Harmony Korine's "The Beach Bum," Lynn Shelton's "Sword of Trust," Chris Morris' "The Day Shall Come," John Lee Hancock's "The Highwaymen," Michael Dowse's "Stuber" and Olivia Wilde's "Booksmart."
Seth Rogen and Evan Goldberg have a long history with the festival and are at SXSW this year with two movies as producers: "Long Shot," starring Rogen and Charlize Theron, and "Good Boys," starring Jacob Tremblay.
"South-by just feels raw and real in the best way possible, where real people give you real reactions," said Goldberg. "There are critics and there are normal people and it's just real; it feels like you get an honest reaction."
After our recent marathon of four events in a week, we are regrouping and preparing for more soon. For info and updates, go to events.latimes.com.
'Captain Marvel'
Even though it is part of the extended Marvel Cinematic Universe and stands poised to storm the box office, the new "Captain Marvel" has deep roots in the world of independent film. Directors and co-writers Anna Boden and Ryan Fleck are veteran indie filmmakers, known for such works as "Half Nelson" and "Mississippi Grind." "Captain Marvel" star Brie Larson was a sensation at SXSW in 2013 with her performance in "Short Term 12" and recently directed her own feature, "Unicorn Store."
Reviewing "Captain Marvel" for The Times, Kenneth Turan said Larson "seems to embody her character completely, bringing her hopes, her spirit and her lively insouciance to life. To see her realize that the things that make her human and a woman are her strength, to see the joy she feels when she fully comes into her Captain Marvel powers, is a genuine pleasure .… It's not only heroes who can have superpowers, movies can have them too, and you can add 'Captain Marvel' to the small list of those that do."
Jen Yamato spoke to Fleck and Boden, about making the leap from independent films to big-budget studio filmmaking.
"This is a movie about a woman whose journey is to find her own humanity," Boden said, "but it's not just her own humanity that she finds. She finds humanity in other people she didn't necessarily see it in before — and that is a really important theme for us, of inclusion and understanding."
Tracy Brown interviewed Reggie, the cat who handled the majority of scene-stealing appearances by the character of Goose. Well, sort of, for as Tracy wrote, "Energized from a nap, Reggie answered our questions by nuzzling, pawing and even giving headbutts to Marvel action figures. Or maybe he was just being cute and trying to get treats."
And for our podcast "The Reel," I was joined by Kenneth Turan, Jen Yamato and Justin Chang, as well as Sonaiya Kelley and Tracy Brown to talk about the response to the film and what it means to the larger universe of superhero movies.
At Time, Stephanie Zacharek faulted the online backlash to the film, writing, "What kind of world do we live in, where we let the stupidity of trolls rule the subtler aspects of our own judgment? 'Captain Marvel' isn't a terrible movie .… This brings us to the central problem of presenting superhero role models for girls on such a loud, booming canvas: These women are powerful (great!) but they're rarely shown just being good at the ordinary things — like listening, or rendering thoughtful advice, or admitting they made a mistake — which are the things that make the real-life humans around us truly great."
For the Associated Press, Lindsey Bahr added, "I spent over two hours with Captain Marvel/Carol Danvers and I still have no idea what her personality is. Sure, there's a lot more going on in 'Captain Marvel,' but it's a pretty egregious failing considering that the creative bigwigs at Marvel had 10 years and 20 films to work it out .… I came out of the film from writers/directors Anna Boden and Ryan Fleck not caring all that much about her beyond what her dazzling powers might mean for the next Avengers film, which is perhaps the lamest way of all to experience these movies."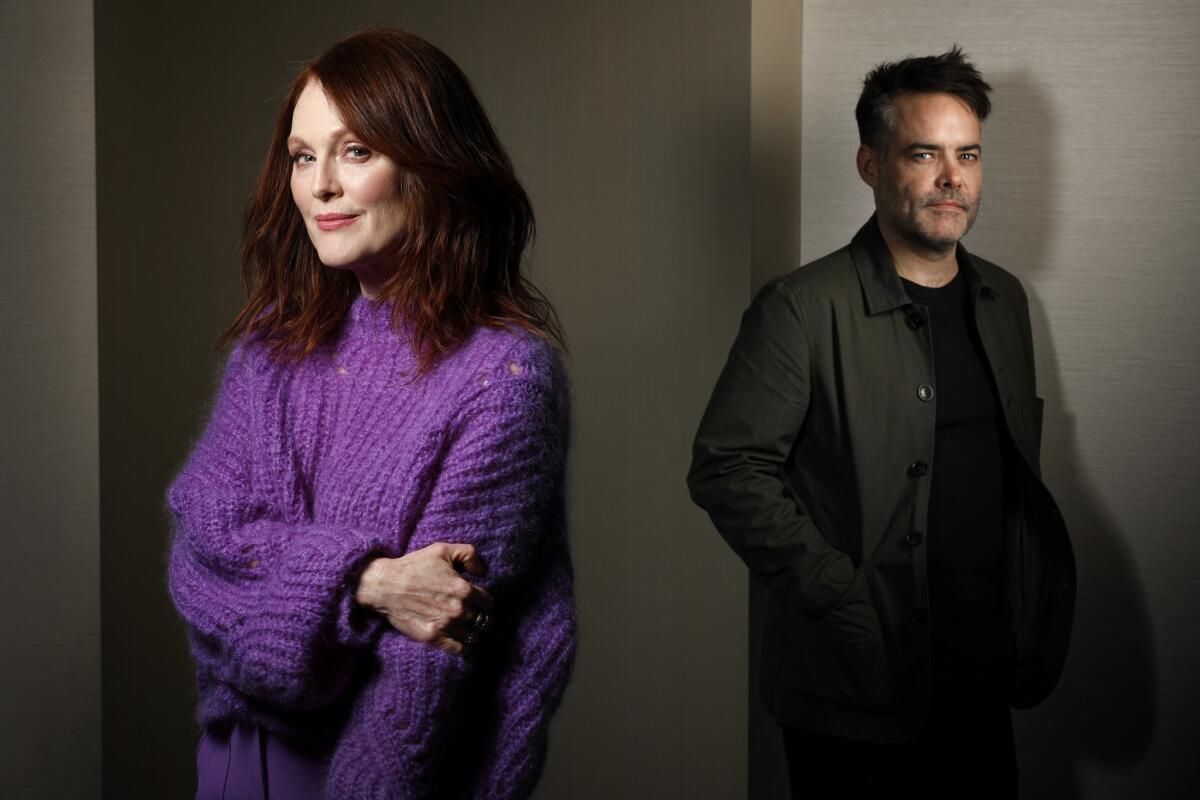 'Gloria Bell'
Directed by Sebastián Lelio, "Gloria Bell" is a remake of his own 2013 Chilean film "Gloria," this time in English and starring Julianne Moore in the title role as a woman coming to terms with feeling good about herself.
Reviewing for The Times, Katie Walsh wrote, "Both 'Gloria' and 'Gloria Bell' are slice-of-life depictions that seem simple on the surface but are remarkable for their singular focus on the experiences of a woman in her late 50s, a character type all too often forgotten or cast aside. But there's something else about the character of Gloria that makes her different. She lives her life unabashedly, with her heart open, her dancing shoes on. It's a frankly radical notion, not just for women, but for anyone."
Meredith Blake spoke to Moore and Lelio about the film. As Lelio described the impulse to make the new version, he said, "When Trump got elected, I thought, 'Now is the time to do this.' Suddenly, the story of a woman who claims a right to be seen and heard becomes more urgent."
For the New York Times, Manohla Dargis wrote, "'Gloria Bell' is filled with quicksilver tone shifts. It's often quietly funny and then a little (or very) sad and then funny again .… Lelio is acutely sensitive to the absurdities of everyday life, including the comedy of humiliation, both petty and wounding. But while his characters can be cruel, he never succumbs to meanness."
'Transit'
Written and adapted by Christian Petzold, "Transit" is a story of refugees and crisis that is set neither in Nazi-occupied Germany of the 1940s nor entirely in the present day, existing in a state all its own.
Reviewing for The Times, Justin Chang called the film "quietly extraordinary," and added: "Taken together, the vagueness of the setting and the precision of the filmmaking create a gentle but insistent tension. 'Transit' has both the evanescence of a dream and the urgent clarity of a newspaper headline."
Jeffrey Fleishman interviewed Petzold, who said of the film's current-day resonances, "I love it when you have contemporary time and historical time and they're in a corridor and they have to communicate with each other. This is cinema for me."
Email me if you have questions, comments or suggestions, and follow me on Twitter: @IndieFocus.
Get the Indie Focus newsletter, Mark Olsen's weekly guide to the world of cinema.
You may occasionally receive promotional content from the Los Angeles Times.