SXSW: 'Long Shot' rolls out Charlize Theron, Seth Rogen and a surprise Boyz II Men
Reporting from Austin —
For anyone still unclear on the particular charms of the South by Southwest Film Festival, Saturday night's world premiere of Jonathan Levine's "Long Shot" seemed specially designed to make that all very clear.
The filmmaker and cast came out after the screening, held at Paramount Theatre in downtown Austin, Texas, elated by the joyful, raucous response the film had generated. They were all funny and loose, if not entirely coherent and perhaps more than a little drunk. And then Boyz II Men came out to sing two songs. (Bear with us, it all makes sense.)
The movie, directed by Levine from a screenplay credited to "The Interview's" Dan Sterling and "The Post's" Liz Hannah, is about unemployed journalist Fred Flarsky (Rogen), who rekindles his relationship with a woman he knew from childhood, Charlotte Field (Theron), who happens to now be the U.S. secretary of State. She somewhat impulsively hires him to be her speechwriter as she prepares for a presidential run, and soon their working relationship becomes a romantic one and the mismatched pair encounter all sorts of complications.
The comedy in the film works quite well, a somewhat expected blend of sweetness, wit and raunch. But it is the romantic element of the film that may catch audiences off-guard, as Rogen and Theron do indeed have strong on-screen chemistry. Theron in particular feels extremely credible as a pulled-together politician looking to loosen up — the scene in which she has to negotiate an international hostage crisis while coming down from ecstasy is truly a treat.
After the movie, Janet Pierson, director of SXSW Film, brought out Levine and cast members Ravi Patel, June Diane Raphael and O'Shea Jackson Jr., along with Rogen and Theron.
As Pierson gamely tried to conduct a typical post-screening Q&A on the process of making the film, Levine declared that he didn't want to talk too much because: "I'm too drunk."
Soon Theron also declared, "I don't know why I have a mic, because I'm drunk too."
Rogen exclaimed, "We were all nervous! I don't know what to tell you."
Theron, who was at SXSW with the action film "Atomic Blonde" two years ago, spoke about her seemingly unlikely turn in a comedy by saying, "I usually die in my movies or kill people in my movies, or get assaulted. This is not my wheelhouse. But I've been like a sincere, down-to-the-core-of-my-body fan of Seth Rogen's. I have watched everything that he's touched, and never in a million years did I think I would be in a movie with him, so I am hashtag blessed tonight.
Theron added: "I'm always looking to do different things, because I get bored. I don't want to do the same [thing] every time. And this was challenging for me. … I had a horrible fear that I would be in a Seth Rogen movie and be the girl. Who just stands there. And Jonathan and [producer] Evan [Goldberg] and everybody involved in this, and Seth, gave me their word that they would help me create a character that meant something and they … kept the their word and tonight I'm really, really happy."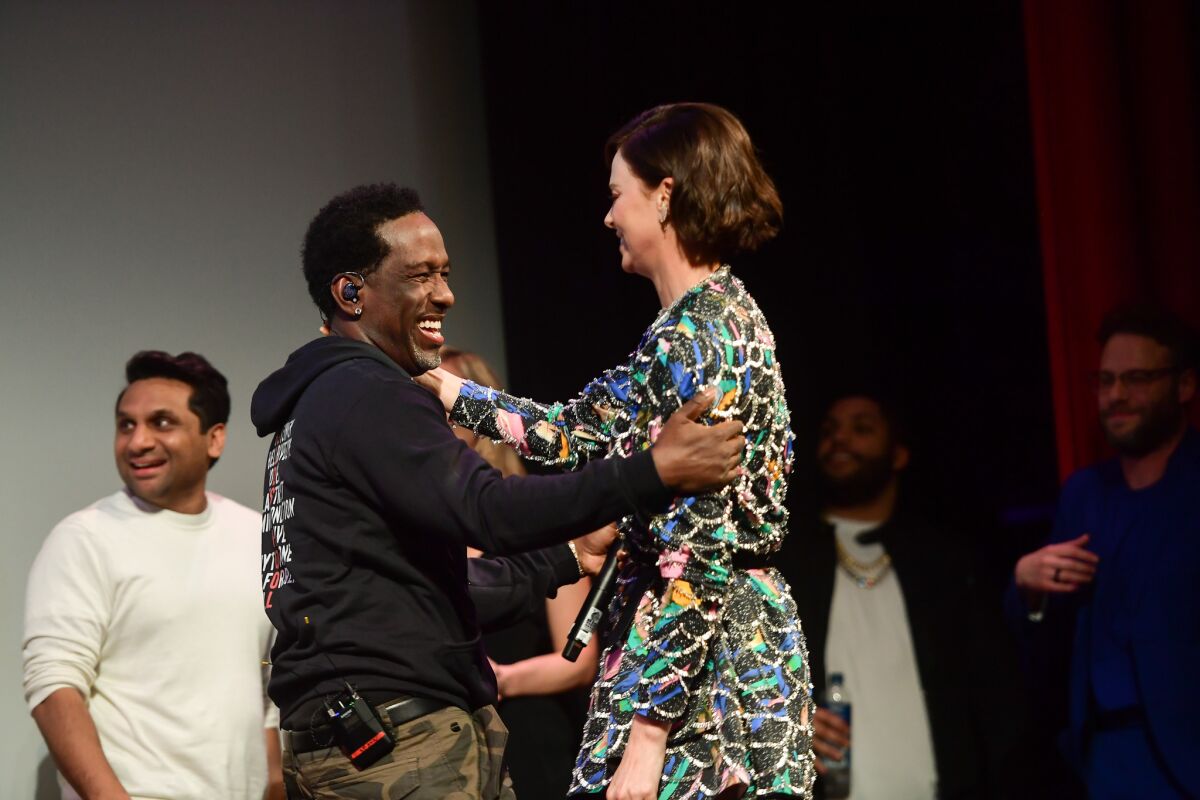 When Pierson asked Rogen about working with the music group Boyz II Men, who appear in a party scene early in the film, Theron pretended exasperation that the question was not about his feelings regarding working with her.
Rogen, a regular presence at SXSW, responded, "First of all, working with Charlize was amazing. She can't sing that good, I'll be honest, and she is responsible for zero of my bar mitzvah hook-ups. Whereas Boyz II Men — also responsible for zero of my bar mitzvah hook-ups.
"But actually, speaking of Boyz II Men, what better way to celebrate this evening than with a very special treat," Rogen said. "So here to perform for all of you, I'm amazed to be saying this myself, please give it up for Boyz II Men, everybody!"
And with that, indeed, Boyz II Men took the stage at the Paramount Theatre and performed two songs, the up-tempo "Motownphilly" and the slow-jam "I'll Make Love to You." As the audience was on its feet, throughout the performance, Theron and Rogen stood to the side of the stage but still within view of the crowd. Theron in particular seemed to delight in the music, dancing along. The group gave red roses to women in the crowd, including Theron, during "I'll Make Love to You."
As if all that weren't enough, "Long Shot" attendees were handed promotional jackets, like the teal-and-pink one worn by Rogen in the movie, as they left the theater. Soon after, the jackets were seen all over downtown Austin.
SIGN UP for the free Indie Focus movies newsletter »
Follow on Twitter: @IndieFocus
---
Get our L.A. Goes Out newsletter, with the week's best events, to help you explore and experience our city.
You may occasionally receive promotional content from the Los Angeles Times.