How Grammy-nominated hip-hop storyteller Kendrick Lamar describes hometown Compton
Like the fictional Yoknapatawpha County where writer William Faulkner set many of his stories, the rapper and lyricist Kendrick Lamar, who is nominated for seven Grammy Awards including album of the year, has populated his hometown of Compton with stories, plots, images and recollections that map the contours of his city.
Mixing fact and fiction with rhythm and sound, Lamar since his debut mixtape in 2009 has become South L.A.'s most crucial storyteller, and he's harnessed the area's most notable corridor, Rosecrans Avenue, in service of those narratives.
Whether on tracks including "Backseat Freestyle," "Keisha's Song (Her Pain)" or "Money Trees" or in the videos for his tracks "Compton State of Mind" (a riff on Jay-Z's "Empire State of Mind), "King Kunta" and "i," Lamar locates his creative world in the area in which he was raised.
ALSO: The Age of Hip-Hop: From the streets to cultural dominance, a special series
"My section be on the west side of Compton Cali, champ / Where the killers posted on the corner like a letter stamp," he raps to open on his '09 track "Best Rapper Under 25," as if introducing a new character to a reader.
Eight years and hundreds of millions of streams later he still had Compton on the brain when making "Damn.," part of a career-long initiative to represent his city to the world.
By his 2012 mixtape "Compton State of Mind," Lamar was locating Rosecrans by name as he described being on the street chilling, eating "five dollar Little Caesar" and explaining that "mama shopped at Food for Less." Centennial High School, he rapped, "had me swimming with a pool of sharks — me I'm just a good kid trying to keep it neutral / But I'm well aware that a square can get shot, too."
His Grammy album of the year-nominated "good kid, m.A.A.d. city" went deeper into the city's psyche, and his own. He describes witnessing at age 9 a gangbanger "with his brains blown out at the same burger stand where beep hang out." Wary to ID the perpetrator, Lamar raps, "Now this is not a tape recorder saying that he did it / But ever since that day, I was looking at him different."
Lamar's success, however, has inevitably served to disconnect him from the streets where his most crucial lyrics were born. He acknowledged this struggle in a July 2017 interview with comedian Dave Chappelle for Interview magazine.
"[E]verything was moving so fast. I didn't know how to digest it," Lamar said. "The best thing I did was go back to the city of Compton, to touch the people who I grew up with and tell them the stories of the people I met around the world."
The artist echoed this on "Element," from "Damn." In an extended tirade against those who question his devotion to his hometown, Lamar argues in verse that he works overtime to properly represent Compton, and not just on Instagram: "I be hangin' out at Tam's, I be on Stockton / I don't do it for the 'Gram, I do it for Compton."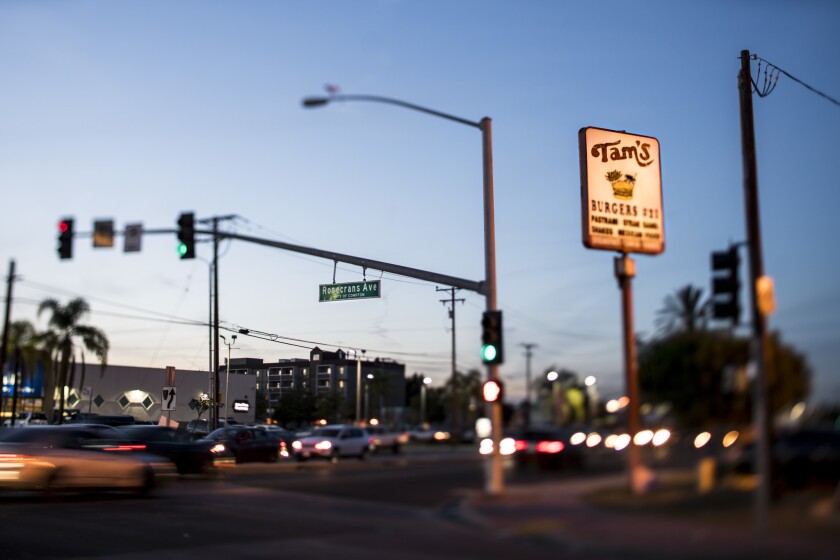 Another track, "DNA," sets part of its story at the western edge of Rosecrans near the beach. Lamar raps of having "loyalty, royalty inside my DNA" while "dodging paparazzi, freakin' through the cameras" and name-dropping the recently shuttered Four Daughters Kitchen in Manhattan Beach.
In doing so, he tacitly illuminates a symbolically crucial distinction between Compton and its neighbor to the west: Seldom will you find paparazzi camped out at Tam's Burgers.
ALSO
What are the best songs that reference Rosecrans Avenue?
How Compton's Rosecrans Avenue became L.A. hip-hop's Main Street
Explore and listen to the music of Rosecrans Avenue, rap's Main Street
Compton's Most Vaunted: Who would deserve a spot on a Rosecrans Walk of Fame?
The Age of Hip-Hop: From the streets to cultural dominance, a special series
---
The complete guide to home viewing
Get Screen Gab for weekly recommendations, analysis, interviews and irreverent discussion of the TV and streaming movies everyone's talking about.
You may occasionally receive promotional content from the Los Angeles Times.