Review: Ariana Grande leaves the princess image behind with 'Dangerous Woman'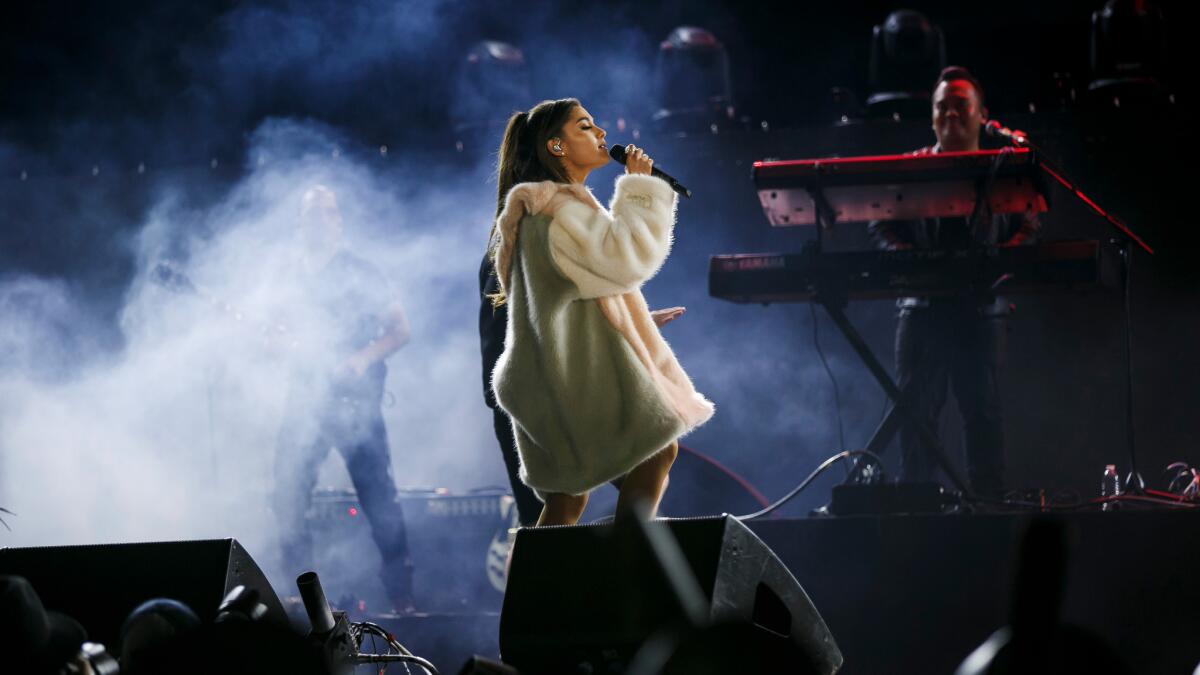 In Scooter Braun's pop-star factory, every misdeed must be owned before it can be left behind.
We saw this last year when the talent manager's highest-profile client, Justin Bieber, used his album "Purpose" to take responsibility for a recent stretch of tabloid shenanigans. Now it's happening with Ariana Grande, a singer until very recently in Braun's stable whose new album, "Dangerous Woman," follows an incident that threatened to undo her wholesome image.
------------
For the Record
May 18, 5:15 p.m.: An earlier version of this review referred to Scooter Braun as Ariana Grande's manager. Braun no longer manages Grande's career.
------------
In July, this former Nickelodeon star was caught on surveillance tape with her boyfriend in a California doughnut shop, where the size of some of the merchandise led her to proclaim, "I hate America." Grande, 22, quickly took to social media to apologize for her comment, explaining that what she really hates is America's blithe view of childhood obesity.
But for artists connected to Braun, no mea culpa is complete without a song — and, sure enough, there seems to be one near the end of "Dangerous Woman," due Friday.
"I've been doing stupid things, wilder than I've ever been," Grande sings in "Bad Decisions," a tune whose message initially appears clear: I sinned, I'm sorry, let's move on. Keep listening, though, and Grande's tone shifts from remorse to something like pride. She blames the behavior on a boy, then admits she's enjoying it.
"Ain't you ever seen a princess be a bad bitch?" she asks, and if there's a question that deserves to be emblazoned on a scoop-neck T-shirt by summer's end, it's that one.
That sorry-not-sorry vibe pervades — and enlivens — "Dangerous Woman," on which Grande strengthens the attitude she began flashing in hits such as "Problem" and "Break Free" on her previous album, 2014's "My Everything." Working with super-producer Max Martin and his team of studio wizards, the singer salutes a lover who "makes me wanna do things that I shouldn't" in the new record's sultry title track and longs for an affair that's "a little bit scandalous" in the throbbing "Into You."
"Side to Side," a bouncy duet with Nicki Minaj, has Grande "making deals with the devil" that she knows are "gonna get me in trouble." And there are guest spots from Lil Wayne (in "Let Me Love You") and Future ("Everyday"), each of whom describes himself as the bad guy perfectly suited to Grande's needs.
Yet "Dangerous Woman" doesn't forsake the malt-shop sweetness that distinguished Grande's breezy 2013 debut, "Yours Truly." In "Moonlight," the record's opening track, she's rhapsodizing about a dude "with some James Dean in his eyes" over a lightweight doo-wop groove decorated with crisply plucked violin. Later, the buoyant "Be Alright" offers a dose of feel-good optimism: "The hard times are golden 'cause they all lead to better days," she promises in a voice that sounds like it's never seen worse than a broken fingernail.
Given that she started out as an actress, it shouldn't come as a surprise that Grande can work convincingly in more than a single mode. But it's still impressive how fully she inhabits the emotional environment of each song here, even when one directly contradicts another. In the middle of the album, she goes from "Greedy," an up-tempo disco jam about craving a partner's body, right into "Leave Me Lonely," a bedraggled torch song featuring Macy Gray, of all people. Both songs feel equally believable.
She's just as deft adapting to different styles, be it reggae ("Side to Side"), 1990s dance-pop ("Be Alright") or the weird fusion of campfire guitar and trap percussion in "Sometimes." But as anyone who's seen this deceptively ferocious singer in concert knows, Grande never seems as enthused as she does in a big, old-fashioned R&B ballad — a tune such as Whitney Houston's "I Have Nothing," which she demolished last year in a gig at the Forum.
"Dangerous Woman" has a good one in "I Don't Care," which, like "Bad Decisions," sets you up for one thing before delivering another. In this case, the song's measured groove and tasty horns seem to be introducing a song about the lengths she'll go to for love; maybe she'll say how she doesn't care what it takes to make a relationship work.
But then Grande starts singing, low and breathy at first, about how "she used to feel so obligated to be so much more." And soon she's cranking up her vocal as she lays into the people who used to "tell me how to live and what to be."
Turns out what she doesn't care about is your opinion of her. "If I can't be me, then what's the point?" she wonders.
Makers of sugary baked goods shouldn't relax quite yet.
Twitter: @mikaelwood
Get our L.A. Goes Out newsletter, with the week's best events, to help you explore and experience our city.
You may occasionally receive promotional content from the Los Angeles Times.