Grammy rehearsals aim to be true to the political climate while celebrating music
Elton John rehearses for the 60th Grammy Awards show at Madison Square Garden in New York on Jan. 25. Note the keyboard eyelashes.
(Carolyn Cole / Los Angeles Times)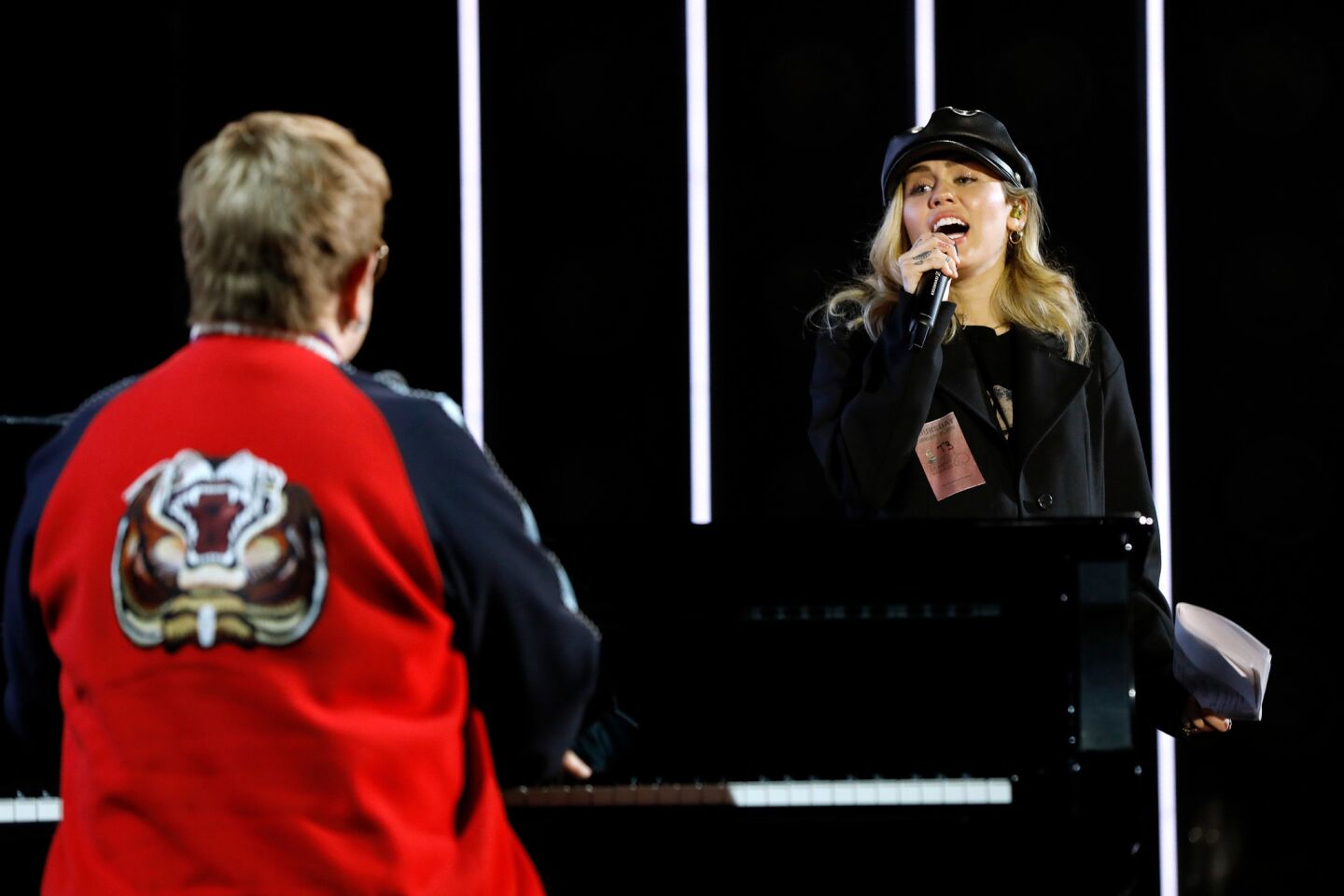 Elton John rehearses with Miley Cyrus for the 60th Grammy Awards show at Madison Square Garden in New York on Jan. 25.
(Carolyn Cole / Los Angeles Times)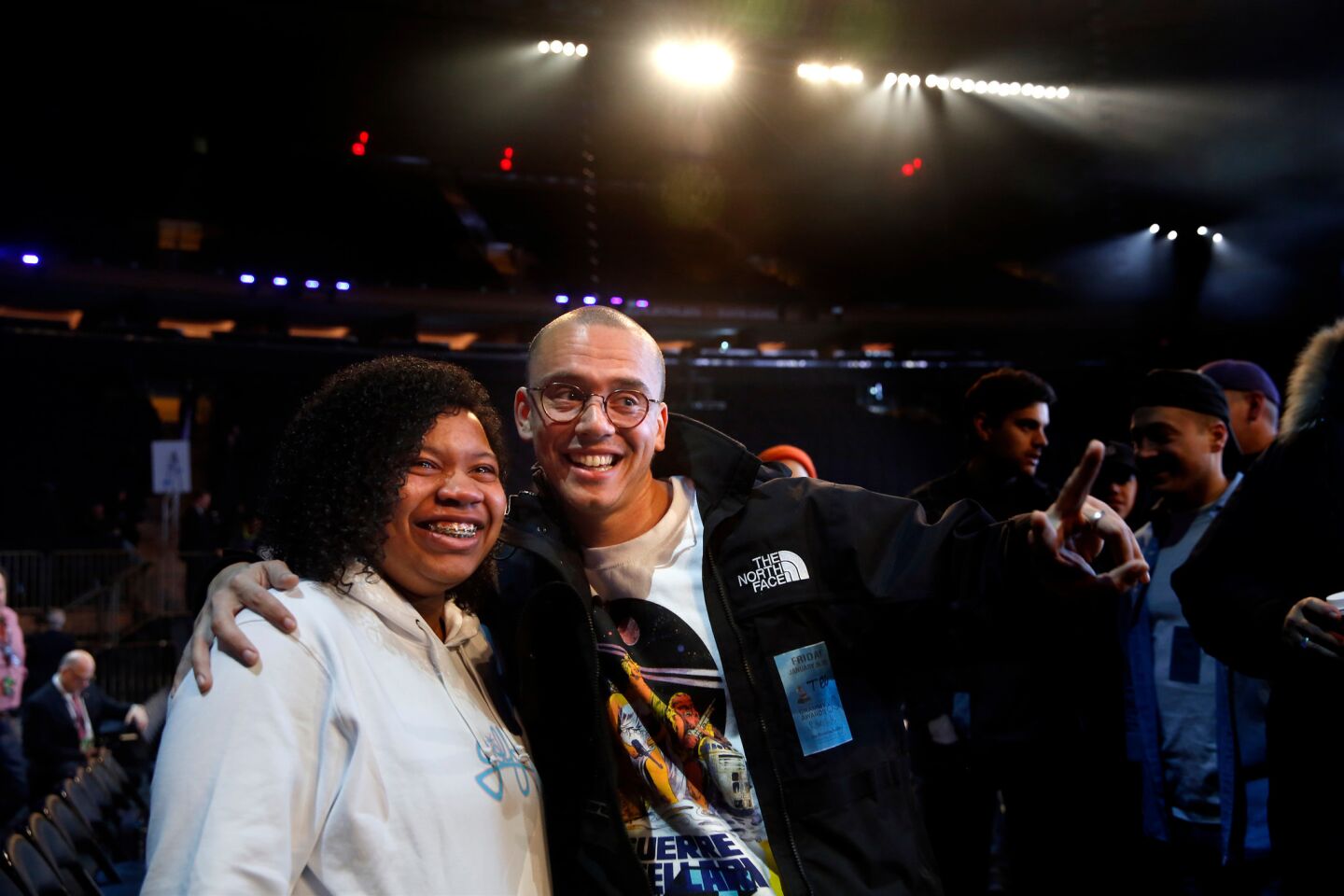 Logic takes photos with fan Regina Wolfe, 15, of El Paso after rehearsal for the 60th Grammy Awards show at Madison Square Garden in New York on Jan. 26.
(Carolyn Cole / Los Angeles Times)
Khalid and Alessia Cara during rehearsals for the 60th Grammy Awards show at Madison Square Garden in New York on Jan. 26.
(Carolyn Cole / Los Angeles Times)
Khalid rehearses for the 60th Grammy Awards show at Madison Square Garden in New York on Jan. 26.
(Carolyn Cole / Los Angeles Times)
Khalid, Logic and Alessia Cara rehearse for the 60th Grammy Awards show at Madison Square Garden in New York on Jan. 26.
(Carolyn Cole / Los Angeles Times)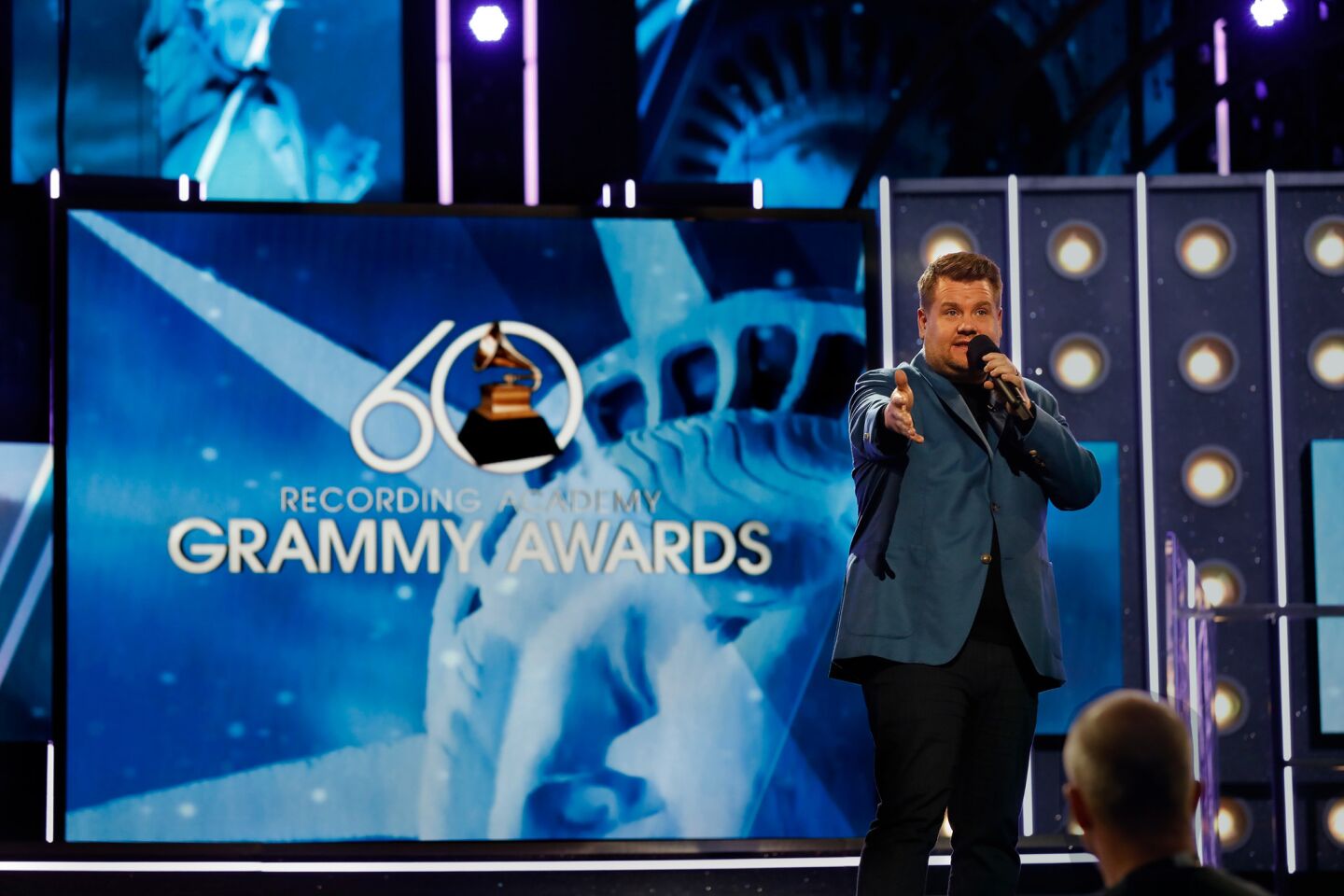 James Corden rehearses to host the 60th Annual Grammy Awards on Jan. 25, 2018. The show is return to New York City at Madison Square Gardens on Jan. 25, 2018.
(Carolyn Cole / Los Angeles Times)
Ken Ehrlich, executive producer of the show, left, talks with stage manager Garry Hood.
(Carolyn Cole / Los Angeles Times)
Stagehands work on the set.
(Carolyn Cole / Los Angeles Times)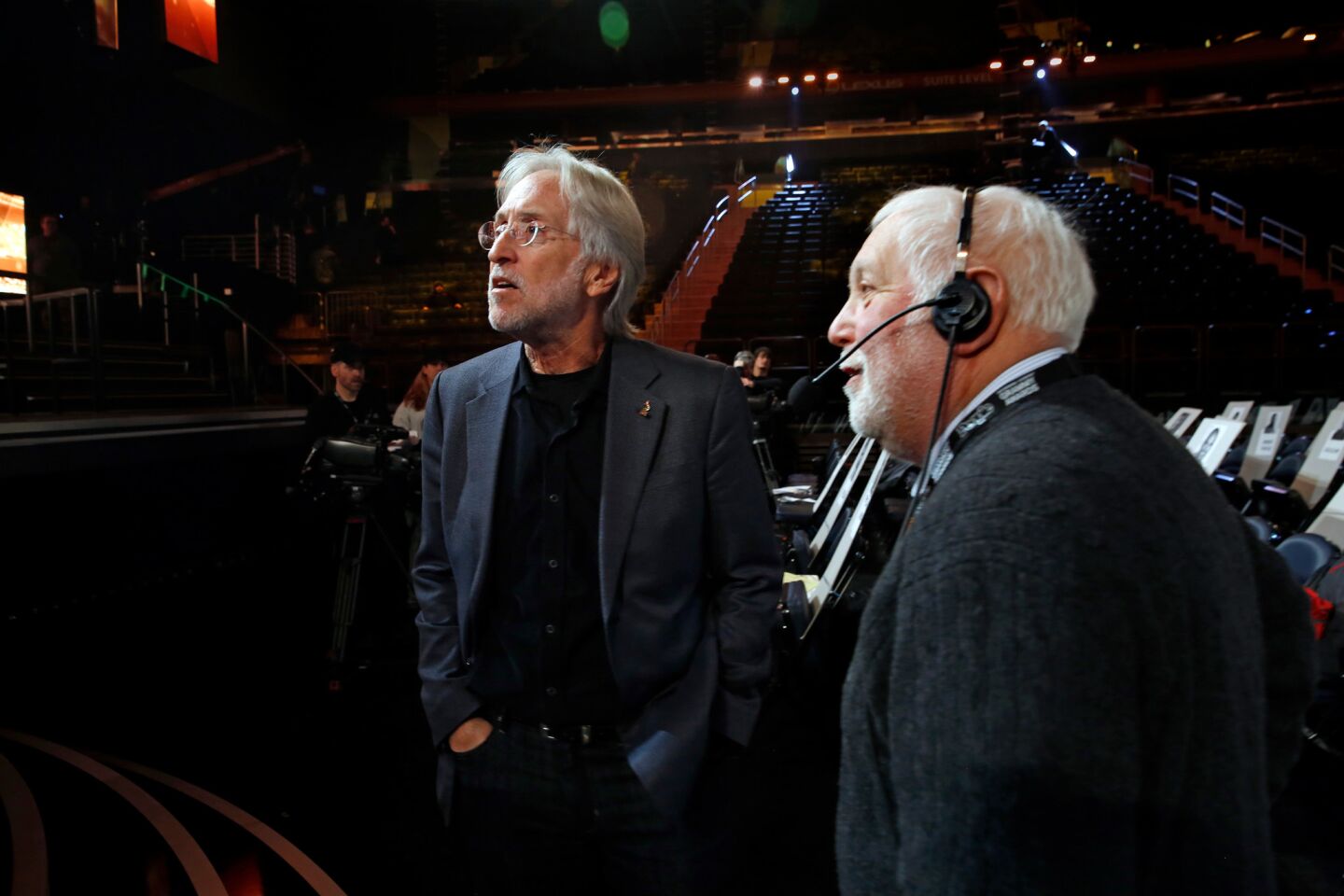 Neil Portnow, Recording Academy president/CEO, left, with Ken Ehrlich, show executive producer.
(Carolyn Cole / Los Angeles Times)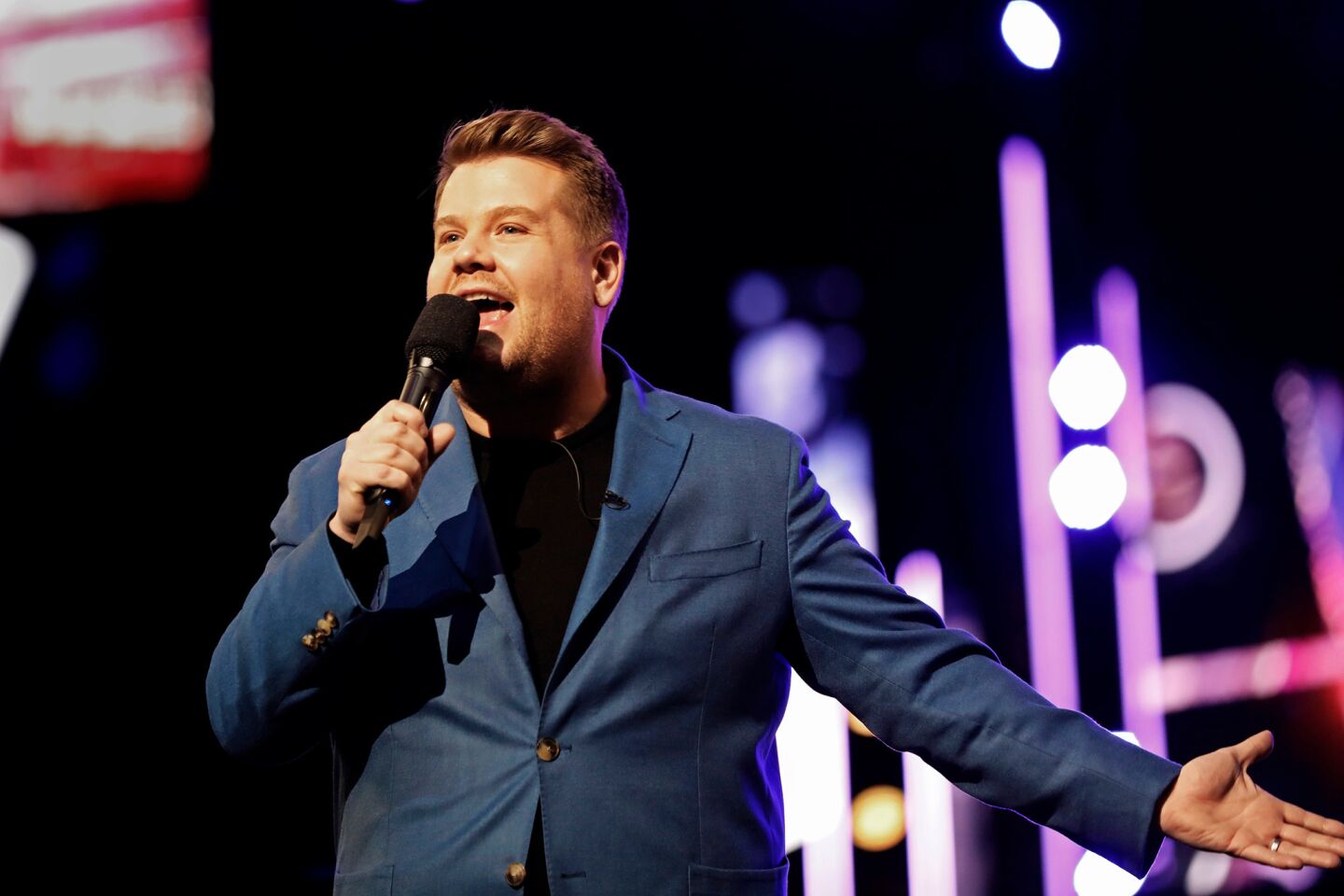 Host James Corden
(Carolyn Cole / Los Angeles Times)
Executive producer Ken Ehrlich
(Carolyn Cole / Los Angeles Times)
Ken Ehrlich, left, show executive producer, Neil Portnow, Recording Academy president/CEO, Jack Sussman, executive vice president at CBS, and James Corden, host, assemble for the red-carpet rollout.
(Carolyn Cole / Los Angeles Times)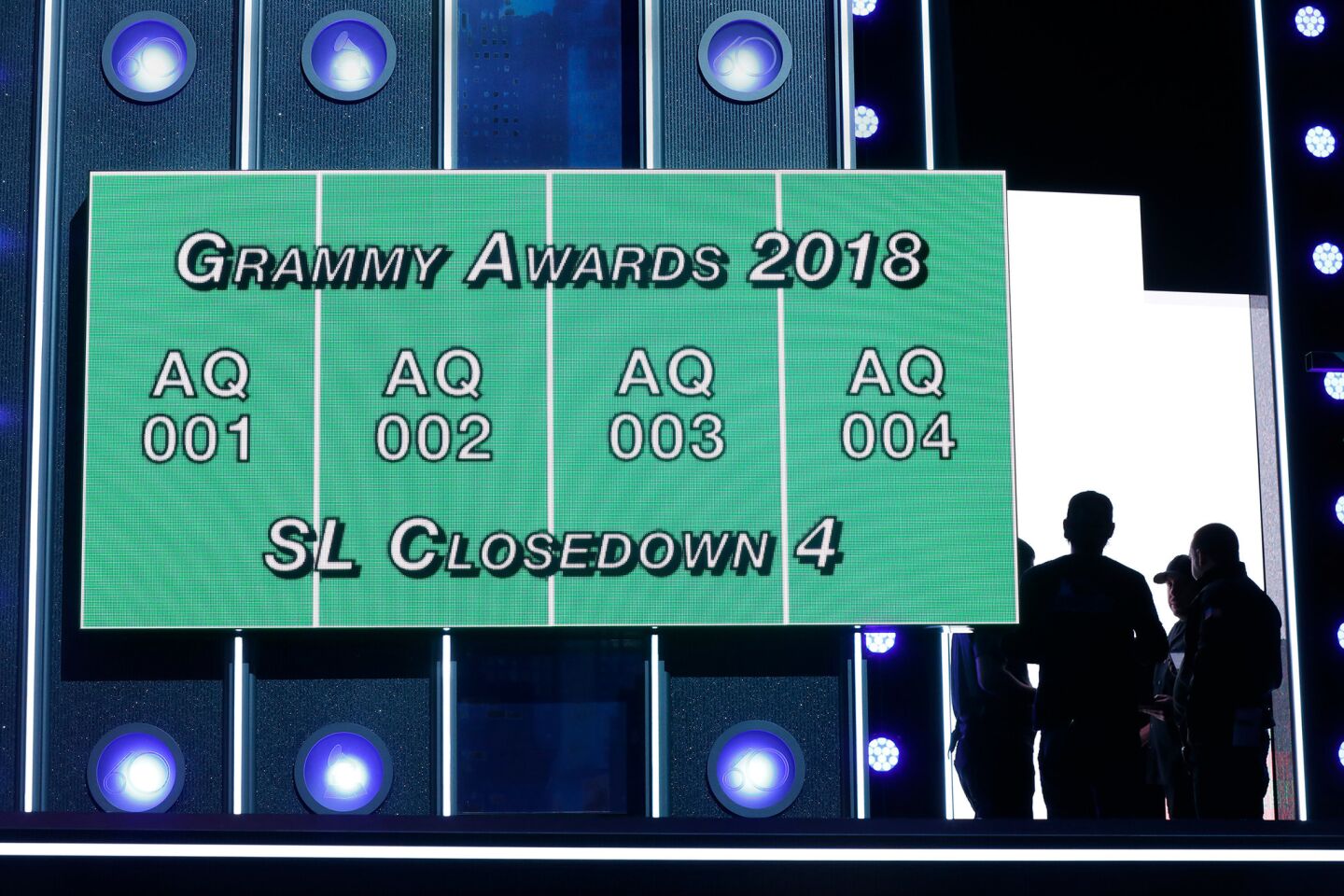 Preparations are under way for the show,
(Carolyn Cole / Los Angeles Times)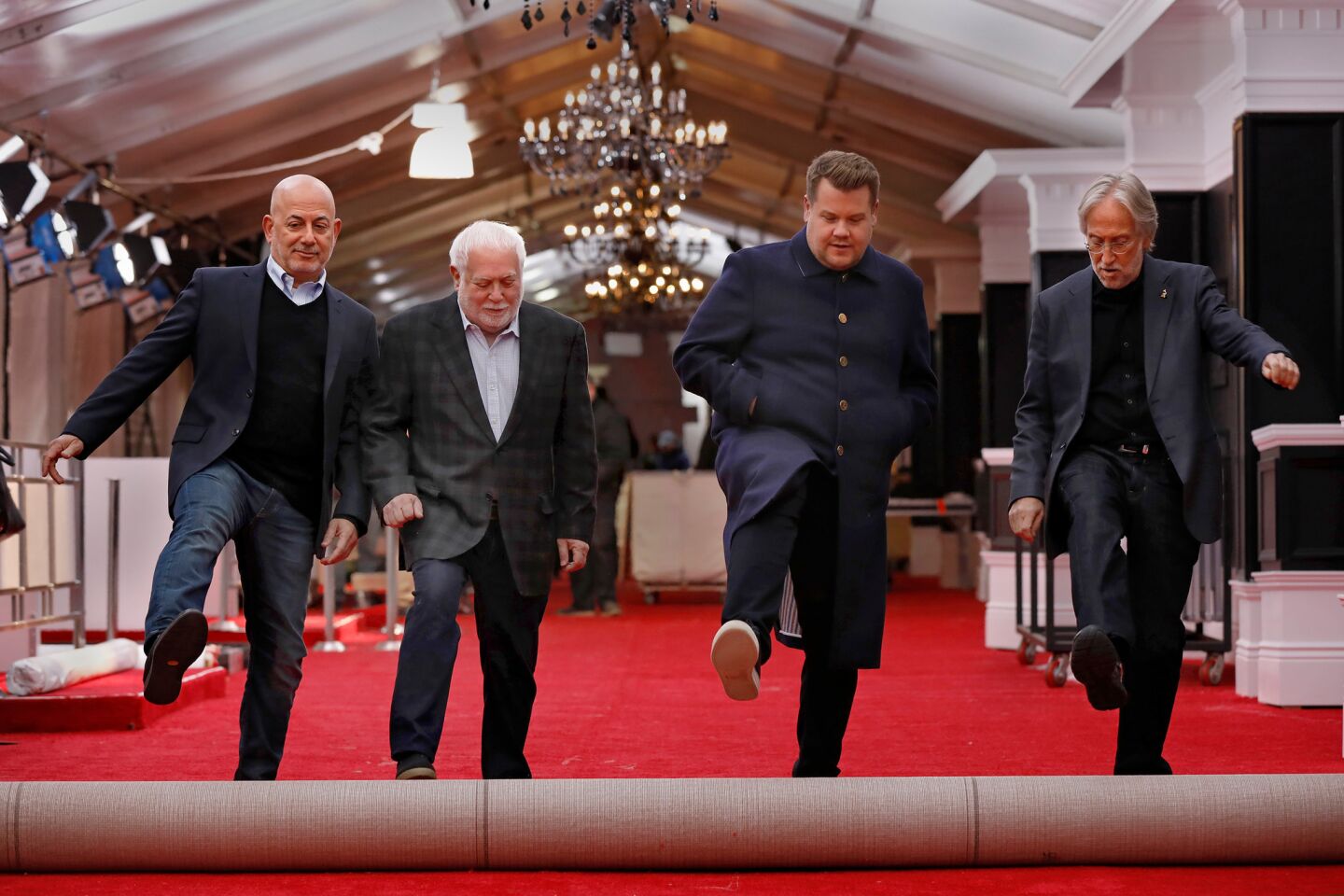 Jack Sussman, executive vice president at CBS, left, Ken Ehrlich, show executive producer, James Corden, host, and Neil Portnow, Recording Academy president/CEO.
(Carolyn Cole / Los Angeles Times)
Reporting from New York —
"Can I have more [sound] in my ear?" Miley Cyrus asked as she went over notes with Elton John.
The two were prepping a take of John's signature "Tiny Dancer" as rehearsals for Sunday's 60th Grammy Awards kicked off at Madison Square Garden Thursday afternoon.
It was the first day of the penultimate lap of the marathon that's been underway since Grammy nominations were announced in November, and the well orchestrated chorus of chaos that comes with mounting a live 3½-hour music spectacle was apparent before you walked into the cavernous venue.
A forklift carrying barricades held up a crowd of commuters rushing toward Penn Station as construction was underway in and around the arena prepping for music's biggest night, which is returning to New York for the first time in 15 years.
"We love our home in L.A., but this offers us a chance to shake it up a little bit and message it a little differently to the audience," said Jack Sussman, CBS's vice president of live events and specials. "It's the 60th anniversary and we haven't been here in 15 years. This was an opportunity, for one year, to give [the show] a different spin."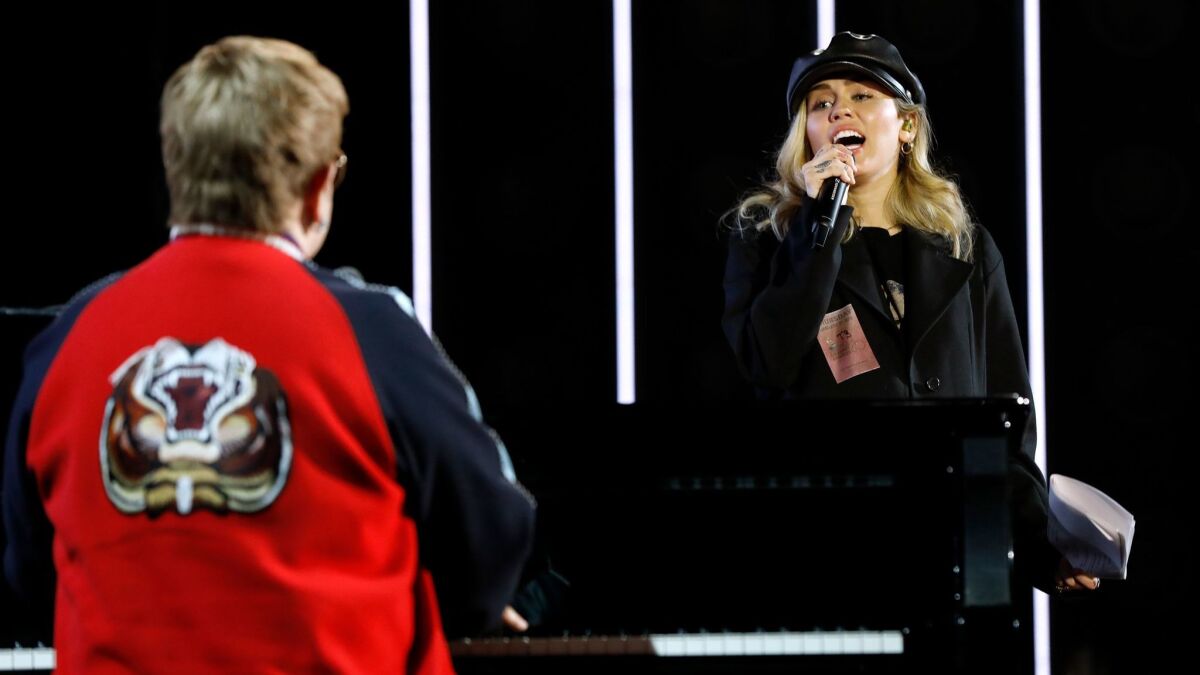 The red carpet stretches through a specially erected tent, which looks to be the length of a football field. More than a dozen workers, their labored breaths visible in the frigid 30-degree weather, assembled platforms that will house reporters from across the world.
There were gold-plated logos of the Grammys and its host network, CBS, embossed on black-velvet-dotted walls. Black chandeliers were hung throughout the stretch of bright red carpet, with rows of white columns adorning the space.
But the real action was going down inside the Garden, where Ken Ehrlich, the telecast's longtime executive producer, Sussman and Recording Academy President Neil Portnow pieced together the more than 20 performances that will punctuate Sunday's show.
The main stages were lighted with neon and light bulbs reminiscent of a Broadway marquee — a nod to the Great White Way that defines New York — and framed by nearly two dozen hanging video screens.
As John and Cyrus moved through a couple of takes — it was the first time the two ever sang together — the show's host, James Corden, returning for a second stint as emcee, was in the producer's bullpen snacking on fruit-flavored gumdrops and giddy over his exchange with John. "He really is the sweetest guy."
"The night is really about the performances," Corden told reporters earlier in the morning. "As a host you want to usher that in."
Mounting the show in New York has kept producers on their toes as they contend with a number of challenges, from chilly temperatures to the logistics of navigating a sprawling city and a venue that, unlike Staples Center in L.A., wasn't designed with the massive production in mind. In the days before the show, reports surfaced of tension between the city and the Recording Academy sparked by budget overruns and discussions of concessions to offset the event's cost.
Although the Grammys are projected to pour a projected $200 million into the local economy, according to the Mayor's Office of Media and Entertainment, Crain's New York reported that the production will cost between $6 million to $8 million more than it would if it been in L.A.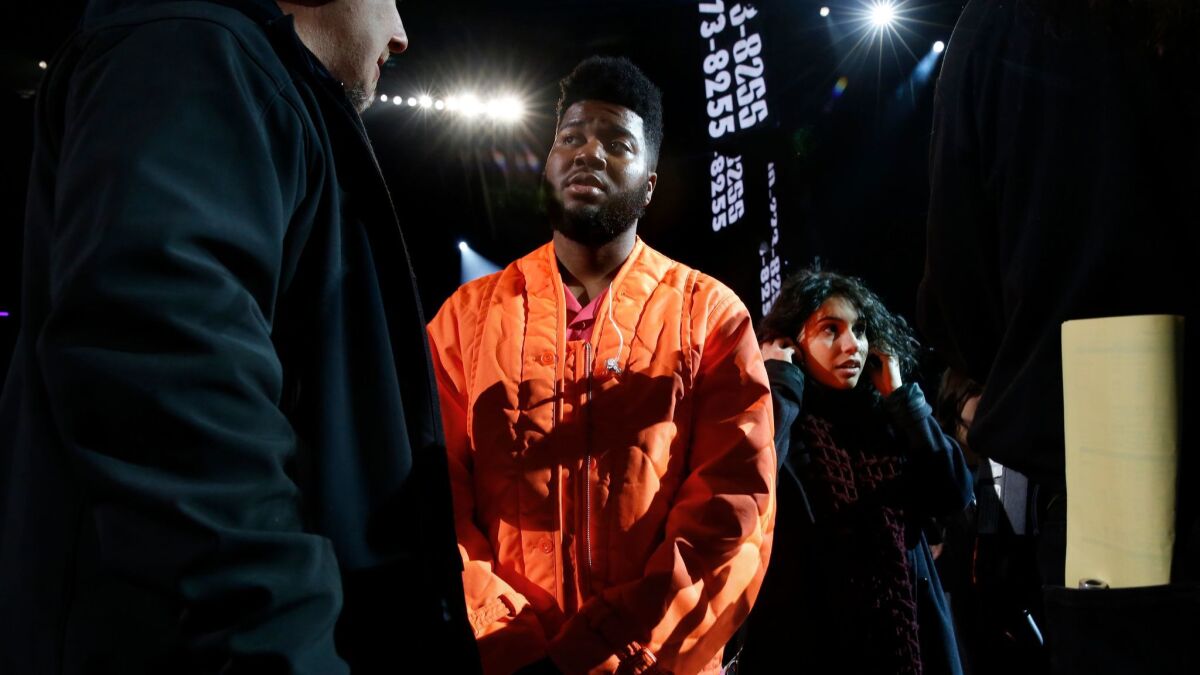 Portnow, who declined to divulge the show's budget, said the city ultimately didn't fully deliver on fundraising promises it made to the academy, which the mayor's office declined to comment on.
"We know that it's a lot more expensive to do the same week in New York that you do in L.A. — even if you change nothing. We came here fully aware," he said. "The unions are different here … the costs of hotels … catered meetings, all of that stuff adds up.
"The city basically made a number of assertions and plans and commitments that we more or less relied on. Possible sponsorships and all kinds of different ways to cover [the cost]," he continued. "It hasn't quite been what we expected or felt was promised to us … and we have an honest disagreement about that."
Even so, while the show producers all groused about the financial challenges of the relocation, it was in the "rearview mirror" of thought as Sunday's show started to take shape inside Madison Square Garden.
Sunday's show will reflect a wave of change that began with the crop of nominations.
After largely being overlooked in major categories for nearly four decades, hip-hop figures prominently in this year's nods — an embrace that acknowledges the genre's ubiquity and pop influence. Jay-Z leads with eight nominations, followed by Compton rapper Kendrick Lamar with seven. Both emcees are front-runners for album of the year and landed in either record or song of the year. One of the night's highlight performances will come courtesy of an explosive set from Lamar, which will feature U2 and Dave Chappelle.
Among the other artists on tap for Sunday's show are Rihanna, DJ Khaled, Sam Smith, SZA, Luis Fonsi & Daddy Yankee, Lady Gaga, Little Big Town, Bruno Mars, Cardi B, Chris Stapleton, Emmylou Harris, Pink, Sting and Childish Gambino.
The show will cover the past year of nominated songs and those trademark Grammy moments of surprise pairings, along with several tributes to musicians who died during the year.
Chuck Berry and Fats Domino will be honored by Gary Clark Jr. and Jon Batiste. Stapleton and Harris are pairing for a duet of "Wildflowers" in honor of Tom Petty that will lead the "In Memoriam" package.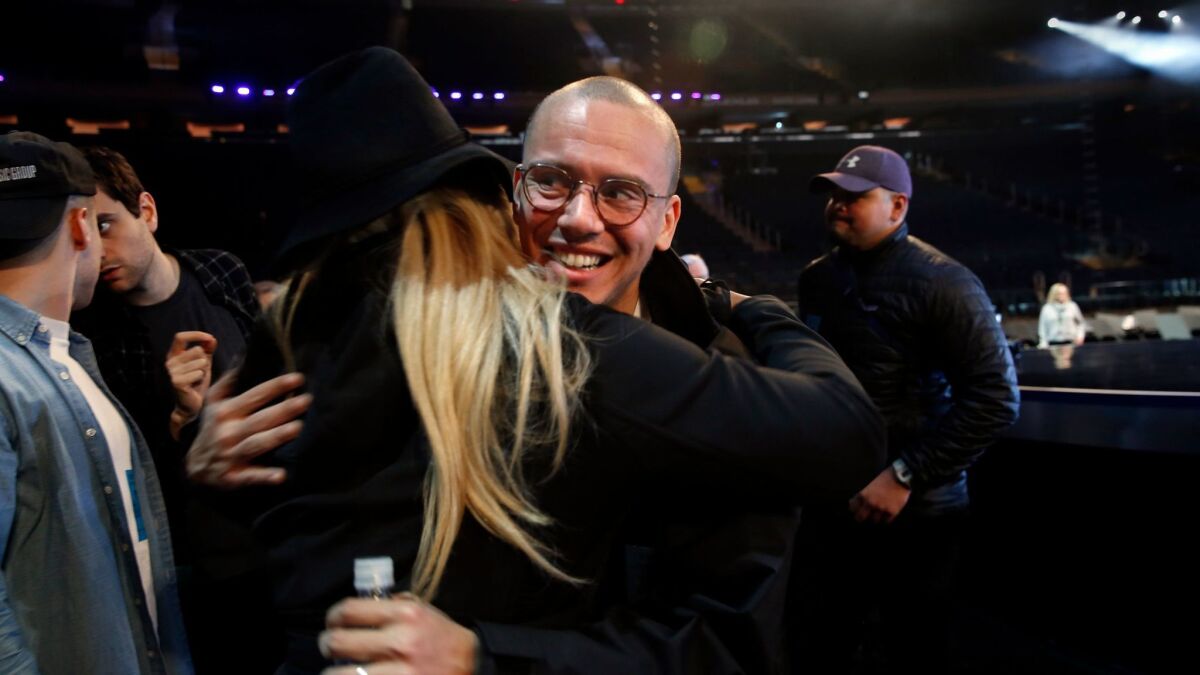 More eyes likely will be glued to the moments of the show that will address social issues such as gun violence, mental illness and sexual abuse — hotly debated topics that in recent months have jolted the entertainment industry. Producers stressed that they never look to force politics into the show, instead leaving it up to artists to use the platform as they see fit.
"We really do believe in artists' rights," Ehrlich said. "Everything comes from them. They are more than the sum of their lyrics and music. There's certainly more of a magnifying glass on our show because of the [Time's Up show of support at the] Golden Globes."
As Corden and Ehrlich discussed a potential segment, the newscast in the producer's bullpen displayed a press conference of an Arizona woman who was leaving the hospital after recovering from a "non-survivable injury" after being shot in the head at the Route 91 Harvest country music festival. The attack that left 58 dead and hundreds more injured will be addressed on Sunday's show with a tribute performance from Maren Morris, Eric Church and Brooks Osborne; the names of the victims will be displayed on paper lanterns.
Ehrlich was especially proud of the performance Kesha was prepping. The pop star, who saw her career stalled for years after going public with allegations of abuse against her mentor, superstar producer Dr. Luke, rebounded with last year's "Rainbow" (up for pop album).
Kesha will tackle the album's stunning, redemptive ballad "Praying" alongside an all-star chorus of women in pop, including Cyndi Lauper, Camila Cabello, new artist nominee Julia Michaels, Andra Day and Bebe Rexha. They'll be joined by members of the Resistance Revival Chorus, a collective of women who come together to sing protest songs.
"It's going to be powerful," Ehrlich promised. "It would be an amazingly strong performance under any circumstance, but when you factor in what's happening it becomes much more relevant, in a way. It's what I love most about this show. Obviously there's a lot of people wondering about Time's Up and #MeToo and what's so gratifying to me as a child of the '60s is seeing this fervent commitment to change by a new generation."
The day before rehearsal kicked off, an open letter was circulated among the music industry by a group calling itself the "Voices of Entertainment."
Taking its cues from the Times Up campaign that defined the Golden Globes, the group is requesting attendees and nominees wear white roses in support of "equal representation in the workplace, for leadership that reflects the diversity of our society, workplaces free of sexual harassment and a heightened awareness of accountability."
It's a call to action for an industry that for all its history of "sex, drugs and rock & roll" has remained largely unscathed by the sea change. Even with a high-profile act like Kesha, her case had raged on for quite some time before she saw any support from her peers, and musicians have especially found themselves criticized for being silent on issues like sexual assault and harassment within the industry.
Tarana Burke, founder of the #MeToo movement (which wasn't involved in the white rose campaign), said she hopes the gesture sparks conversation and that shows like the Grammys should find ways to be impactful.
"The thing that is so powerful about #MeToo is it's really emboldened other women," she told The Times at a Grammy week event celebrating black women in music. "I'm sure there are a lot of #MeToos in the music industry. I don't ever promote people being forced to come out and say anything at all. People take their own time and do it when they are ready."
Still, she added: "Anything that's culturally relevant — whether it's political or societal — should find some way to address it," she continued. "And this is a thing that's so pervasive that you can't ignore it. I don't know if flowers is quite the way to go, but at least it's some kind of acknowledgment, and it's my hope that the gesture opens up more conversation and real dialogue."
Back inside Madison Square Garden on Friday, Logic was atop a center platform rapping his anthem "1-800-273-8255."
Titled after the National Suicide Prevention Lifeline, the hit (it's up for song and video of the year) had an effect far beyond the charts as calls to the lifeline went up between 30% and 50% after its video went viral, and Logic is using his moment on the Grammys stage to make a powerful statement.
He and collaborators Alessia Cara and Khalid (both competing for new artist) were flanked by more than a dozen suicide loss survivors and those who have recovered from suicide attempts — the rapper capping the emotional performance with a poignant call to action for equality for women, minorities and immigrants as the hot line number flashed across multiple video screens.
"Let's reset and go once more, guys," a disembodied voice from production echoed in the loudspeaker as everyone moved back into place.
ALSO
After losing steam, the Stereotypes almost hung it up — now they are up for producer of the year
The Grammys' hip-hop game-changers Kendrick Lamar and Jay-Z: An East Coast-West Coast contest
Meet the Swedish producer who helped take Childish Gambino to the Grammys
Open letter inspired by #TimesUp asks for white-rose show of support at Grammy Awards
Young rappers are getting honest about doing battle with depression, drug addiction and suicide
gerrick.kennedy@latimes.com
Get our L.A. Goes Out newsletter, with the week's best events, to help you explore and experience our city.
You may occasionally receive promotional content from the Los Angeles Times.