Kacey Musgraves stays true to herself amid Nashville's bro homogeneity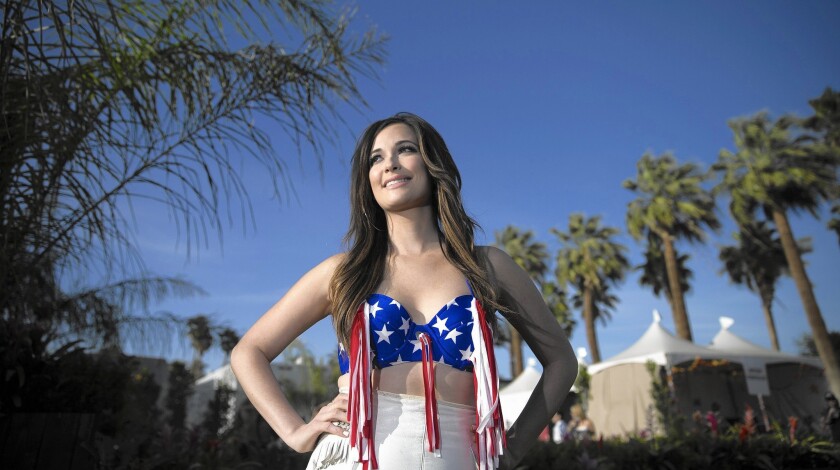 Kacey Musgraves has every reason to sound upbeat. In the span of a year, she's sung at the Country Music Awards with Loretta Lynn, recorded with Beach Boy Brian Wilson and been a contender for a new artist Grammy.
But the 26-year-old isn't looking back. She's instead talking about what comes next.
"Oh, man," she said backstage after a show on the main stage of the Stagecoach Country Music Festival in April. "There are a lot of things to look forward to: new music, new creative ideas."
The Texas native is at the forefront of a cresting wave of fresh talent — along with Sturgill Simpson, Brandy Clark and Ashley Monroe — that's injecting considerable spunk into mainstream country music at a time when it's been stuck in a rut of bro-country homogeneity.
Her sophomore album, "Pageant Material," was released this week, and early response to the album's first single, "Biscuits," has been enthusiastic. All signs point to Musgraves building on the career momentum she established with her 2013 debut, "Same Trailer Different Park."
That album in many ways defied conventional wisdom as it scored honors from the Country Music Assn. and the Academy of Country Music and earned Musgraves Grammys for country album and song for her breakthrough single "Merry Go 'Round," which championed open-mindedness and inclusivity rather than polarizing sentiments often associated with country music.
"The thing that I'm the most proud of is getting to literally say what I want to say and create the things that I want to create, because a lot of times that doesn't happen," the singer and songwriter said inside an artist trailer backstage at Stagecoach. She'd changed from the red, white and blue bikini top, fringed white miniskirt and light-up cowgirl boots she'd worn onstage into a more comfy ensemble of soft blue denim jeans and a "Dia De Los Tamales" T-shirt from one of the festival's food vendors.
"I feel like people might start off painting themselves one way to follow a trend and then they're stuck doing that. I'm just really lucky in that I've found people right from the beginning who were in my corner, and I'm like, 'Look, this is what I want to do,' and I've never had to compromise that."
That attitude has manifested as one of the freshest arrivals in country music of the new millennium, as Musgraves has staked out territory as an artist willing to challenge prevailing thinking in Music City.
She extends her stay-true-to-yourself mantra in the new album's title track, which she wrote with frequent collaborators Luke Laird and Shane McAnally. The song revisits an incident from her childhood when she was being groomed as a contestant in a beauty pageant, only to realize that the whole process made her feel out of place: "I've tried to fake it but I can't/ I'd rather lose for what I am/ Than win for what I ain't."
That touches the heart of the thematic territory Musgraves has established, one that contains considerable empathy for society's outsiders.
"Empathy?" she asked, sounding surprised at the suggestion and added with a little laugh, "I didn't know I had so much.
"I think a lot of it came from moving away from home and being exposed to a million different kinds of people and beliefs," she said, referencing a move from Mineola, Texas, to Austin when she turned 18. "It really changed me. I feel like where I come from, you can easily get a very one-sided opinion of things, and it really broadened my ideas of people and how things worked.
"When I moved away, I started writing a lot too. I really was inspired by that big Nashville songwriting community, how strong they were, and how supportive. It really inspired me and made me a better writer."
Musgraves moved to Nashville from Austin in 2008, and although the collaborative nature of songwriting in Music City can result in a generic, written-by-committee sound, she finds that the results add fresh ideas to her vocabulary.
"I think some of my best work is with other people, which is interesting, because you don't see many paintings where a painter starts it and then hands it to someone else to finish," she said. "So music is different in that way. But I really enjoy bringing an idea I've started to someone else, and their brain may take it to a place, take it in a completely different direction that I would never think about."
Musgraves, who produced the album with Laird and McAnally, is also trying to go in new directions musically. There's less of the rock-band-with-a-twang sound that characterizes much of Nashville today, more elegant steel guitar and spare acoustic instrumentation, contributing to an overall tone of sweetness.
"Pageant Material" incorporates a number of touches — who whistles on a country record nowadays? — that more convention-conscious musicians or record executives might reject. But for Musgraves, "My answer is, why not? If it feels good, it's right."
That's part of a musical mind-set that's won her fans beyond the mainstream country community. Pop princess Katy Perry helped get the ball rolling for Musgraves when she tweeted her enthusiasm about "Merry Go 'Round" in 2012. Beach Boys creative leader Wilson invited her not only to harmonize with him on his latest studio album but also to cowrite the song "Guess You Had to Be There," which they sang together as well. Veteran country-Americana music maverick Steve Earle calls her "the real thing — she can write."
It's been a wild ride for Musgraves. "Singing with Loretta Lynn on the CMA Awards, the duet with her, was absolutely unreal," she said. "She's the woman in country that kind of said it all. Getting to tour with Willie Nelson and Alison Krauss, that was big one."
And all this has come before she's even released her second album.
"It's funny, it can seem like you come out of left field for people, but it's something I've been working toward for so long," she said. "But it's OK — a slow build is OK for me. I feel like I'm really falling into knowing what I want to sound like, what I want to say. I feel like that just gets easier with time. So I'm not impatient about anything.
"I'm having fun along the way, trying to keep my sanity and just have fun — to be present for every minute of this."
Follow @RandyLewis2 on Twitter. For classic rock, join us on Facebook
---
Inside the business of entertainment
The Wide Shot brings you news, analysis and insights on everything from streaming wars to production — and what it all means for the future.
You may occasionally receive promotional content from the Los Angeles Times.