From the Archives: Unforgettable night: Natalie Cole is in stellar form during her first concert since her kidney transplant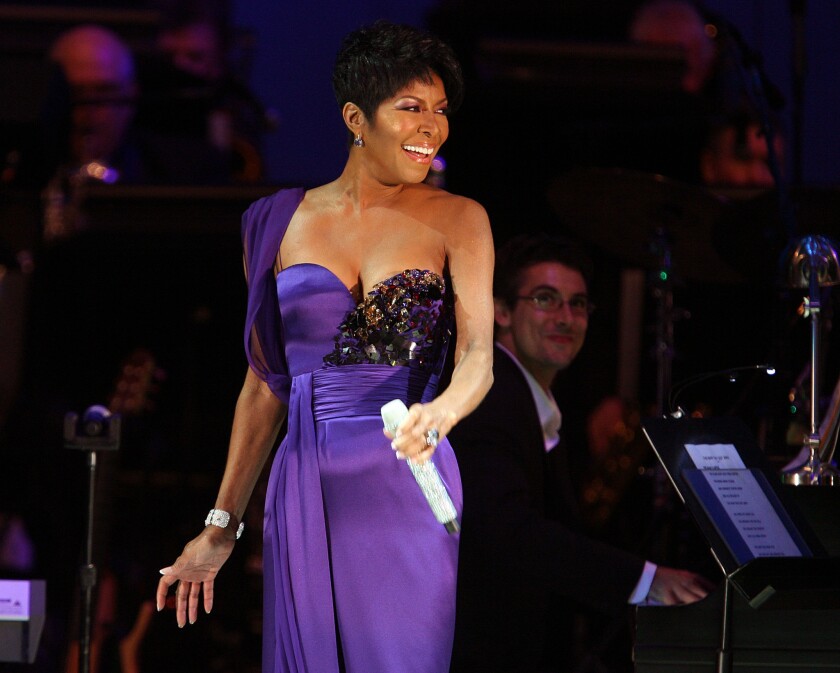 Natalie Cole has died at the age of 65. What follows is a 2009 review of the singer's Hollywood Bowl concert.
-----
You got the feeling Wednesday night that Natalie Cole couldn't have been happier to be pulling in to the Hollywood Bowl nearly two months late for her gig. "I never thought I'd be standing here healthy, whole and 100% again," the 59-year-old singer told the cheering crowd.
Cole had been slated to perform July 15 but was forced to reschedule following a kidney transplant in May. Her recovery -- guest gospel singer Kurt Carr called her "a walking miracle" when his 10-member choir joined her near the show's end -- made for a warmly emotional backdrop to a performance dominated by music drawn from the Great American Songbook.
She tapped that trove anew last fall in "Still Unforgettable," the successor to her multiple-Grammy-winning 1991 collection, "Unforgettable With Love."
Backed by a big band plus the Hollywood Bowl Orchestra, conducted with snap by "Still Unforgettable" co-producer Gail Deadrick, Cole, dazzling in a strapless purple gown, reclaimed her birthright in tastefully arranged, masterfully sung pop standards such as "The Man That Got Away," "Come Rain or Come Shine," "Walkin' My Baby Back Home" and "Smile."
Join the conversation on Facebook >>
A smart arrangement of "The Man That Got Away" downshifted from a blazing swing that let her show off her precise articulation to a half-tempo section in which she could more gently caress the song's melodic curves, then returned to full speed before slowing down once more.
She took equally great care with Nan Schwartz's Grammy-winning arrangement that recast "Here's That Rainy Day," distinguishing it from the signature Stan Kenton version. One of the key strengths of her outings in this field is her avoidance of the vocal acrobatics that mar so many pop and R&B singers' attempts to sing jazz.
"Walkin' My Baby Back Home" gave her another chance to duet posthumously with her father, whose elegantly silky voice came through the Bowl's P.A. system in perfect sync with her own. She clearly inherited Nat King Cole's effortlessness as a singer, casually remaining behind the beat in most of the ballads.
NEWSLETTER: Get the day's top headlines from Times Editor Davan Maharaj >>
Nat became a video as well as an audio presence on the screens flanking the stage when Natalie got around to "Unforgettable." In childhood photos taken when she had lost her two front teeth, Cole looked unforgettably cute.
Cole followed the standards with a four-song R&B set that pulled in her '70s and '80s pop numbers "This Will Be," "Inseparable," "Mr. Melody" and the bluesy "I'm Catching Hell."
"This Will Be" positively crackled from her joyfulness; it was aided by lock-step harmonies from her two backup singers on that song's effervescent chorus. Cole appeared to be huffing a bit at the end, understandable in what was her first concert since the kidney transplant. But she got her second wind in a final stretch in which she made good on a vow to take the crowd to church with her.
"Be Blessed" and "He's Done Enough" gained firepower from Carr's group, and she offered a string of thank-yous for her own blessings. Would that all divas might get in touch with their humility, and live to sing about it, the way Cole has.
ALSO
From the Archives: It's in their musical DNA
From the Archives: Sickness can't stop her music
From the Archives: Natalie Cole talks about surviving addiction and the strain of her family name
---
From the Emmys to the Oscars.
Get our revamped Envelope newsletter, sent twice a week, for exclusive awards season coverage, behind-the-scenes insights and columnist Glenn Whipp's commentary.
You may occasionally receive promotional content from the Los Angeles Times.