Best of 2017 | Jazz: Vijay Iyer, Ron Miles and Nicole Mitchell look ahead
In a year when disaster seemed only a tweet away, music seemed more precious than ever.
Capable of both providing shelter and uniting us, the sounds on these albums amplify voices — some new, some familiar — that demanded to be heard, whether in the pointed interstellar imaginings of Nicole Mitchell, the maximalist virtuosity of L.A.'s Cameron Graves or the dignified cornet of Ron Miles in a record that drew from the civil rights struggle.
Instead of the current chaos, the best of 2017 always focused on what lay ahead.
Vijay Iyer Sextet, "Far From Over" (ECM) Shortly after showcasing the many brilliant sides to his music and influences in his musical direction of a stirring Ojai Music Festival this spring, Iyer released maybe his most immediate statement yet with this taut yet freewheeling celebration of rhythm and groove girded by an elastic horn section of Steve Lehman, Mark Shim and Graham Haynes.
Ron Miles, "I Am a Man" (Enja/Yellowbird) The cornetist has long been a reliable source for deft compositions and musical conversation with frequent collaborators Bill Frisell and Brian Blade. Here he reaches to greater heights with the addition of bassist Thomas Morgan and pianist Jason Moran. The results are a warm, lushly drawn set inspired by civil rights history and social activism.
FULL COVERAGE: Year-end entertainment 2018 »
Kate Gentile, "Mannequins" (Skirl) Built from tight corners and surprise twists of interlocking melodies and off-balance rhythms, this arresting debut from a drummer who has backed Anthony Braxton and John Zorn recalls both in spirit but carves its own winding path ahead. Somehow, every listen reveals something new, as if the music continues to evolve and shift while you're away.
Chris Speed Trio "Platinum on Tap" (Intakt) While much of the best of modern jazz pushes against any ideas of its boundaries, this album carves out its own space squarely within the genre's historic core. Working in the durable saxophone trio format, Speed's tenor and a rhythm section of Chris Tordini and the Bad Plus' Dave King joyfully push the tradition forward with melodies so rich and immediate they sound like standards.
Nicole Mitchell, "Mandorla Awakening II: Emerging Worlds" (FPE) This flutist-composer's restless, politically charged 10-part suite imagines a future utopia in a sprawling mix that includes guitar, theremin and Japanese shakuhachi spiked with references to the dystopia of present day. "We keep doing the same thing, over and over again," Avery R. Young testifies in one interlude. The rest of the album functions as an evocative question why.
Jaimie Branch, "Fly Or Die" (International Anthem) With a tone that ranges from a haunted growl to bright, fluttering arcs of far-reaching melody, this Chicago trumpeter teams with a band that includes cellist Tomeka Reid and drummer Chad Taylor for a genre-spanning recording that's as comfortable with far-out atmospheric adventures as expressive, off-kilter funk.
Miles Okazaki "Trickster" (Pi Recordings) Inspired by the mischievous figure from folklore, this album initially seems based on odd-angled puzzles, traveling along unconventional lines and driving rhythms to ask questions only this guitarist's locked-in quartet can answer. The real trick is how immersive, groove-heavy and ultimately immediate the results prove to be.
Satoko Fujii Orchestra New York, "Fukushima" (Libra) The expressive avant-garde Japanese pianist released eight albums this year and promises to release 12 more in 2018. Wherever she goes next, it will be a challenge to top this one, a stormy response to the Fukushima nuclear disaster from a heavy-hitting ensemble that includes Nels Cline, Ellery Eskelin and Ches Smith.
Jason Moran, "BANGS" (Yes Records) Moran has never been one to stay still long, and since his contract with Blue Note ended his SoundCloud page has yielded a treasure of self-released albums. This one, a hazy, electronics-dusted collaboration with Ron Miles and the slippery-toned guitarist Mary Halvorson, is similarly a moving target full of rich, melodic interplay.
Cameron Graves, "Planetary Prince" (Mack Avenue) One of the many albums that resulted from the marathon L.A. recording sessions that yielded Kamasi Washington's zeitgeist-capturing "The Epic," this debut from one of the West Coast Get Down's keyboardists shares many of that record's personnel and carries a similarly cathartic power brimming with cosmic soul-jazz virtuosity.
Ten more worth seeking out:
Wadada Leo Smith, "Najwa" (TUM), Makaya McCraven, "Highly Rare" (International Anthem), Craig Taborn, "Daylight Ghosts" (ECM), Matt Mitchell, "Førage" (Screwgun), Eric Revis, "Sing Me Some Cry" (CleanFeed), Borderlands Trio, "Asteroidea" (Intakt), Harriet Tubman, "Araminta" (Sunnyside), Jonathan Rowden Group, "Skyward Eye" (Orenda), Rudresh Mahanthappa's Indo-Pak Coalition, "Agrima," (Mahanthappa's Music), Bill Frisell and Thomas Morgan, "Small Town" (ECM)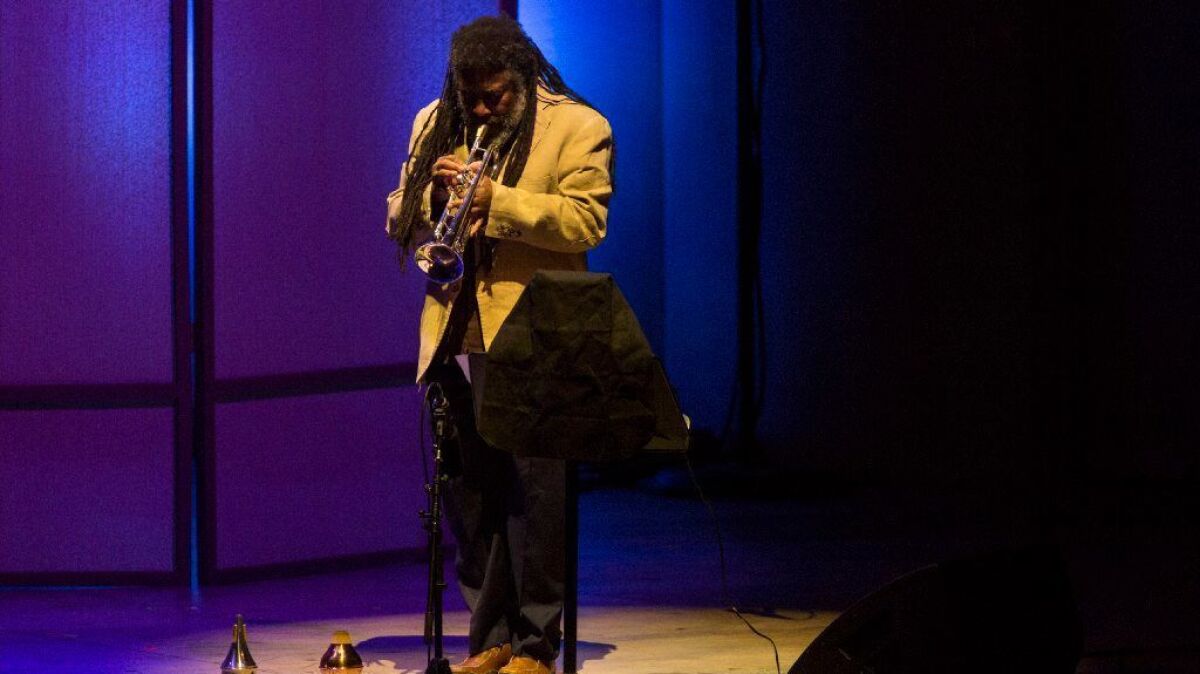 Follow me over here @chrisbarton.
ALSO:
Transcending genre labels, Vijay Iyer leads the Ojai Music Festival toward bold new territory
Hugh Hefner left a problematic legacy, but his Playboy Jazz Festival endures
With 'Sleep Well Beast,' the National brings new layers to gloom and heartache
In tense times, Godspeed You! Black Emperor sounds hopeful on 'Luciferian Towers
---
Get our L.A. Goes Out newsletter, with the week's best events, to help you explore and experience our city.
You may occasionally receive promotional content from the Los Angeles Times.