Fancy electronic chopsticks designed to detect bad food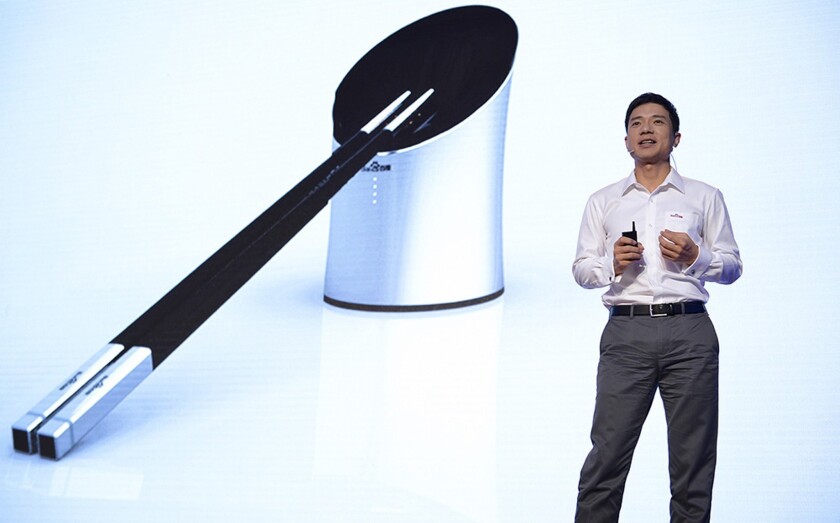 Imagine a warning that lets you know the food you're about to eat could make you sick. A new pair of smart chopsticks are designed to be used as a personal food safety warning system.
Search engine Baidu revealed a prototype of the high-tech chopsticks at its annual developer's conference in Beijing Tuesday, reported South China Morning Post.
"We released the concept of smart chopsticks in April, and many people asked me if they could get a pair," Baidu founder Robin Li said at the conference. "We didn't have the product ready then, but we have it today. This is a new way to sense the world."
The company claims the chopsticks can detect "gutter oil", illegally reprocessed cooking oil. The chopsticks use sensors to measure the acidity and temperature of oil. The chopsticks can also detect compounds found in gutter oil and will then determine if the oil is safe to eat.
A light on the chopsticks will flash red if the level of compounds in the oil is more than 25%. When the light flashes blue, the device is measuring a number of other things including pH level.
According to The Guardian, the chopstick readings are displayed on a smartphone with an accompanying app.
The chopsticks don't have a price yet, and Baidu announced they aren't quite ready for mass production, despite their big reveal.
I use chopsticks like a boss. Follow me on Twitter @Jenn_Harris_.
---
Get our weekly Tasting Notes newsletter for reviews, news and more from critics Bill Addison and Patricia Escárcega.
You may occasionally receive promotional content from the Los Angeles Times.