The great L.A. coffee scene: Your dream caffeine fix may be just around the corner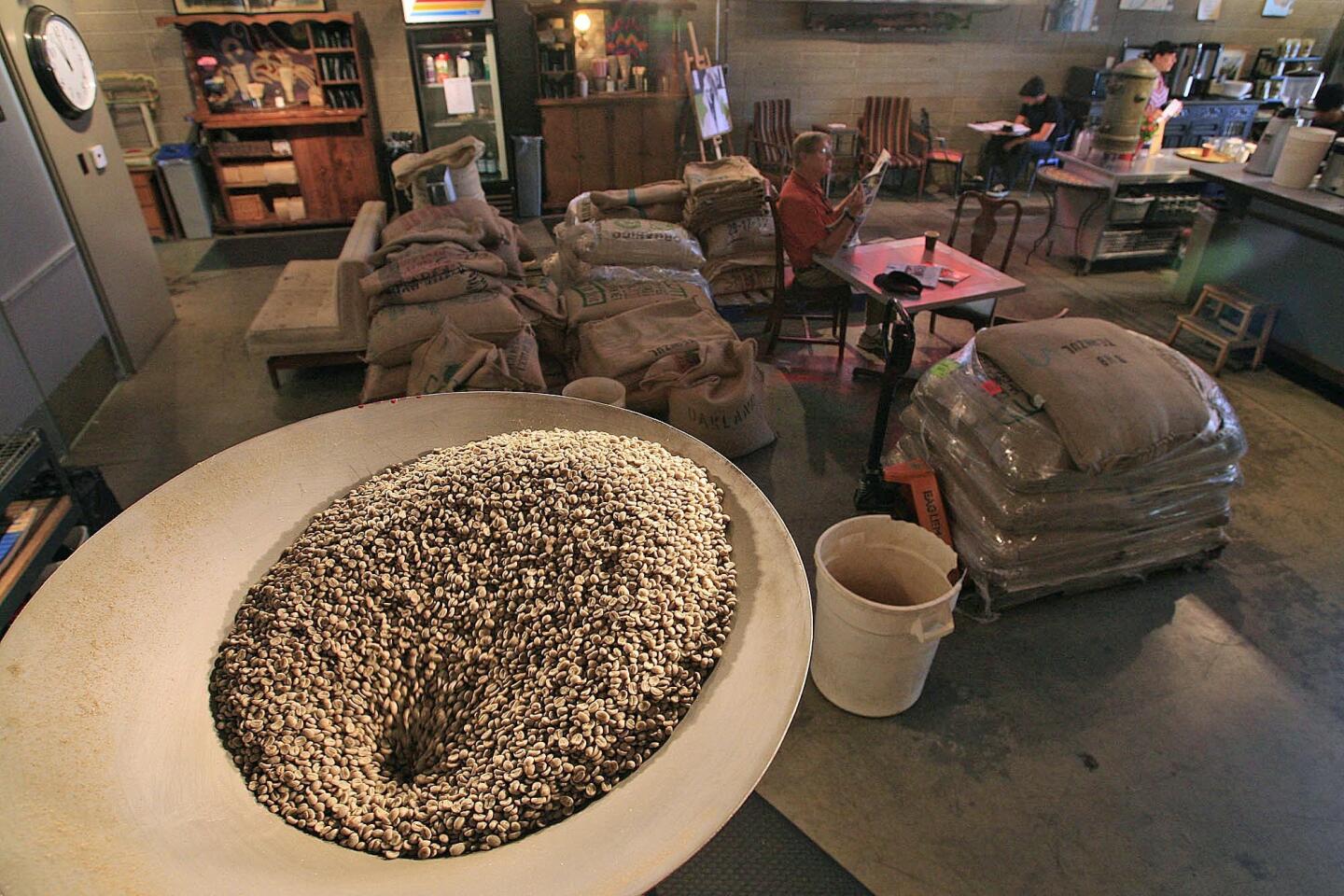 Pre-roasted coffee beans are put into the drum of a roaster at Jones Coffee Roasters in Pasadena.
(Gary Friedman / Los Angeles Times)
Chicago-based Intelligentsia's first L.A. location at Sunset Junction was a coffee shop game-changer.
(Jay L. Clendenin / Los Angeles Times)
Go Get Em Tiger's La Marzocco espresso machine.
(Betty Hallock / Los Angeles Times)
Caffe Luxxe in Santa Monica roasts its own coffee at its South Bay roasting facility.
(Ken Hiveley / Los Angeles Times)
Yeekai Lim prepares a cappuccino at Cognoscenti Coffee at Proof Bakery.
(Mariah Tauger / For The Times )
Paper or Plastik is a Pico Boulevard coffee shop attached to a dance studio.
(Anne Cusack / Los Angeles Times)
Seattle-based Caffe Vita opened its first L.A. coffee shop in February.
(Betty Hallock / Los Angeles Times)
You're a coffee fiend keeping track of every new specialty coffee shop that opens in L.A.? With one new cafe opening after another, it's not so easy anymore. But it is a lot easier to come across a great brewed coffee or perfect pull of espresso, whether in south Santa Monica or North Hollywood, Westside or East L.A. The steady stream of new-wave coffee that began several years ago has turned into an espresso-fueled torrent.
One of the newest is Go Get Em Tiger on Larchmont, from the team behind G&B Coffee, which only just opened last month in downtown's Grand Central Market. Some are starting to roast their own coffee beans, such as Cafe Demitasse, which also recently opened a second location. Some locals were all along: Groundwork, Jones, Tierra Mia, LA Mill. And out-of-town roasters are moving in too, such as Caffe Vita.
Each cafe has its own apparati (siphons, Steampunks, Kalita drippers, even Fetco brewers, not to mention La Marzoccos, Stradas and Synessos), quirks (no sugar, no nonfat milk) and specialty drinks (shakerato!). Here's where to find the caffeine fix that's right for, or nearest, you.
PHOTOS: L.A.'s great specialty coffee shops
Balconi Coffee
A laid-back coffee spot in the Sawtelle area in West L.A., serving coffee from local roasters, and sometimes Blue Bottle. Time slows down a little here as the traffic whizzes by on Olympic; maybe that's because the siphon process for all of the brewed coffee requires some patience. There are espresso drinks too. The almond latte is made with espresso, milk and pulverized almonds, an intriguing, not-too-sweet alternative to the caramel Frappucinos at the Starbucks across the street.
11301 W. Olympic Blvd., Suite 124, Los Angeles, (310) 906-0267, www.balconicoffeecompany.com.
Cafe Demitasse
With a wave of cafes opening downtown in the last couple of years, there's no dearth of specialty coffee between the Arts District and Little Tokyo. Cafe Demitasse opened as a multi-roaster coffee purveyor, brewing individual cups via siphon or Clever dripper. Now owner Bobby Roshan is roasting his own coffee and has since opened a second location.
135 S. San Pedro St., Los Angeles, (213) 613-9300; 1149 3rd St., Santa Monica, (310) 260-6308; www.cafedemitasse.com.
Cafe Dulce
A friendly Little Tokyo coffee shop that does business in bacon doughnuts and spirulina rolls, as well as cup-by-cup drip coffee, with beans from mutiple roasters. Take your standard espresso drinks or Vietnamese-style iced coffee or Hong Kong-style milk tea to a yellow-umbrella-topped patio table in the Japanese Village Plaza.
134 Japanese Village Plaza Mall, Los Angeles, (213) 346-9910, www.cafedulce.co.
Cafecito OrganicoOwner Angel Orozco started Cafecito Organico in 2004, working out of Mama's Hot Tamales in MacArthur Park, then started roasting and selling his coffee at farmers markets, and opened the first Cafecito on Hoover Avenue, focusing on single-origin Central American coffees. Since then he and his partners have opened several locations, still working directly with producers of sustainable coffee mainly in Guatemala, Colombia, Honduras and El Salvador for drip coffee brewed via hand-pour and espresso drinks made with local milk.
534 N. Hoover St., Los Angeles, (213) 537-8367; 710 N. Heliotrope Drive, Los Angeles, (213) 537-8367; 29169 Heathercliff Road, Unit 112, Malibu; 2930 Bristol St., Costa Mesa, (949) 791-7058; 3800 W. Alameda Blvd., Burbank; www.cafecitoorganico.com.
Caffe Luxxe
A Westside coffee purveyor with sleek Euro-esque cafes, such as on Montana Avenue and in the Brentwood Country Mart, where baristas pull double ristrettos of the company's signature Testa Rossa ("red head") espresso. The beans come from Caffe Luxxe's own South Bay roasting facility.
11975 San Vicente Blvd., Los Angeles, (310) 394-2222; Brentwood Country Mart, 225 26th St., Santa Monica; 11975 San Vicente Blvd., Los Angeles; www.cafeluxxe.com.
Caffe Vita
Seattle-based heavy hitter Caffe Vita opened a branch on Sunset Boulevard next to Silver Lake in February, its mascot Neapolitan puppet, Pulcinella, painted on the wall at the corner of Sunset and Virgil Avenue next to Rudy's Barbershop and across the street from the Vista Theatre. It's a light-filled two-level decked out with siphons, for brewing its own single-origin and blend coffees roasted in Seattle.
4459 W. Sunset Blvd., Los Angeles, (323) 661-6535, www.caffevita.com.Coffee Commissary
The original Coffee Commissary is conveniently located next to butcher shop Lindy & Grundy (you know, for when you want a cup of coffee and to pick up a steak) in a mixed-use building on Fairfax. It opened two years ago serving pour-overs and espressos made with beans from multiple roasters in a casual, no-fuss environment. With free Wi-Fi.
801 N. Fairfax Ave., No. 106, Los Angeles, (323) 782-1465; at Siren Studios, 6087 W. Sunset Blvd., Los Angeles; www.coffeecommissary.com.
Coffee Tomo
Serious coffee meets whimsical house-made pretzels at this Yamaguchi Center cafe off Sawtelle Boulevard. In the front window is owner Kibum Sung's cherry-red Diedrich roaster, and the coffee menu includes all the usual espresso-drink suspects, hand-drip coffee and specialties such as Spanish and green tea lattes. Meanwhile, the pretzels are filled with combinations such as sweet potato and cheese, and red bean and cheese.
11309 Mississippi Ave., Los Angeles, (310) 444-9390, www.coffeetomo.com.
Cognoscenti Coffee
Architect turned barista Yeekai Lim first installed Cognoscenti Coffee as a pop-up inside Proof Bakery in Atwater Village. In December Lim opened a new location in the Clive Wilkinson Architects building in Culver City's Arts District. Lim makes espresso drinks with beans from a rotating roster of roasters such as Ritual, Heart, Sightglass, Phil & Sebastian and more. The cortado -- espresso cut with warm milk -- is always popular. Off the menu is Cognoscenti's hot chocolate, made with Twenty-Four Blackbirds' drinking chocolate.
6114 Washington Blvd., Los Angeles, (310) 363-7325; at Proof Bakery, 3156 Glendale Blvd., Los Angeles, (323) 664-8633; www.popupcoffee.com.
Espresso ProfetaA Westwood coffee bar that pulls Seattle-based Vivace's Vita espresso, located off a pretty courtyard on a quiet stretch of Glendon Avenue and cofounded by former Vivace barista Mitch Hale. It's a sweet spot, especially for UCLA students who take advantage of comfy sofas, tables big enough to stack one's books and Wi-Fi. One of its popular drinks is the Caffe Nico: a breve (espresso with half and half), candied orange syrup, cinnamon and orange zest.
1129 Glendon Ave., Los Angeles, (310) 208-3375, www.facebookcom/espresso.profeta.
G&B Coffee
Grand Central Market's flagship coffee bar is a project from Intelligentsia alumni Kyle Glanville and Charles Babinski. It's a 30-foot counter on the Hill Street side of the marketplace with the vibe of a classic Italian espresso bar. The emphasis is on coffee brewed with Kalita Wave drippers. Also on the menu: milkshakes made with McConnell's ice cream and espresso.
324 S. Hill St., No. C19, Los Angeles, www.gandbcoffee.com.
Go Get Em Tiger
The team behind G&B Coffee downtown is also behind new coffee shop Go Get Em Tiger on Larchmont. Baristas behind the 20-foot bar are meant to be available to walk you through selections, whether single-origin drip coffee (made with a Fetco automatic brewer -- gasp, it's not pour-over coffee) or espresso from the La Marzocco at the end of the bar.
230 N. Larchmont Blvd., Los Angeles.
Groundwork Coffee
A local chain of no-frills coffee shops that started as Richard Karno's rare book and café business in 1990. Groundwork sources and roasts organic and fair-trade coffees, both single-origin and its own blends. Last year it merged resources with L.A.-based Supreme Bean to create a new company.
671 Rose Ave., Venice, (310) 664-8830; 395 Santa Monica Place, Santa Monica, (310) 458-3111; 3 Wetminster Ave., Venice, (310) 450-4540; 1501 N. Cahuenga Blvd., Hollywood, (323) 871-0143; 2908 Main St., Santa Monica, (310) 452-8925; 108 W. 2nd St., Los Angeles, (213) 620-9668; www.groundworkcoffee.com.
Handsome Coffee Roasters
Handsome Coffee, gotta love it. Really, you've got to. They make coffee the way they like it, not the way you might like it. That means no nonfat milk, and no sugar. Requests for such will be met with: "We think this way it's delicious." And it is. The downtown roaster has become an Arts District hot spot, for coffee and for the Guerilla Tacos, available from a stand out front a few days a week. Other quirks: don't ask for a macchiato, cappucino or latte – it's 3 ounces, 5 ounces or 10 ounces of espresso with milk.
582 Mateo St., Los Angeles, (213) 621-4194, www.handsomecoffee.com.
Intelligentsia Coffee
Chicago-based Intelligentsia's first L.A. location at Sunset Junction was a coffee shop game changer, and the constant lines that snake out of the blue-and-white-tiled cafe are a testament to its continued status as a caffeine magnet for Silver Lakers. The Venice and Pasadena locations are as populated, and the baristas as meticulous.
55 E. Colorado Blvd., Pasadena, (626) 578-1270; 3922 W. Sunset Blvd., Los Angeles, (323) 663-6173; 1331 Abbot Kinney Blvd., Venice, (310) 300-1233; www.intelligentsiacoffee.com.
Jones Coffee Roasters
Chuck Jones has been running Jones Coffee since the mid-'90s. He and his family (his mother grew up in Guatemala on her grandfather's coffee farm) started their Pasadena coffee business and Jones Coffee has since become an institution. So much so that parking at their Raymond Avenue shop is a challenge (too bad they did away with curbside pickup).
693 S. Raymond Ave., Pasadena, (626) 564-9291, www.thebestcoffee.com.
LA Mill
The local roaster opened its baroque Silver Lake shop five years ago, featuring siphon-brewed coffee prepared tableside and offered drip coffee made with the $11,000 Clover machine (before the manufacturer was bought by Starbucks). It recently set up Alpha Dominche's new Steampunk brewing system for drip coffee (which also has rolled out at cafes such as Blue Bottle in San Francisco and Verve in Santa Cruz as well as Cafe Demitasse in L.A.).
1636 Silver Lake Blvd., Los Angeles, (323) 663-4441, www.lamillcoffee.com.
Paper or Plastik
Connected to a dance studio and events space, this Pico Boulevard cafe is where the just-east-of-Fairfax set orders its Gibraltars. Paper or Plastik offers breakfast, lunch and dinner as well as a full roster of coffee drinks made with its own roasted beans or those from Intelligentsia, Handsome Coffee Roasters and Coava.
5772 W. Pico Blvd., Los Angeles, (323) 935-0268, www.paperorplastik.com.
Single Origin
The coffee shop within Short Cake bakery at the Original Farmers Market, serving pour-overs and espresso drinks, was set up by barista Nik Krankl. Here you'll find the shakerato (or specifically Aunt Nancy's Shakerato; Krankl is the nephew of the bakery's consultant, Nancy Silverton). It's four shots of espresso and organic wildflower honey poured into a shaker with ice, then shaken to a froth.
6333 W. 3rd St., Suite 316, Los Angeles, (323) 761-7976, www.socoffeela.com.
Spring for Coffee
Teeny-tiny Spring for Coffee is downtown Spring Street's local hangout. Barely 200 square feet inside, it has outdoor tables, chairs and umbrellas, providing a shady spot for drinking your espresso made with Stumptown's Hair Bender. Drip coffee features a roster of beans, such as from Ritual and Sightglass.
548 S. Spring St., Los Angeles, (213) 228-0041, www.springforcoffee.com.
Tierra Mia
Another growing local chain of cafes that roasts its own coffee, Ulysses Romero's Tierra Mia also bakes its own pastries, including tres leches muffins, guava cheese strudel and piña queso danish. Brewed coffee is made via pour-over and espresso is pulled with La Marzocco machines. Its newest location is in Echo Park, serving its signature Latin-inspired menu of espresso drinks that include the horchata latte.
1202 N. Alvarado St., Los Angeles; 653 S. Spring St., Los Angeles, (213) 895-6000; 11004 Atlantic Ave., Lynwood; 9220 Slauson Ave., Pico Rivera, (562) 942-8700; 6706 Pacific Blvd., Huntington Park, (323) 589-2065; www.tierramiacoffee.com.
ALSO:
Photos: L.A.'s specialty coffee shops
An affordable, locally raised chicken for the locavore
Heading to Silver Lake, Night + Market to open second location

Get our L.A. Goes Out newsletter, with the week's best events, to help you explore and experience our city.
You may occasionally receive promotional content from the Los Angeles Times.