In the mood for tacos and fine wine? Details on this weekend's Baja Market L.A. festival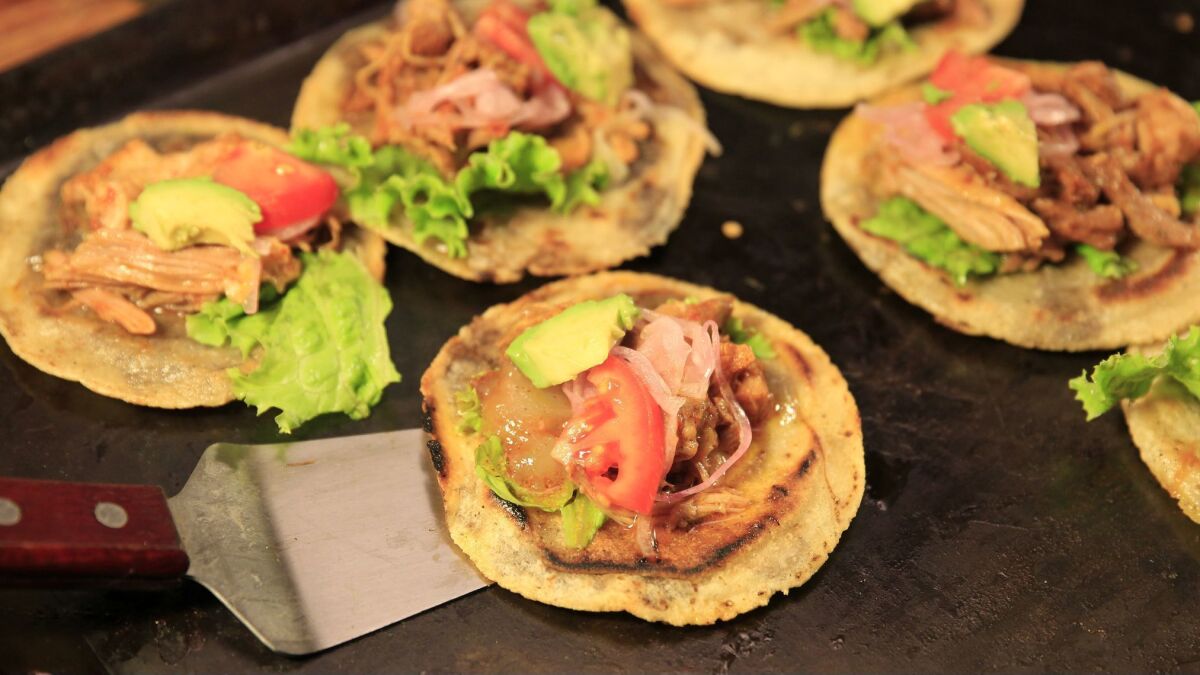 From a downtown Mexican food festival to hummus in Culver City, here's what's happening in the Los Angeles food and drink world.
Baja market
The team behind Chicas Tacos in downtown L.A. celebrates the Valle De Guadalupe region of Mexico at their second annual Baja Market L.A. food and wine festival. Saturday, the restaurant will host the event on its backlot with chefs Natalie Curie (El Coraloense), Alex Chang (Exchange at Freehand), Javier Plascencia (Finco Altocanzo), Gilberto Cetina Jr. (Chichen Itza) and Omar Valenzuela (Encuentro Guadalupe). The chefs will prepare tacos inspired by the Valle De Guadalupe region to pair with Mexican wines, beer, mezcal and tequila. The festivities will take place from 4 to 9:30 p.m. General admission tickets are $30 and VIP tickets are $40. 728 S. Olive St., Los Angeles, BajaMarketLA.com.
For the record:
11:30 a.m. June 28, 2018This story incorrectly states that the bagels at Freedman's are Montreal-style. They are Toronto-inspired bagels. The restaurant is also located in Echo Park, not Silver Lake. Also, Javier Plascencia is the chef at Finca Altozano.
Oui, Oui
Have you had a Banh Oui bánh mì sandwich yet? Chefs Casey Felton and Armen Piskoulian fill their chicken liver pâté-smeared baguettes with braised pork belly, cilantro, pickles and jalapeño. They've been operating their Banh Oui sandwich pop-up from the Smorgasburg Sunday market for the last two years (with a short stint at a Silver Lake auto repair shop), and now they've found a bricks-and-mortar location to open a proper restaurant. Felton and Piskoulian, who both worked at the Tasting Kitchen in Venice, have taken over the space formerly occupied by Smoke's Poutinerie in Hollywood. The two plan to open some time in early July with a full menu of bánh mì sandwiches; shrimp toast covered in a maze of Kewpie mayonnaise; sticky caramel chicken wings and tofu bites. The two are also thinking about doing a breakfast sandwich with fresh English muffins.
"This has always been the end goal and it feels like such an achievement, especially doing this entirely on our own," said Felton. 1552 N. Cahuenga Blvd., Hollywood, banhoui.com.
Moving on
Chef Liz Johnson, who turned heads (including this paper's restaurant critic Jonathan Gold's) with her whimsical takes on deli classics at Freedman's LA, has left the restaurant. She had been at the Silver Lake deli since it opened a year and a half ago. Her tableside-carved brisket, Montreal-style bagels and excellent black and white cookies helped Johnson earn the title of one of Food & Wine magazine's Best New Chefs.
"I just kind of felt like it was at a point in my career where I wanted to go out on my own," said Johnson, who previously cooked at the French restaurant Mimi in New York City. Johnson said she plans to stay in Los Angeles and is looking for investors for her own restaurant.
"I do have a concept in mind, but I can't really talk about it yet," she said. "It's basically going to be along the lines of what I did at Mimi. So: French. I'm really excited to see what's next." We are too.
Switching gears
Make It Nice Hospitality Group owners Will Guidara and chef Daniel Humm (the duo behind Eleven Madison Park in NYC) are switching things up at their NoMad hotel and restaurants in downtown L.A. The two opened the mezzanine restaurant, lobby restaurant, lobby bar and coffee bar at the hotel, at the corner of Olive and 7th streets, five months ago. While the mezzanine restaurant is reserved for more formal dinners, the lobby restaurant downstairs served a more casual menu throughout the day. As of Friday, the mezzanine restaurant will transition to a private dining space and the lobby restaurant downstairs will have a new menu. The restaurants will close Wednesday and will reopen Friday as just the lobby restaurant and serve breakfast, lunch and dinner.
"I'm really proud of where we're at and I'm overwhelmed by the welcome we've gotten," Guidara told The Times. "The beauty of the downstairs room is that every night in that restaurant it feels like a party, and that's what we want NoMad to be. So with this one change, we're giving people the private dining space they wanted and reengineering the NoMad vibe the way it was always intended."
You can expect to see Humm's famous roast chicken for two and the fruits de mer platter on the menu, as well as a steak frites made with bone marrow-crusted tenderloin.
Hummus alert
The Los Angeles Middle Eastern food renaissance continues with Hasiba, a new kosher-certified, Middle Eastern restaurant from Or Amsalam and Alex Phaneuf, the duo behind Lodge Bread Co. in Culver City. The restaurant opened on West Pico Boulevard near La Cienega Boulevard on Friday. Hasiba is named for Amsalam's Moroccan grandmother, and was inspired by a recent trip to Israel. It was designed to mimic a hummusiya, an Israeli neighborhood restaurant that focuses on hummus and pita bread. At Hasiba, Amsalam and Phaneuf will serve pita made in a Wood Stone hearth oven, shakshuka and repeating bowls of hummus. 8532 W. Pico Blvd., Los Angeles.
We all scream for ice cream
We're lucky to live in a city with a number of great ice cream shops. There's McConnell's, Salt & Straw, Carmela — just to name a few — and now, two of the most lauded chefs in the city are making ice cream at République. Owners and chefs Walter and Margarita Manzke have opened Crèmerie Artisan Ice Cream Window, a sky-blue walk-up window in front of their La Brea Boulevard French restaurant. Guests can visit the window and order from a list of 12 rotating flavors that change daily. Caramel, strawberry, bay leaf, cherry swirl, mango sorbet and melon sorbet are all on the current menu. The window is open daily from 12 to 10 p.m. 624 S. La Brea Ave., Los Angeles, (310) 362-6115, republiquela.com.
Thai reboot
Boon and Supa Kuntee opened the original Chao Krung restaurant in Thai town in 1969 as one of the first Thai restaurants in Los Angeles. They moved the restaurant to Fairfax Avenue in 1976. Their daughters, Katy Noochlaor and Amanda Kuntee, recently took over the restaurant and reopened it with a complete makeover, a new menu and patio. The new menu features dishes such as the pork belly pad Thai; "drinking food" such as fish sauce-doused chicken wings; Thai sour sausage made from a family recipe; and Cornish hen prepared on a charcoal grill. 111 N. Fairfax Ave., Los Angeles, (323) 939-8361, chaokrungla.com.
Instagram: @Jenn_Harris_
---
Get our weekly Tasting Notes newsletter for reviews, news and more.
You may occasionally receive promotional content from the Los Angeles Times.