Q&A: Netflix's 'Tuca & Bertie' makes fun of food trends. Its creator explains 'crünts'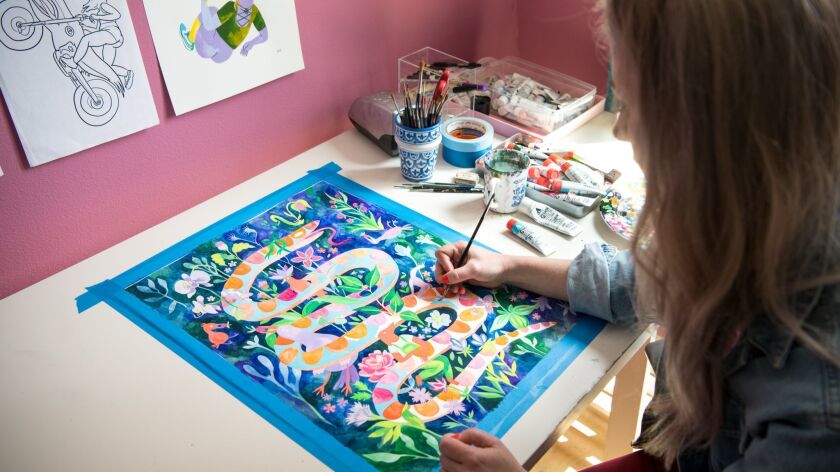 Lisa Hanawalt — illustrator, TV producer, soup dumpling devotee — has dedicated much of her work to the subject of food and the working lives of chefs. "I love people who are really good at something, and cooking in particular," Hanawalt said recently from her home in Los Angeles.
Colorful, irreverent and fearlessly weird, Hanawalt's work often features anthropomorphic animal characters with very human problems. She's the production designer and producer of the Netflix series "BoJack Horseman," about a washed-up Hollywood humanoid horse adrift in a sea of self-loathing.
Her newest show is "Tuca & Bertie," another adult animated series, about two 30-year-old bird women: cocky Tuca (Tiffany Haddish) and anxious Bertie (Ali Wong). The show charts the evolution of their friendship as they grapple with romantic relationships, make career moves and push back against the banality of everyday sexism. "Tuca & Bertie" gently skewers the bombast of the food world, but it also reflects Hanawalt's natural admiration for the beauty of a well-crafted croissant.
From the fertile mind of 'BoJack Horseman's' Lisa Hanawalt comes the surreal 'Tuca & Bertie' »
I talked to Hanawalt by phone recently about some of the themes on the show: female friendship, the obsession with trendy new foods, creative mentorships gone awry and "what it's like to live in the world as a woman." "Tuca & Bertie" premiered May 3 on Netflix.
Your new show features two very different characters. Tuca is a carefree toucan and Bertie is an anxious songbird. How did you get the idea for these characters?
I came up with the character of Tuca first. I saw a nature documentary where there was a toucan stealing eggs out of another bird's nest and I thought, oh my God, that's like me. I'm so greedy with food. I based the character on kind of the selfish parts of myself. Bertie came out of more what I'm like in my day-to-day life, which is a little more anxious and introverted and shy.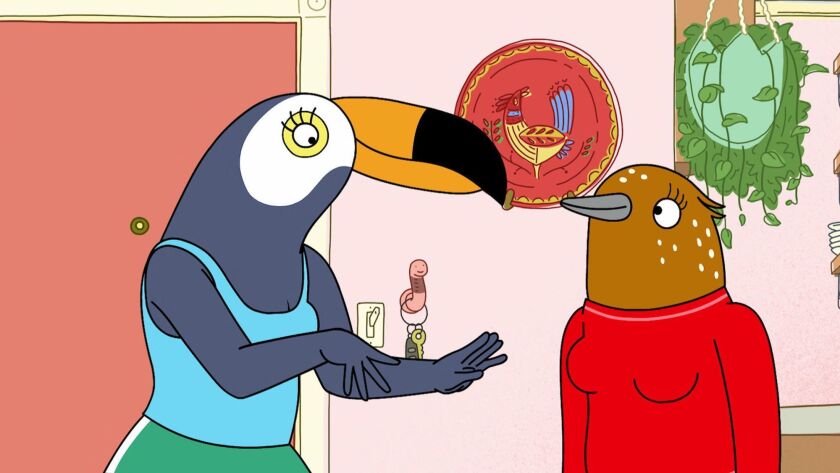 It made sense to pair the two of them together because I really wanted to make a show about female friendship and what those friendships look like when women are in their 30s. Some of us have a house and a husband and five children, and some of us are still figuring out how to just live day to day and keep our room clean and pay our taxes. People are moving in rapidly different directions, but everyone feels like a mess on the inside. So I wanted to make that the main theme of the show. What's keeping these two best friends together and what's maybe pulling them apart?
Bertie is a talented home baker and has aspirations to become a professional. Why do you think Bertie is so drawn to baking? And I'm curious if you also bake?
I used to do some baking about 10 years ago. But lately I barely bake or cook at all. But I'm really fascinated by cooking and by the food industry in general. I love any chance I get to be on the periphery of that. When I was doing stuff for [food magazine] Lucky Peach, that was my favorite. I got to shadow Wylie Dufresne for a day. I was like, this is the best thing ever. I love that my job allowed me to do that. But in my day-to-day life, I'm really not good at cooking. My boyfriend does all the cooking, and I actually eat pretty blandly most of the time. So it's kind of a weird contradiction in my own life.
The craziest pastries from Netflix's 'Tuca & Bertie' »
I wanted Bertie to be really good at something creative that had nothing to do with her office job. And that gave me the opportunity to come up with silly fictional pastries. We also have this sort of weird mentor relationship between Bertie and the character of Pastry Pete, who turns out to not be the best mentor after all. I think that happens in a lot of creative industries and in the food industry.
The fictional desserts you mention are the crunt, which is a cross between a cruller and a bundt cake. And there's also the crünt, which is a hybrid croissant and a bundt cake.
They kind of sound like bad words, right?
They absolutely do. How did you come up with these desserts? And is there a bit of commentary there about the food world and our impulse to chase the latest food trends?
When we first meet the character of Pastry Pete, we think, oh my God, he's brilliant. He came up with these things. He's won the "Tasty Nom Nom Awards," which are like the James Beard Awards of Bird Town. But as the season advances, his next big innovation is just the crünt, which is basically the same thing as the crunt. So you start to doubt his reputation a little bit.
The things that Bertie is coming up with are a little bit more fun or inventive. She came up with the "chouquettis" (a chocolate choux pastry cut thin like spaghetti), which are an instant bestseller. And in the last episode, she has that cute bird head bun with the sweet lemon curd inside. She has more innovative ideas maybe, but she's holding back because she doesn't think she's good enough. It turns out that maybe Pastry Pete is a little bit gimmicky. You could easily draw comparisons to the cronut. I don't really have an opinion on that. I haven't tasted it. I'm sure the guy who invented them is great. I've never met him. I just think it's funny how people get excited about these really trendy food things, but they aren't necessarily the best.
New foods seem to bring out the little kid in us.
Yeah, it's fun to see something new. I get it. It's nice when your food looks good too. I was just in Hong Kong for our anniversary [Hanawalt is married to comedian Adam Conover], and we went to this dim sum place twice because not only was the food really good, but they made these buns that look like pig heads and inside them there was purple sweet potato. They were so pretty and tasted so good and were perfectly Instagrammable. And I was like, is it so millennial of me to be going nuts for these things? But they were really, really good. I was like, man, if these were in L.A. or New York, people would be lining up around the block.
I'd love to ask you about the "Yeast Week" episode. Most of the episode takes place at a convention that Bertie describes as "the most elite convergence of baking's boldest and brightest." There are a lot of famous chefs there. Most of them are men with trademark dishes and really big personalities. They have a lot of confidence, which is something that Bertie lacks. Can you talk a little bit about that imbalance?
It's based very closely on my experiences. When I started as a cartoonist, I was going to festivals, like I was going to Comic-Con and I was meeting people like Daniel Clowes and Matt Groening. Most of them were men. I looked up to them and I wanted so badly to be seen as serious and to be taken seriously by them. And the person who was able to introduce me to them was my publisher. He was like my gateway into meeting these people. I find that relationship and the power imbalance interesting. It's interesting how most of the people I looked up to were men. Later in life I was like, hmm, why is that? People can take advantage of that. When people first enter an industry, because they're so hungry, they don't necessarily recognize what's appropriate behavior in ways because they're just trying to survive. It's really rich territory for storytelling.
The episode is also full of fun visual gags.
It's basically the Javits Center full of pastries. A lot of the visuals came from my art director Alison Dubois, a brilliant artist who I somehow convinced to design the show. She came up with a lot of the funny pastries and stuff.
I read that your parents are both biologists. That got me thinking about the comic you mentioned, "On the Trail With Wylie." Do you see a parallel or connection between growing up with parents who worked in a lab, and spending time shadowing chefs in their kitchens?
I think because both my parents were working full time in the biology lab, it made me value hard work. I loved going to work with them and looking at all the bottles and equipment and stuff. My mom was running experiments, and it had a huge impact on me. I like to observe people who are really good at what they do. And I love when it's something that is totally alien to me. I'm never going to do molecular gastronomy, but I liked being in that space and seeing [Dufresne's] command of the kitchen. He really was like the captain of the ship. And there were containers full of really mysterious ingredients and stuff. It was very much like a science lab.
A totally random question. What is your version of the perfect food?
Oh my God, a perfect food. I think a soup dumpling. It's pretty perfect because it's got so many different textures. When it's done well, they all come together and it's a whole experience eating it. That's as close to perfect as you're going to get.
patricia.escarcega@latimes.com
Twitter: @piescarcega
Instagram: @holynopales
---
Get our weekly Tasting Notes newsletter for reviews, news and more.
You may occasionally receive promotional content from the Los Angeles Times.