Guilt-free chocolates? Count us in!
Indulging in a box of chocolates for Valentine's Day doesn't necessarily mean blowing that diet. As the confection most associated with the Feb. 14 holiday, chocolate has been getting a makeover of late.
Brands are now coming up with functional sweet treats that are (comparatively) low in sugar, while others check all the boxes for paleo and vegan diets or sneak in vitamins, minerals and nutritious ingredients.
Here are some to give alongside that bouquet of roses:
The Hu chocolate bar came into being as something offered exclusively at the paleo-centric Hu Kitchen restaurant in New York to fit the "no dairy, soy lecithin or cane sugar" edict of the eatery, said co-founder and owner Jordan Brown. "It developed a cult following, so we expanded from there," he said. The bars are now sold in eight varieties, including Crunchy Mint, Crunchy Banana and three nut butter-filled versions. The dark chocolate bars are made with fair-trade cacao and sweetened with unrefined organic coconut sugar.
Info: $5.49 to $6.50 at Erewhon, Bristol Farms and Lazy Acres or at hukitchen.com
::
Chocolate from K'ul takes on "superfood" qualities with ingredients like maca, turmeric, ginger and electrolyte-rich dehydrated coconut water. The brand's No Reserve offering is predicated on exotic flavors — pistachio and rose petals, stone-ground chiles and mango — that are vegan and low-glycemic.
Info: $2.99 and up at Erewhon and kul-chocolate.com
Lee Lisonbee, co-founder of chocolate brand Roar, set out to create a product that would present the most nutritive aspects of the cacao bean, which has been used medicinally for centuries. The small, dark squares of vegan Belgian chocolate contain 14 vitamins and minerals including vitamins A, E, B3 and B6, as well as calcium, magnesium and zinc. Each square is 47 calories.
Info: $24.95 at colorearth.com for a packet of 25 squares
New to the organic, fair-trade Alter Eco food brand are Dark Chocolate Coconut Clusters. The crunchy treats in three flavor combinations are made from dried coconut flakes, 70% dark chocolate and contain either dried cherries and almond butter or pumpkin and roasted sunflower seeds. The clusters are sweetened with raw cane sugar and no-calorie monkfruit, yielding a reasonable 5 grams of sugar per serving.
Info: $4.79 for a 3.2 ounce pouch. alterecofoods.com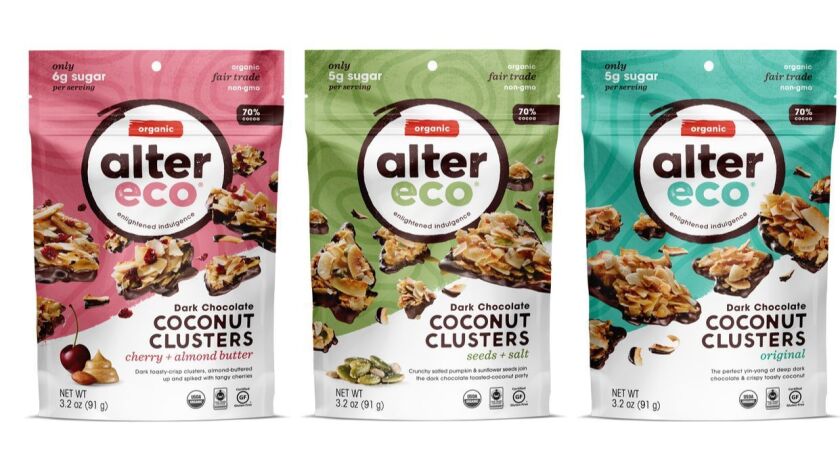 READ ON!
Yes, you can eat your way to beautiful skin
10 high-tech gadgets to help you get to sleep
How 'Scandal's' Katie Lowes hid her psoriasis
7 steps to making your health your No. 1 priority
---