Big Bear Lake plans to grow its own rainbow trout in a new $3.5-million hatchery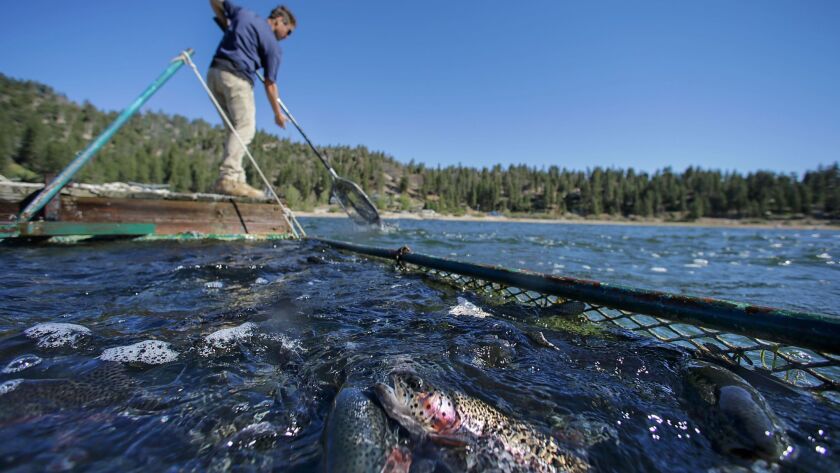 Reporting from BIG BEAR LAKE —
Hatchery Drive cuts through the forest about a mile east of the reservoir for which this San Bernardino Mountain resort community is named.
It's the lone remnant of a facility that produced teeming millions of trout here before mud flows closed it in 1932.
Now, with trout offered by state hatcheries getting fewer in number and smaller in size, the Big Bear Municipal Water District said Friday it plans to build a $3.5-million hatchery that will produce 150,000 pounds of rainbow trout each year and feature education programs, tours and projects devoted to rearing rare and endangered fish.
"We plan to be making fish within a year," said Mike Stephenson, the district's lake manager.
In its first phase, the hatchery will grow trout exclusively for Big Bear Lake. If successful, there's room in the facility to expand fish production and accommodate projects with partners such as state and federal wildlife agencies and universities, he said.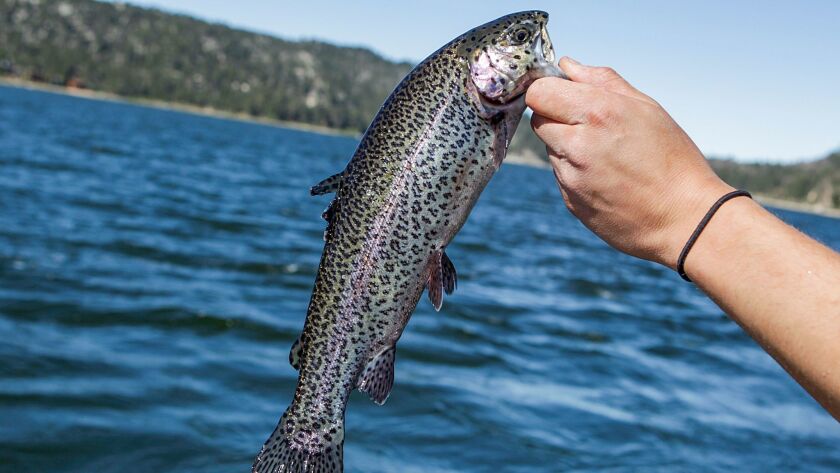 Those projects could include captive-breeding federally threatened and endangered species including the Santa Ana sucker, steelhead trout and Sacramento perch, Stephenson said.
The proposed 13,000-square-foot facility would be one of the largest in the state, and is scheduled to open early next year on four acres of district property currently used as an RV park, officials said.
The hatchery aims to boost the local economy and restore the lake's luster as an angling hot spot in Big Bear Valley, which is a two-hour drive from Los Angeles and home to about 18,000 permanent residents.
It also attracts about 7 million visitors who spend an estimated $350 million here each year, city officials said.
Eventually, the district hopes to defray operating costs of about $300,000 by selling rainbows to other recreational lakes including Lake Arrowhead, a few miles to the west; and Santa Ana Lakes in the Orange County city of Anaheim.
The proposal was developed largely because state hatcheries were no longer reliable sources of enough large, sterile trout to meet demand. State law requires that trout stocked for recreational purposes be sterile in order to keep them genetically isolated from native species.
The initiative comes at a time when annual sales of state fishing licenses have flattened over the past five years at roughly 1 million, with most sold to older anglers.
That trend initially made the hatchery proposal a hard sell to the district's directors.
Their perspective changed after board members traveled to Anchorage to visit the William Jack Hernandez Sport Fish Hatchery, one of the newest and largest fish hatcheries in the United States.
"I was blown away by the technology and efficiency I saw there," Charlie Brewster, director of the water district, said. "We're planning to use it as a model for our effort to set Big Bear Lake up as a premier fishing lake."
Michael Perry, executive director of the Big Bear Visitors Bureau, said his agency has already agreed to budget $250,000 each year to assist the educational components of the hatchery, where visitors will learn about fish life cycles and the Big Bear Valley ecology.
Its water held back by a 129-year-old dam, Big Bear Lake crawls with invasive species including massive brown carp, noxious aquatic plants and bass, which accumulate mercury, a neurotoxin that poses special risks for pregnant women and children.
But the alpine forests, creeks and meadows that surround it are home to one of the nation's largest concentrations of rare plants and animals. They include one of California's few known colonies of unarmored three-spined stickleback fish, and southern mountain buckwheat and Bear Valley sandwort, which are both listed by the federal government as threatened.
Bald eagles for centuries have migrated here each winter from frigid nesting grounds in the Pacific Northwest to roost in scraggly pine trees and hunt for fish and waterfowl in wetlands surrounding the 7-mile-long lake.
"Will bald eagles feast on trout from our new hatchery? Heck yes!" Stephenson said.
In the meantime, the district will continue to stock the lake two to three times a year with rainbows purchased from Mt. Lassen Trout Farm, a private hatchery roughly 600 miles to the north in Paynes Creek, Calif.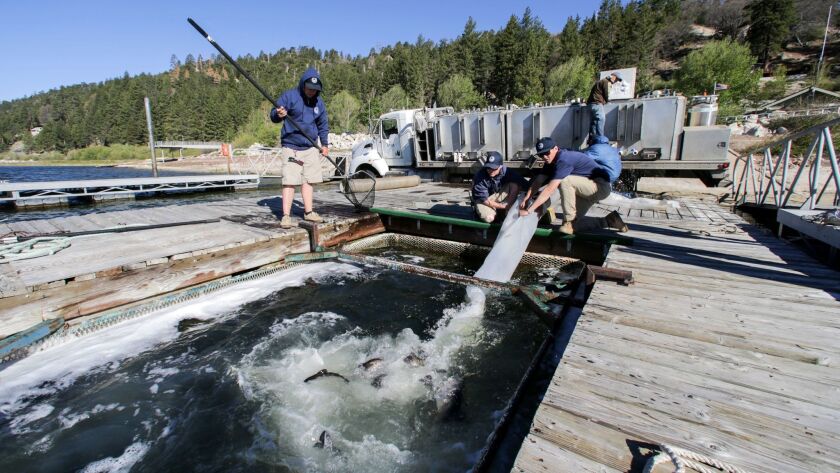 The latest shipment of 4,600 pounds of trout, worth $20,000, arrived at daybreak Thursday in a tank truck, in time to satisfy some of the anglers expected to cast lures, bait and artificial flies into the lake over the Memorial Day weekend.
The 11 1/2-hour drive was nearly as arduous for the truck driver, Leng Xiong, 57, as it was for the hundreds of trout in the six stainless steel tanks he had onboard.
"That was quite a trip," Xiong said. "One of my headlights went out; officers at a weigh station gave me a hard time, and I had to stop at a gas station to buy nine bags of ice to keep the fish tanks from overheating."
"The last time I delivered trout here," he added, "I got a flat tire."
A few hundred yards away, Robert and Karen Maloney sat quietly on folding chairs near their fishing rods, waiting for a strike.
"For us, it's not really about catching fish," Karen, 61, said, adjusting her sun hat. "It's about sitting back and soaking up the scenery for five to six hours at a time: white caps on the water, bald eagles perched on tree tops, pine trees."
Her husband agreed, to a point.
"When that hatchery comes in," he said, "it's going to be trout heaven around here."
---
Get breaking news, investigations, analysis and more signature journalism from the Los Angeles Times in your inbox.
You may occasionally receive promotional content from the Los Angeles Times.