City Council concerns spur delay on vote to buy LAPD body cameras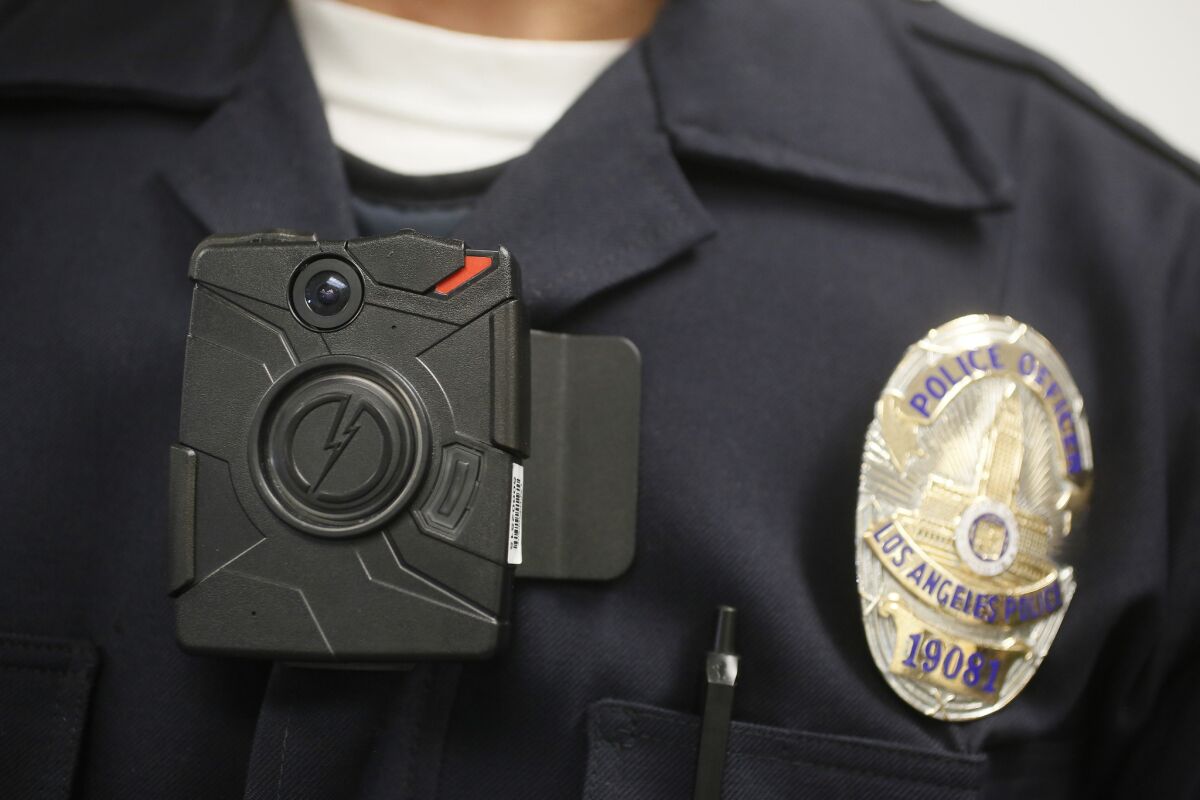 Faced with growing concerns from his colleagues about cost and logistics, L.A. City Council President Herb Wesson on Tuesday put the brakes on a scheduled vote to purchase thousands of body cameras for police officers.
Council members had been scheduled Wednesday to approve a plan to spend $57.6 million over five years on the LAPD camera initiative, which is backed by both Mayor Eric Garcetti and police Chief Charlie Beck. Wesson delayed that vote until next month after hearing "outstanding questions" from city lawmakers, said Vanessa Rodriguez, the council president's spokeswoman.
"This is a major policy. It is a major shift for the Los Angeles Police Department and has national significance," she added. "The council president feels he owes it to his community and the city that the best policy is what's voted on."
The agreement to purchase more than 6,000 cameras had been on an accelerated schedule this week, right before lawmakers went on holiday recess. But over the last two days, several city lawmakers sounded increasingly nervous about the project's price tag and the potential drain on other police resources.
On Monday, four council members recoiled at suggestions that the LAPD may need 122 additional positions to oversee the video program, which would place cameras both on officers' uniforms and in squad cars. Councilman Bob Blumenfield said he was experiencing "sticker shock."
A day later, Councilman Joe Buscaino said constituents in the harbor area of his district would rather see the money spent on extra patrols and the reopening of a jail in San Pedro. "It's hard for me to go back to my community, who's demanding … more cops on the street," said Buscaino, a former police officer.
Interested in the stories shaping California? Sign up for the free Essential California newsletter >>
Lawmakers were being asked to sign off on a $31.2-million contract with Taser International Inc. to purchase 6,140 cameras — plus upgrades and video storage — and 4,400 Tasers. Another $26.4 million would be spent on cellphones and other support services.
Buscaino said he planned to vote, albeit reluctantly, for the camera agreement. But Councilman Paul Krekorian, who heads the budget committee, was not yet willing to make that commitment on Tuesday.
Police Commission Vice President Steve Soboroff, a Garcetti appointee and a major backer of the camera program, said in an email that he did not think the delay would present a problem for an initiative he described as "transformative."
"The closer they look, the more they understand the details, the easier it will be to get the 15-0 vote for these cameras that protect people on both sides of the camera," he said.
A Garcetti spokeswoman said the mayor remains committed to deploying body cameras citywide "as soon as possible. He understands council's need to deliberate the details of this issue and looks forward to seeing this vote move quickly in the new year," Connie Llanos said.
The LAPD camera program also had been under fire from the ACLU, which argued that the city's policy on using the new technology does not give the public proper access to the footage. The ACLU had called this week for the City Council to delay its decision until public hearings can be held on the policy.
In recent days, critics also had argued the process used to purchase the cameras was not competitive.
Instead of seeking formal bids from companies, police officials relied on a recent procurement process carried out for such equipment in Kern County, according to a report prepared for council members. Kern County selected Taser, the report said.
See more of our top stories on Facebook >>
Robert McKeeman, chief executive of the Georgia-based software firm Utility, said his company would have been interested in bidding on the LAPD contract. However, Utility had no way of knowing that the Kern County bidding process would result in work at the LAPD, he said.
"We could do 6,140 body-worn cameras for about half" the amount the LAPD is planning to spend, said McKeeman, whose firm is negotiating a contract to provide body cameras for police officers in Long Beach.
Councilman Mitch Englander disagreed with the idea that the search was not competitive, saying the city agreed in early 2014 to let two camera technology companies participate in a "field test" of their equipment.
ALSO
L.A. schools threat disrupts many people's daily routines
Harbor-area residents demand better oversight of port operations
Video shows suspected gunman at Standard hotel in downtown L.A., police say
---
The stories shaping California
Get up to speed with our Essential California newsletter, sent six days a week.
You may occasionally receive promotional content from the Los Angeles Times.