Seven cases of measles reported in L.A. County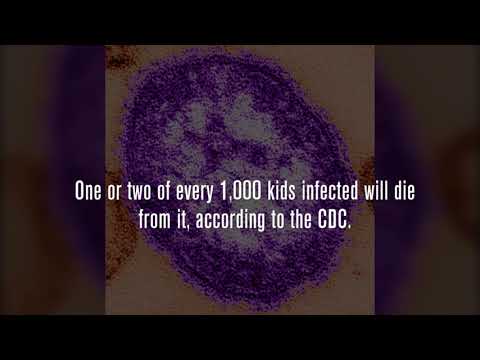 Measles is a highly contagious viral disease. Learn the symptoms and possible effects (Dec. 23, 2016)
Los Angeles County public health officials said this week that they're investigating seven cases of measles, a contagious disease that in rare cases can lead to brain damage or death.
"Measles is a highly contagious viral disease that spreads from person to person through coughing or sneezing," said Dr. Jeffrey Gunzenhauser, the county's interim health officer.
Gunzenhauser recommended that people who aren't immunized against measles get the vaccine, and that people who aren't sure whether they're vaccinated check with their doctors. Most people who haven't gotten the shot or have never had measles will get it if they come into contact with the virus, officials said.
Officials wouldn't say where in the county the infected patients lived, other than that they weren't in Pasadena or Long Beach, which report cases separately because they have their own health departments.
Though anyone can contract measles, it's particularly dangerous for young children.
One in 10 infected kids get ear infections, which can result in permanent hearing loss, according to the U.S. Centers for Disease Control and Prevention. For about one in 1,000 kids who get measles, their brain swells, which can leave them with an intellectual disability.
One or two of every 1,000 kids infected will die from it, according to the CDC.
Officials warned that the spread of the disease is particularly hard to prevent because an infected person can give it to someone else before they start showing symptoms, and it can take three weeks for symptoms to begin.
The earliest ones are a runny nose, cough and a high fever. That's followed by a rash that starts on the face and then spreads to the rest of the body.
Officials said that people who think they might be infected should call their doctor before going into the office so the clinic can take preventative measures.
soumya.karlamangla@latimes.com
Follow me on Twitter: @skarlamangla
ALSO
Riot involving 100 prisoners rocks California prison
Heavy rain might be a sign of wetter times to come in drought-plagued L.A.
A black bear boom has townfolk wondering how they'd get along with grizzlies
Sign up for Essential California for news, features and recommendations from the L.A. Times and beyond in your inbox six days a week.
You may occasionally receive promotional content from the Los Angeles Times.