LAPD deploys extra officers to South L.A. in wake of homicide surge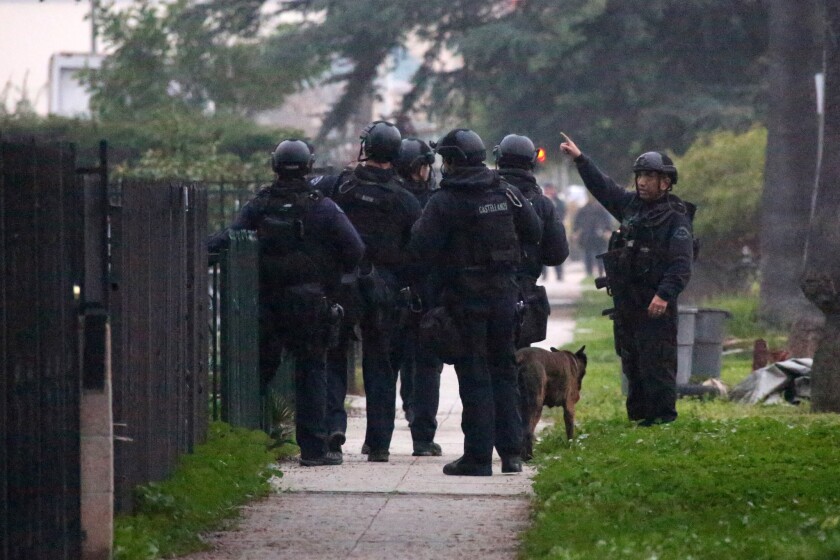 With historic lows in killings as a backdrop, Los Angeles Police Chief Charlie Beck on Tuesday ordered dozens of extra officers be deployed to South L.A. neighborhoods that saw surges in shootings and homicides beginning last weekend and spilling into the early part of the week.
This year through Tuesday, L.A. has seen 29 homicides, compared with 21 for the same period last year.
Beck ordered a modified tactical alert, directing all officers to be in uniform and deploying those usually used for traffic and other work into South L.A. and the city's eastside to beef up anti-crime efforts. Officers have been shifted to the LAPD's Southeast, 77th and Newton divisions after the spate of shootings.
Extra police were also sent to the department's Hollenbeck Division after Armenta Benjamin, 20, was found shot to death early Tuesday morning in Boyle Heights. Police said his death, believed to be gang-related, was the first in the division for 2015.
Since last weekend, police have responded to at least 16 shootings and investigated at least four homicides, Beck said. The shootings included two that involved officers firing their weapons.
The youngest victim was a 13-year-old girl who was struck in the leg by a stray bullet Tuesday morning as she waited at a bus stop in South L.A.
LAPD Assistant Chief Earl Paysinger said the early start for the increase in homicides is of concern and bucks against the norm for the last five to seven years.
Despite the recent bump in shootings, the number of homicides pale in comparison with the number of killings during the early 2000s and especially the early to mid-1990s, when L.A. County had about 2,000 homicides some years.
Though the winter season is usually not one of the city's bloodiest, there have been some violent starts to the year.
January 2012 was the deadliest month that year with 39 killings in the city. Still, that was far less than January 2002, when the city had 72 homicides, according to the Los Angeles Times Homicide Report.
The numbers are concerning to police who don't want to see L.A.'s violent crime rate creep back closer to the disturbing numbers of years past.
But some law enforcement officials said the homicide numbers had gone down so low that it was inevitable they would climb back at some point, however temporarily.
In the 1990s, there were three killings a day. In the fall of 2002, 13 people were killed in four days. At that time, L.A. was approaching 600 homicides a year.
In 2008, the killing of a Watts gang member set off a rash of retaliatory shootings — about a dozen in the span of a week.
Fearing a continued domino-like pattern of shootings, police are trying to act fast to forestall any acts of retaliation that could produce another string of violence.
"In the last five to seven years we have not seen this type of surge," Paysinger said. "That is why we have to send a very strong message."
The LAPD has moved its metropolitan tactical officers into the South Bureau, where they have set up a command post to immediately respond to any shootings.
They are also working with L.A. gang intervention specialists to ease any gang tension.
Detectives say much of the increase in homicides and shootings is due to an increase in gang violence among black gangs in South L.A.
"Several different sets are involved," Paysinger said.
He said gang assaults have surged 25% this year.
Times staff writer Armand Emamdjomeh contributed to this report.
---
For reporting and exclusive analysis from bureau chief John Myers, get our California Politics newsletter.
You may occasionally receive promotional content from the Los Angeles Times.