South L.A. neighborhood on edge after shooting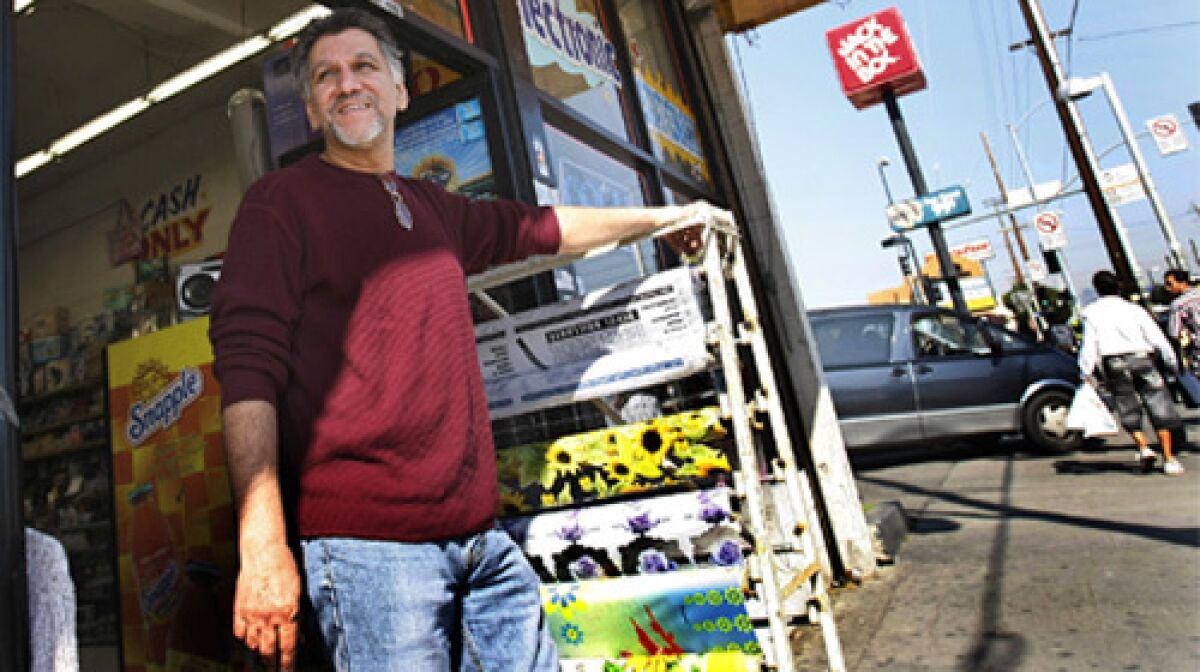 Los Angeles Times Staff Writers
On the way home from school Thursday, 13-year-old Magda Gomez and his friends walked past the South Los Angeles intersection where five youths and three adults were shot the day before.
One of the boys pointed out the splatter of dried blood that stained the sidewalk next to the bus stop at Central and Vernon avenues.
"Check it out," he said.
Gomez and his friends turned briefly to look and then kept walking.
"I saw the injured people," Gomez said of Wednesday's shooting. He said he thought to himself, "I hope they're OK. I hope it doesn't happen to me."
On Thursday, police arrested Billy Ray Hines, 24, who they said is a member of the 48th Street Crips and who they believe was responsible for shooting into a crowd of people at the bus stop. Police said the suspect's two intended victims fled the scene and remain at large
Surveillance videos from nearby businesses show the gunman trying to shoot at two people who dodged in and out of pedestrians on the sidewalk, said Los Angeles Police Department Deputy Chief Sergio Diaz.
The shooting took place in front of scores of witnesses, many of them students on their way home from nearby George Washington Carver Middle School.
All five wounded children, ages 11 to 14, are students at Carver, school administrators said Thursday. A 12-year-old girl, the most seriously injured, remained at Childrens Hospital Los Angeles in stable condition with a bullet wound to her chest, officials said. The three wounded adults -- a 48-year-old man, a 49-year-old woman and a 68-year-old man -- were in stable condition.
"We're in shock, and we realize that we have to step up our security surrounding the schools," said Carmen Schroeder, a Los Angeles Unified School District superintendent.
Counselors were at Carver on Thursday to speak to students, officials said. And the number of school police officers on campus was increased from one to four for at least the rest of the week.
Parents dropping off their children at the school Thursday morning expressed concern for their safety.
"I'm worried because this is not the first time," said Elvira Sandoval, who lives nearby and whose son is a student at Carver. "There's a lot of violence here. I tell [my children] to be careful, to never leave by themselves."
Before school let out Thursday, about a dozen parents sat together on the steps at the campus' entrance. They were talking about Wednesday's violence when Rapida Rosales, 43, who was there to pick up her daughter, began describing how she was standing right behind a young girl who was shot.
"I saw it," Rosales said, her voice cracking. "It could have been my daughter," she said through tears. "She watched the whole thing."
Many of the parents expressed frustration with the LAPD, which they said has not adequately patrolled the neighborhood.
"It's always like this when a tragedy happens," said one woman, pointing at the dozens of officers who gathered in front of the school. "One or two weeks and they'll forget about it, and then it'll happen again."
Two mothers and a father then began listing violent incidents they've witnessed in the neighborhood: fights, gang members harassing students, men robbing youngsters on their way home from school.
"My son wants me to let him walk home by himself, and I always tell him, 'No,' " said Noemi Corral, 29. "Yesterday I told him, 'You see why I don't let you walk?' "
During an afternoon news conference, Police Chief William J. Bratton said the suspected gunman, who was on probation for a December burglary conviction, was arrested about 1:20 p.m. as he walked down the street a few blocks from the crime scene. Bratton said Hines is expected to be charged with at least 10 counts of attempted murder, which include the two intended victims.
The attack reinforces "that we still have a pernicious gang problem in this city," Bratton said. But he said patrols in the neighborhood would not change in the short term.
Amir Khani, 50, who has owned a discount store on Central since 1989, said the neighborhood has long been plagued by crime.
"If I wanted to tell you everything that's happened here," Khani said, "I'd have to write a book."
---
The stories shaping California
Get up to speed with our Essential California newsletter, sent six days a week.
You may occasionally receive promotional content from the Los Angeles Times.