Southern Californians are getting a muggy start to the week as high temperatures are expected to peak Monday, prompting poor air quality advisories from health officials.
Valley temperatures will reach 98 to 103 degrees, dipping slightly Tuesday, meteorologists said.
In central Los Angeles, temperatures will reach 88 degrees, the weather service said.
Meteorologists had said temperatures would peak Saturday, but heat advisories have now been extended until 8 p.m. Monday. Areas under the advisories include the San Bernardino and Riverside County valleys, the San Gabriel Valley, the San Fernando Valley, the Santa Clarita Valley and the Santa Monica Mountains, according to the National Weather Service.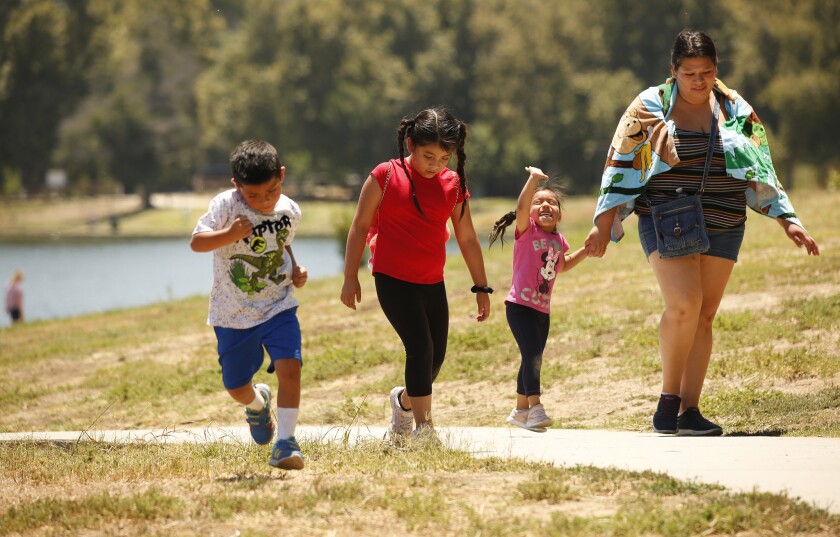 The heat is also creating unhealthy air quality levels across the Southland, according to the South Coast Air Quality Management District.
A poor air quality advisory extends through Tuesday for the same areas the heat advisory covers, with the addition of Orange County.
"Elevated temperatures, which enhanced ozone formation rates, coupled with predicted atmospheric inversions that trap pollution near the surface may cause unusually high and persistent levels of ozone pollution," the district said.
An "unhealthy" ranking indicates that anyone can be affected by bad air, and people who are particularly sensitive to air pollution — such as older adults, children or those with heart disease — may experience more serious effects. A "very unhealthy" ranking means anyone can experience serious health effects, including having trouble breathing, asthma attacks and lung damage.
Meteorologists have warned that people should be prepared for the extended heat wave.
"The cumulative effects of several days of hot weather may cause heat exhaustion for those not prepared for excessive heat or for those who are active outdoors during the day," meteorologists said in one heat advisory.
Experts advise drinking plenty of fluids, avoiding the midday sun and checking on relatives and neighbors.
alejandra.reyesvelarde@latimes.com
Twitter: @r_valejandra
---