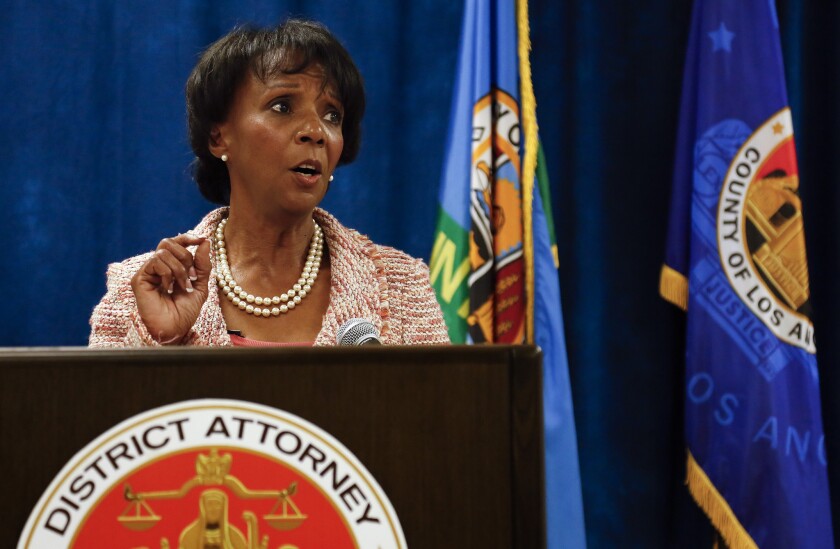 Los Angeles County Dist. Atty. Jackie Lacey notified the Board of Supervisors last week that their vote on a controversial downtown jail plan violated the state's open meetings law, the latest in a string of incidents in which the board has run afoul of the Ralph M. Brown Act.
In a letter sent last Thursday and released to The Times on Wednesday, Lacey told the board that its Aug. 11 vote on the jail plan did not comply with the Brown Act, which requires that officials give the public adequate notice when they plan to discuss an issue so that anyone can participate.
The board voted last week to move forward with the design and construction of a new 3,885-bed jail to replace the dilapidated Men's Central Jail.
But the jail plan did not appear on the publicly posted agenda before the meeting. Instead, the supervisors added the vote to an item on the agenda involving a new multimillion-dollar program to divert mentally ill criminal defendants from county jails.
Lacey headed up a task force focused on the diversion issue. The Brown Act letter, written by Assistant Head Deputy Sean Hassett, advised board members that the item that appeared on the agenda "involved implementing a comprehensive jail diversion plan, and made no mention of the jail construction projects, thus violating the public's right to be notified."
The letter asked the board to "cure and correct this violation at its earliest convenience by setting the matter on an agenda for proper reconsideration and discussion."
The day after the district attorney's letter was sent, Supervisor Michael D. Antonovich proposed setting the jail construction plan for a new vote on Sept. 1. His aides did not mention the letter from the district attorney.
Tony Bell, Antonovich's spokesman, explained the push for a new vote by saying the supervisor understood members of the public were concerned that they had not had a chance to weigh in.
"Our office discussed re-calendaring the item before the letter was sent, when we heard there were members of the public requesting more time to provide input on it," Bell said Wednesday.
The supervisors voted this week to reconsider the jail proposal and give interested members of the public a chance to comment.
The county has breached the state's open meetings law before.
Last year, the district attorney found the board violated the Brown Act by discussing compensation negotiations behind closed doors, again without providing proper notice to the public. And in a high-profile 2012 case, the board was faulted for meeting with Gov. Jerry Brown in private to discuss the state's plan to shift responsibility for some convicted felons from the state prison system to county jail and probation agencies.
Follow Abby Sewell on Twitter at @sewella for more county news.
ALSO:
How the L.A. County jail's version of democracy has changed life for inmates
L.A. County jail itself poses hurdle to helping mentally ill inmates
---