Dennis Galvan and his brother Larry were just returning to their mother's home in East Los Angeles after buying a mop for her when someone opened fire on them.
Dennis, 26, was wounded in the Monday shooting, said their brother Isaac Galvan, who in 2013 made history when he became the first Latino elected to Compton's city council. Larry, 27, died. The politician said Larry's three children – ages 2, 5 and 7 – hadn't been told as of Tuesday afternoon, he said.
"We'll do it tonight," Galvan said. "We're going to tell them that their father went to heaven."
Larry Galvan, the brother of Compton City Council member Isaac Galvan, died from gunshot wounds, and his brother Dennis was wounded but will survive.
The shooting occurred about 12 p.m. Monday in the 900 block of South La Verne Avenue, according to Dep. Mike Barraza of the Los Angeles County Sheriff's Department.
Isaac Galvan said authorities told him four of bullets struck Larry Galvan in the chest. One bullet struck his other brother's foot.
Vanessa Cosgaya, 18, said she was in her bedroom with her 3-year-old daughter when she heard six to eight gunshots. She said she ran outside and saw Dennis and Larry Galvan in her driveway.
"I saw Larry covered in blood," she said. "He was bleeding from the back too."
Cosgaya ran over to the men. Larry collapsed in her arms. She laid his head on her lap and called 911 while she put pressure on the wounds.
"He kept saying my name," Cosgaya said. "I kept telling him you're going to be OK."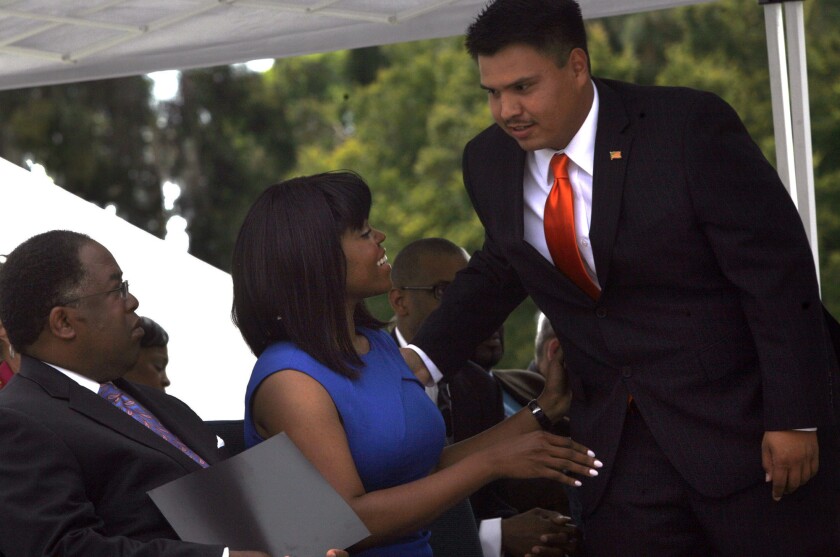 Dennis sat nearby, crying.
"He was saying 'Larry don't leave us,'" Cosgaya said."I didn't pay attention to the noise. I was focused on Larry."
She said Larry told her he couldn't breathe.
"Stay with me, you're OK," she said she kept repeating.
On Tuesday, Galvan's colleagues on the Compton City Council sent their condolences.
"The Compton City Council joins with our residents in mourning the loss of Councilmember Isaac Galvan's brother and in extending our thoughts, prayers and love to his mother, his brother's children and entire family," said Compton Mayor Aja Brown. "We also hope for a quick recovery for his injured brother."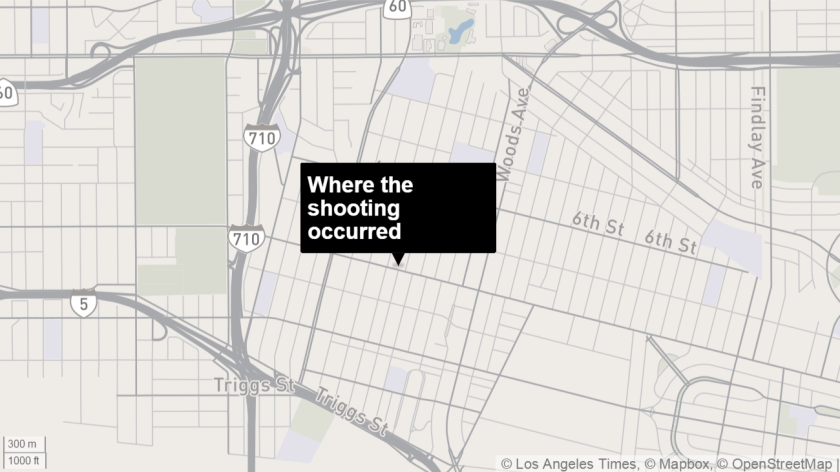 Outside Cosgaya's parents' home, candles, black and white star balloons, and flowers made up a memorial for victims.
Blood splatters stretched across the driveway.
Isaac Galvan was driving to his mother's home to eat when he saw that La Verne Avenue was taped off. He ran over to find out what had happened, but authorities wouldn't let him in.
Eventually, Galvan said, he and other family drove to Los Angeles County-USC Medical Center, where Larry was pronounced dead at about 6:30 p.m.
Isaac Galvan said his brother Larry often took care of their mother, bringing her breakfast every morning and going with her to doctor appointments. No errand was too small if it involved his mother.
"Yesterday is a good example. He went to the store to buy her a new mop," Galvan said.
He said his brother Dennis is a father of two who is a regular churchgoer. He said he works labor jobs such as construction.
Isaac said family is taking the loss hard. He said he has to be the strong one for the family. He will mourn later, he said.
Authorities said the shooting appeared to be gang-related, but Galvan said although the shooter or shooters might have been gang members, his brothers were not.
He said the family believes this was a case of mistaken identity.
Times staff writer Angel Jennings contributed to this report.
For more news in California, follow @LATVives @MattHjourno.
The Homicide Report: A story for every victim >>
ALSO
Woman killed by Inglewood police 'never owned a gun,' sister says
Apple vs. FBI: Protests planned across the nation over phone privacy
Truck driver charged with manslaughter in 2015 Oxnard Metrolink crash
---