Developer Mohamed Hadid facing criminal charges over Bel-Air mansion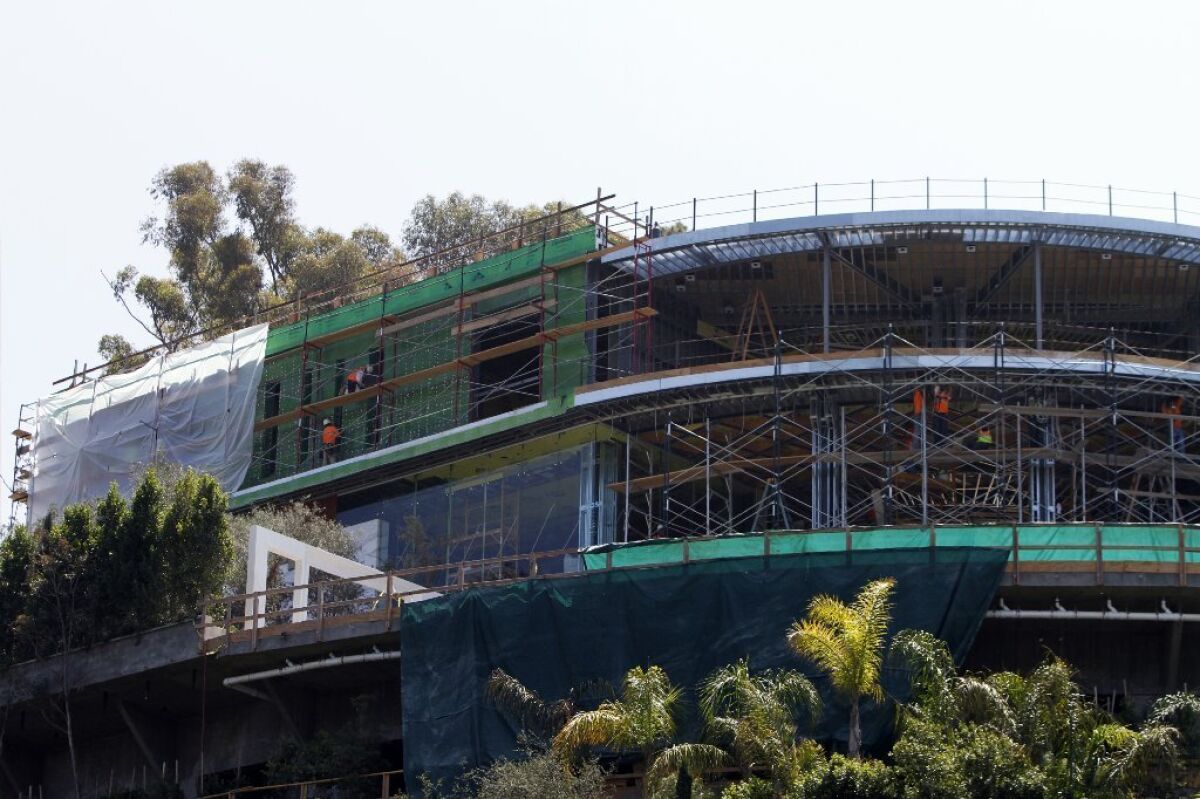 Celebrity developer Mohamed Hadid is facing criminal charges over allegations that he failed to halt construction and demolish unapproved features of a lavish, illegally constructed Bel-Air mansion.
The construction project, dubbed the "Starship Enterprise" by some, drew the ire of its Bel-Air neighbors and became known as a prime example of excessive and potentially unsafe development on the Westside amid a construction boom.
Hadid was charged last week with three misdemeanor counts related to the property, including an illegal use of land, building without a permit, and failure to obey orders from the Los Angeles Department of Building and Safety to make the construction fall within city provisions or demolish the mansion's illegally built features.
See more of our top stories on Facebook >>
Hadid, who has appeared on the reality TV shows "Shahs of Sunset" and "The Real Housewives of Beverly Hills," is known for an extravagant lifestyle and for building mega mansions for his exceptionally wealthy clients.
Building officials revoked the project's permits and shut down construction on the 30,000-square-foot, multi-level house in September, after Joseph Horacek, who lives below the hilltop mansion project, complained that the construction had destabilized the slope.
Complaints from neighbors mounted in the following months, with many contending that construction continued at the 901 Strada Vecchia site despite the order to halt.
Building inspectors found rampant code violations at the site, including an unapproved 70-seat, underground Imax theater and guest suites built below a swimming pool, among other features.
Hadid was ordered to demolish and remove the additions, and an appeal of the decision was denied. The city attorney's office then moved to bring criminal charges against the owner of the property, 901 Strada LLC, and last week added Hadid to the complaint.
Attorney Victor De La Cruz, who represents Horacek, said his client was pleased that Hadid can "no longer hide behind an LLC" and is now facing criminal charges.
He said Horacek is worried about El Niño, which is forecast to bring torrential rain in the coming months.
"There are real safety concerns about the stability of the hillside, and Hadid still has to demolish the majority of the home," De La Cruz said.
Interested in the stories shaping California? Sign up for the free Essential California newsletter >>
Attorney Donald Re, who is representing Hadid in the criminal matter, said that it was inappropriate for his client to be named in the complaint, and that there is no evidence of any criminal liability on his part.
But Hadid has accepted the conditions the city has placed on the property and will work to see that they are met, Re said.
"He's going to do everything he can to make sure the property conforms to all local provisions and laws," he said.
City Councilman Paul Koretz, who represents the area, said in a statement that Hadid is a "blatant scofflaw and it's about time he was added to the case."
Each charge carries a possible maximum sentence of six months in prison along with a possible $1,000 fine.
For more Los Angeles court news, follow @sjceasar
ALSO
$1-billion desalination plant, hailed as model for state, opens in Carlsbad
Los Angeles Mayor Garcetti announces support for higher water rates
L.A. lawmaker has 'sticker shock' over possible staffing costs for LAPD body cameras
---
The stories shaping California
Get up to speed with our Essential California newsletter, sent six days a week.
You may occasionally receive promotional content from the Los Angeles Times.