El Niño is officially here — but you can't blame it for the storms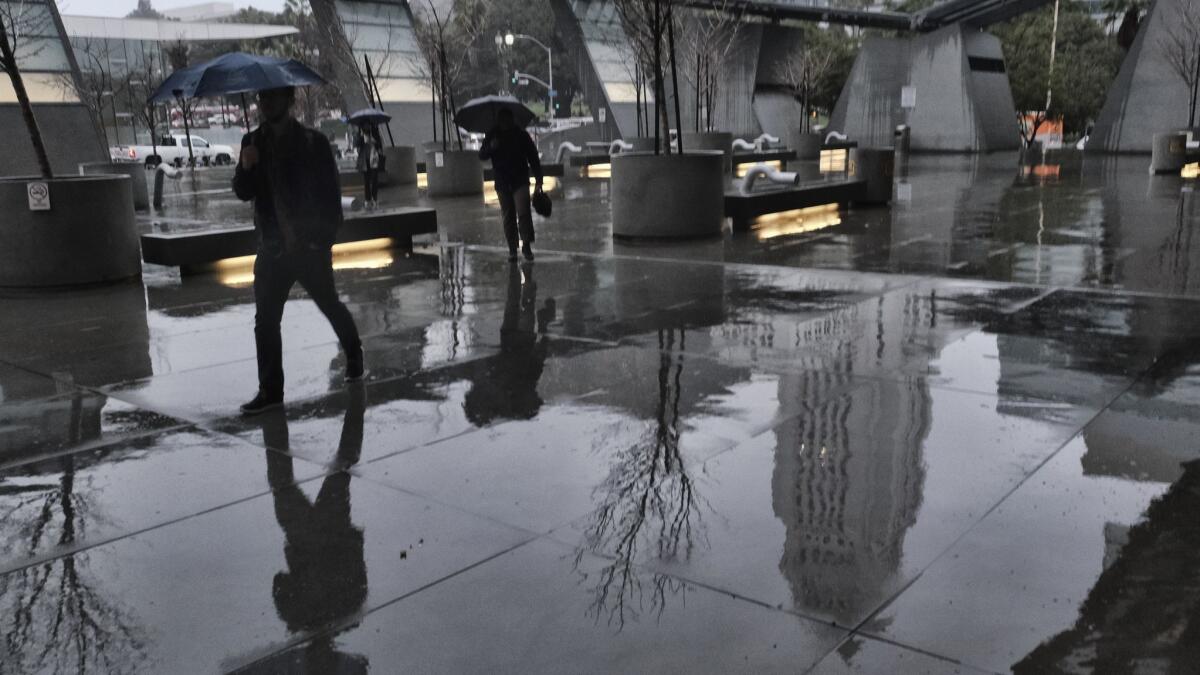 Like a fickle paramour, El Niño is visiting California again — but the weather pattern is weak this year and its relationship with the state is tenuous, experts say.
The National Oceanic and Atmospheric Administration announced Thursday that after months of flirting, conditions for El Niño have finally come together in the central Pacific. Forecasters said there's a 55% chance the weather pattern conditions will continue through April across the southern half of the U.S.
That means there's a chance of more rain plus warmer weather coming on the heels of this week's storms, which have poured rain across California and triggered flood warnings and mudslides.
The most recent atmospheric river storm has pounded Northern California with torrential rain since late Tuesday. Nearly 5 inches has fallen on Sausalito in the last 24 hours, and a woman was hospitalized after being trapped in her home following a mudslide. The conditions prompted the National Weather Service to issue a flash flood watch and high-wind warning for the Bay Area.
Despite the seeming unrelenting rain, Michelle L'Heureux, a meteorologist with the weather services' Climate Prediction Center, said this year's El Niño is weak.
"To be clear, [weather patterns] are just barely hitting our threshold for El Niño " L'Heureux said. "It's on the weaker side, and as a result, would lead to weaker weather events."
For an El Niño to be declared, a certain atmospheric circulation pattern has to form over warm ocean surface temperatures. The ocean temperatures have been elevated for months, but the circulation pattern hadn't caught on — until now, she said.
The El Niño — centered over the tropical central Pacific — throws a "punch" into the atmosphere that typically brings rain over North America, L'Heureux said. Because that punch is weaker this year, weather events on the West Coast are also expected to be weaker, she said.
Even though El Niño is on the doorstep now, the weather pattern isn't what has been causing California's powerful winter storms — nor is it likely to be a driving factor in any strong upcoming rains. Another more random phenomenon can be thanked for that: the Madden Julian Oscillation in the central tropical Pacific, L'Heureux said.
The Madden Julian Oscillation, or MJO, is a fast-moving weather phenomenon that creates a jet stream extending to the northern Pacific Ocean, L'Heureux said. It has actually been keeping El Niño at bay since its formation in October and causing California's on-and-off rainfall.
The MJO can be thought of as a cluster of thunderstorms that migrates across the tropics. It had been centered over the Western part of the Pacific, near Indonesia, where it counteracted the atmospheric circulation pattern that normally establishes during El Niño. But the MJO has moved eastward, allowing the small and weak El Niño pattern to form.
"It looks like roughly every time an MJO gets in a certain state, we're seeing rainfall along the West Coast," L'Heureux said. "And it's still going on."
The Madden Julian Oscillation is random, and experts don't know why it forms every now and again. But together, the El Niño and MJO weather patterns make it more likely for rain on the West Coast through the end of February, continuing California's rainy streak, L'Heureux said.
alejandra.reyesvelarde@latimes.com
Twitter: @r_valejandra
Sign up for Essential California for news, features and recommendations from the L.A. Times and beyond in your inbox six days a week.
You may occasionally receive promotional content from the Los Angeles Times.