Pilot killed when tanker crashes battling Yosemite Park wildfire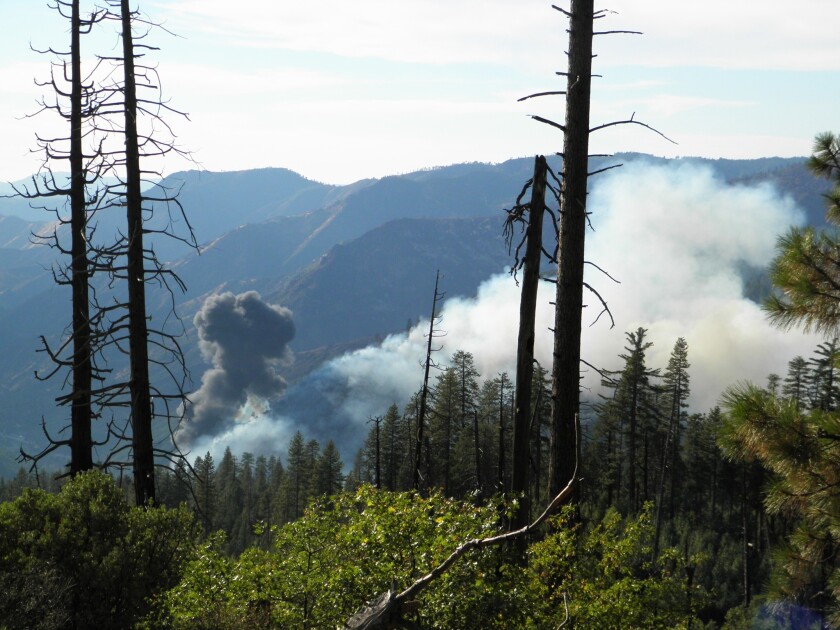 A pilot was killed when his S-2T tanker fighting the Dog Rock fire at Yosemite National Park crashed near Arch Rock late Tuesday afternoon, officials confirmed to The Times.
UPDATE: Air tanker crashes while fighting fire at Yosemite; pilot dies
The crash site is at the top of a 2,500-foot cliff, said park spokeswoman Kari Cobb, adding that she believes the search and rescue team is scaling the face of the cliff to reach the wreck.
"It's taken a while for rescuers to get back into the area," California Department of Forestry and Fire Protection spokesman Daniel Berlant said. "They're not at the scene yet, but they can see the aircraft."
The unidentified pilot is a contractor who works for DynCorp, a company that also maintains the agency's planes, he said.
Berlant said the last time a Cal Fire tanker crashed while fighting a wildfire was 2006.
The cause of Tuesday's crash was not immediately clear.
According to Cal Fire, the agency acquired 26 of these air tankers from the Defense Department in 1996. The oldest is now 60 years old. They were originally owned by the U.S. Navy and used as an anti-submarine warfare plane.
The condition of many aircraft used in fighting wildland fires has come under criticism in recent years.
Incidents involving U.S. Forest Service planes, for example, have killed at least 36 crew members since 1994. Many of the aircraft the Forest Service uses to drop water and retardant on wildfires were built during the Eisenhower administration. Wings have broken off mid-flight. Engines have caught fire. Pilots have made mistakes, crashing into other planes or flying into inclement weather.
The quick-moving Dog Rock fire was first reported around 2:45 p.m. Tuesday and covers more than 130 acres, according to the park's website. It began at Dog Rock on El Portal Road between the park boundary and the Arch Rock entrance station.
The unincorporated community of Foresta, on the park's west side, has been evacuated.
Times staff writers Julie Cart and Lauren Raab contributed to this report.
Follow @theryanparker for breaking news
---
The stories shaping California
Get up to speed with our Essential California newsletter, sent six days a week.
You may occasionally receive promotional content from the Los Angeles Times.