Man struck by train after 11 minutes unconscious on the tracks sues L.A. Metro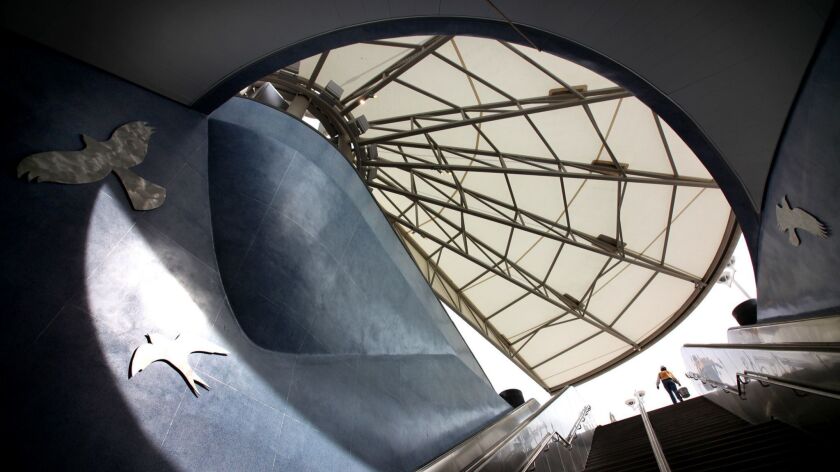 A Los Angeles County man who spent nearly 11 minutes unconscious on a stretch of track in Boyle Heights before being struck by a Gold Line train has sued the Metropolitan Transportation Authority, alleging that his life-altering injuries were preventable.
While waiting for a train at the Soto station in May, Patrick Chammas, 30, fell off the platform, struck his head, landed on the tracks and lost consciousness, according to a lawsuit filed Friday in Los Angeles County Superior Court.
Chammas spent 11 minutes lying unconscious on the tracks, apparently unnoticed, before a train pulled into the station and ran over him, his attorney said.
"A human being should not be able to be on the tracks unnoticed for almost 11 minutes in a modern subway station," said Matthew McNicholas, Chammas' attorney. "It's an entirely preventable accident, and it never should have happened."
Both of Chammas' legs were amputated, and he will face "costs in the multimillions" for prosthetic limbs, McNicholas said. Chammas also received a brain injury that "changed his life's course," he said.
Metro spokesman Jose Ubaldo said the agency would not comment on pending litigation.
Chammas was wearing light-colored clothing when he fell, and landed perpendicular to the tracks.
"It's possible that your eye could play a trick and not see anything on the tracks if he were lying parallel to the tracks," McNicholas said. "But he was perpendicular to the tracks, in an area that's lit in the station."
McNicholas said that footage from the camera inside the train's cab shows the operator rolling his head on his shoulders in the moments before the collision, as if to stretch or shake off fatigue.
The train stopped about 50 feet beyond Chammas' body, McNicholas said. The operator could have prevented the accident if he had started braking one or two seconds earlier, he said.
The Gold Line Soto station does not have a barrier to separate the platform from the tracks, which would prevent passengers from falling. That design constitutes a dangerous condition that the agency should have fixed years ago, the lawsuit said.
Metro apparently did not have technology in use to alert officials when someone stepped or fell onto the tracks, McNicholas said.
"There's no monitoring of incursion on the tracks, and there's no monitoring of the tracks themselves, and you've got an operator who may not have been paying attention," McNicholas said. "This was almost a conspiracy of horrible factors that had to align."
For more transportation news, follow @laura_nelson on Twitter.
---
The stories shaping California
Get up to speed with our Essential California newsletter, sent six days a week.
You may occasionally receive promotional content from the Los Angeles Times.