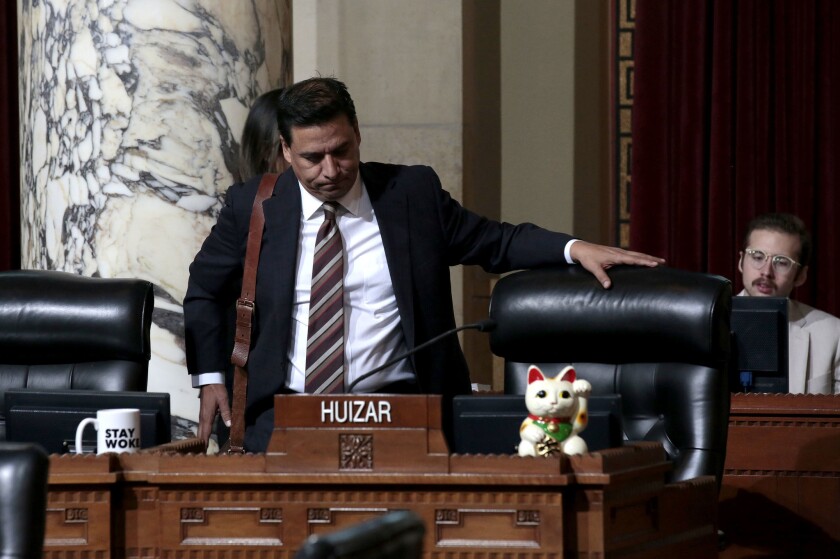 Los Angeles City Councilman Jose Huizar cannot be deposed in a harassment case filed against him by an ex-staffer until the FBI's criminal investigation involving him is resolved, a judge ruled Thursday.
In her decision, Superior Court Judge Ruth A. Kwan allowed the retaliation and workplace harassment lawsuit to proceed. But she said Pauline Medina, the former Huizar aide, cannot seek information for her case that requires the councilman's verification until after the federal probe is resolved.
Medina has alleged that she was forced out of a job after complaining that Huizar was engaged in an extramarital affair with another staffer in his office. She also claimed that Huizar improperly directed her to funnel city funds to Bishop Mora Salesian High School, a Catholic school located in the Boyle Heights section of his district.
Lawyers for Huizar had argued that the councilman should not be forced to respond to Medina's allegations while also confronting a wide-ranging criminal probe, one that included an FBI raid at his home and offices.
The claims made in Medina's lawsuit directly overlap with the scope of the government's investigation, they said, leaving Huizar to choose between mounting a strong defense against his ex-staffer's allegations and staying silent to avoid self-incrimination.
The judge agreed, saying Huizar should not have to make such a choice. Still, she denied the request from Huizar's lawyers to delay the case entirely, saying she wanted to ensure that evidence is preserved in Medina's case.
Kwan said the public has a vested interest in Huizar's "office affairs" and allegations that he misused public funds.
The Times reported last year that Huizar and his staff raised money for Salesian High School, where his wife spent several years working as a paid fundraiser. Many of those donations came from companies with business before the city, particularly real estate developers in the downtown section of Huizar's district.
In January, The Times reported that federal investigators had instructed developers in Huizar's district to turn over information on donations they provided to Salesian and other causes favored by Huizar.
Terrence Jones, the lawyer for Medina, called Thursday's ruling "reasonable," saying it will still allow him to obtain documents from Huizar, such as emails and text messages. The ruling also will permit Medina's legal team to secure depositions from staffers in the councilman's office, he said.
"I can depose whoever I want who works there," he said. "I just can't depose him."
Medina worked for Huizar for a decade, leaving her post last year. She has a son with one of Huizar's brothers and said in her lawsuit that her familial relationship with the councilman helped her land the job at City Hall. The relationship with Huizar's brother ended in 2012, according to her filing.
Medina said she was punished for complaining about a lack of boundaries in Huizar's office, with staffers being ordered to pick up the councilman's dry cleaning, collect his children from school and move his wife's car so that she would not get a parking ticket on street-sweeping day.
Huizar, in turn, has described Medina as a disgruntled ex-employee — one who left after engaging in misconduct. He said last year that her case is "full of misrepresentations" and that he denies "all of these crazy allegations."
Huizar, who represents a district stretching from downtown to Eagle Rock, is also seeking a delay in a second case — this one filed by Mayra Alvarez, another former staffer. A hearing on that request is scheduled for next week.
Twitter: @DavidZahniser
---