FBI raids home and offices of L.A. City Councilman Jose Huizar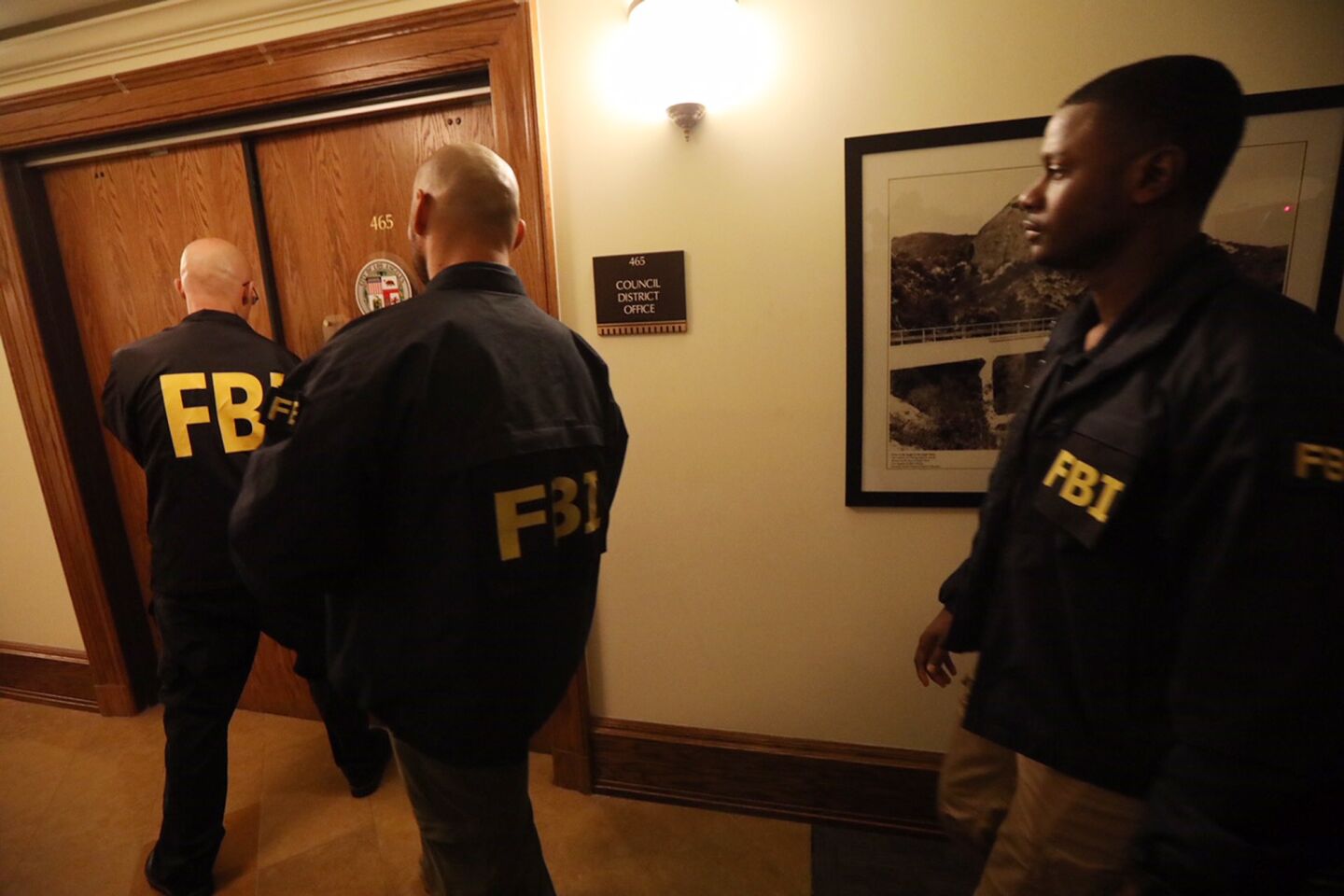 The FBI executes a search warrant at the City Hall office of Councilman Jose Huizar in downtown Los Angeles.
(Genaro Molina / Los Angeles Times)
The FBI executes a search warrant at the City Hall office of Councilman Jose Huizar in downtown Los Angeles.
(Genaro Molina / Los Angeles Times)
FBI agents remove items from L.A. City Councilman Jose Huizar's residence in Boyle Heights.
(Irfan Khan / Los Angeles Times)
FBI agents remove items from L.A. City Councilman Jose Huizar's residence in Boyle Heights.
(Irfan Khan / Los Angeles Times)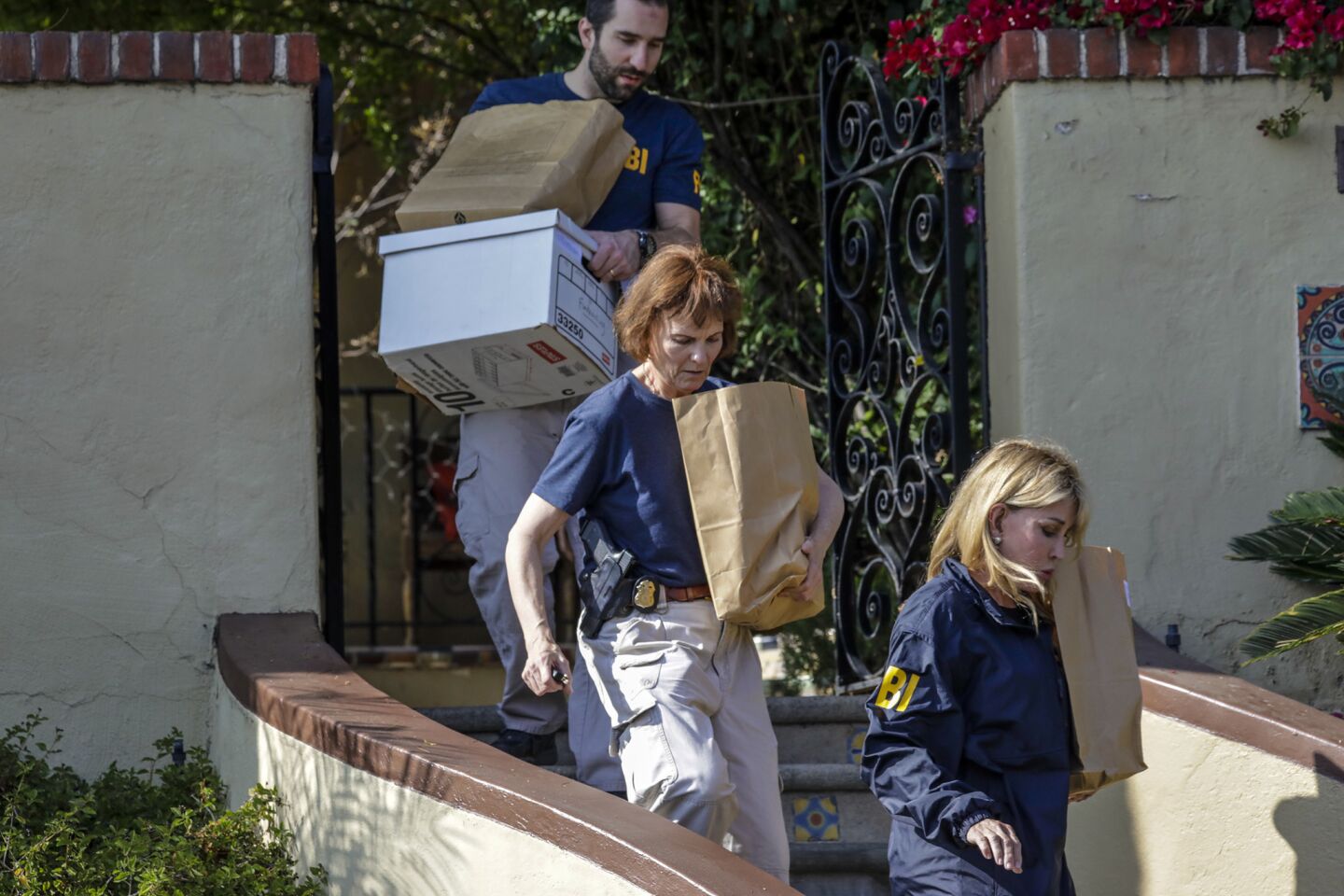 FBI agents remove items from L.A. City Councilman Jose Huizar's residence in Boyle Heights.
(Irfan Khan / Los Angeles Times)
FBI agents stand outside the Boyle Heights home of L.A. Councilman Jose Huizar on Wednesday morning. Agents also searched Huizar's City Hall office and were seen removing boxes.
(Irfan Khan / Los Angeles Times)
The scene could have been out of a movie: more than a dozen FBI agents striding out of elevators on the fourth floor of Los Angeles City Hall and descending on the office of Councilman Jose Huizar.
By lunchtime Wednesday, federal investigators had served search warrants on Huizar's City Hall suite, one of his field offices and his Spanish Colonial Revival residence in Boyle Heights, carrying boxes of materials from at least two of those locations.
The agents' coordinated operation, described by neighbors and a handful of city employees, delivered a serious jolt to City Hall, which has not experienced such a flurry of investigative activity in more than a decade.
The searches pose, at minimum, a serious political threat to Huizar, a City Hall veteran who is working to elect his wife, Richelle Huizar, to his Eastside council seat.
FBI Special Agent David Nanz, who supervised the search warrant at City Hall, declined to comment on what the agents were looking for, saying the warrants executed Wednesday were under seal. He said the FBI was not planning on making any arrests in relation to the warrants on Wednesday.
Huizar spokesman Rick Coca referred questions about the raid to Stephen Kaufman, the councilman's lawyer. "We're trying to assess the situation and have no further comment at this time," Kaufman said.
Mayor Eric Garcetti declined to comment. Council President Herb Wesson, in a statement, said the events "come as a surprise to each of us."
"We will continue to do the jobs we were elected to do and will cooperate with authorities if asked," he said.
Huizar, first elected to the council in 2005, faces term limits in two years and had already shifted his focus to his wife's 2020 campaign to replace him. He represents neighborhoods stretching from downtown to Eagle Rock.
One Huizar staffer, who declined to give her name, said agents walked through the unlocked front door of the City Hall office and announced that they were serving a search warrant.
"They just told us not to touch anything and put us in the conference room," she said. "We had literally just opened the office."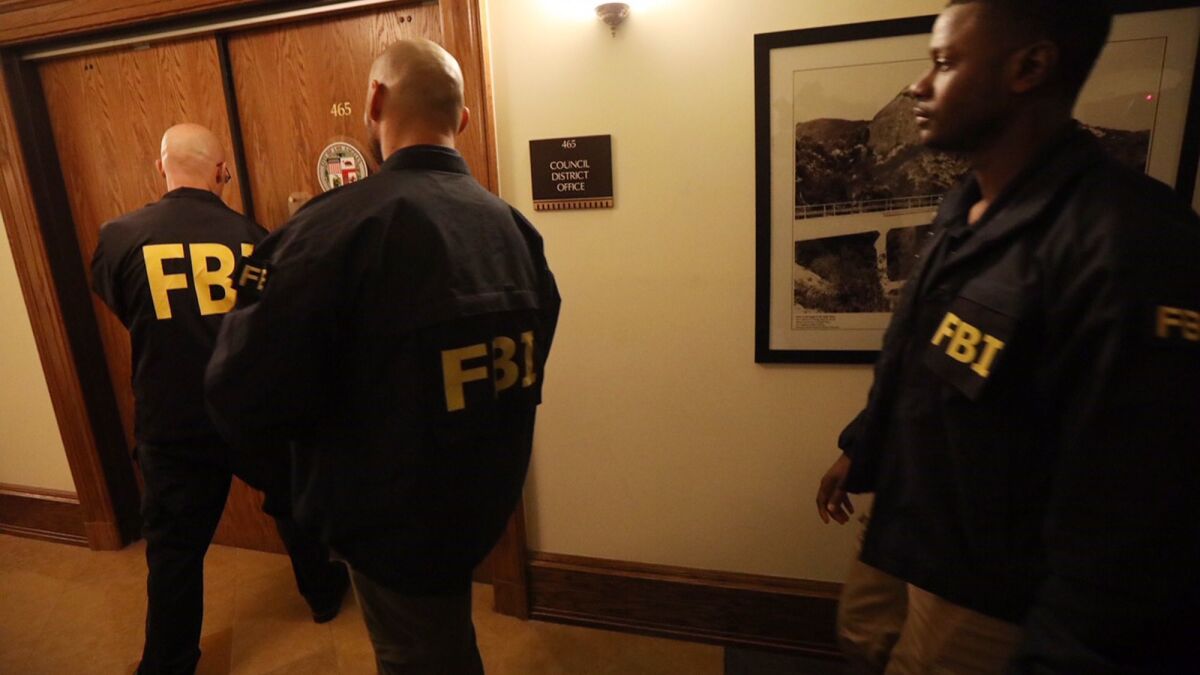 The woman said the handful of staffers who were in the office were kept in the conference room as agents searched and were not given any information about what agents sought.
On Huizar's street in Boyle Heights, FBI vehicles showed up early in the morning, according to 21-year-old Carmen Garcia, a next-door neighbor. "When we woke up at 6, they were already parked beside the house," she said.
Huizar's wife came out of the house a few hours later and left. While neighbors, activists and news crews congregated outside, an agent wearing an FBI T-shirt got out of his black SUV and led a dog up the stairs and into the councilman's home.
The search dog at Huizar's house is trained to sniff out electronic devices, such as thumb drives or cellular telephones, that may be hidden, according to sources familiar with the search warrant.
Several agents exited the home around 1:15 p.m., including one who carried what appeared to be a thumb drive in a clear plastic bag. Agents loaded paper bags, cardboard boxes and a large black plastic tub into their vehicles before driving away.
Roughly an hour later, FBI agents streamed out of Huizar's City Hall office, also carrying boxes and paper bags, as television cameras and news photographers recorded the moment. They silently strode down the hallway to the elevators.
The FBI investigation comes as Huizar is already under serious legal pressure. Over the last month, two former staffers have filed lawsuits alleging that he engaged in an extramarital affair with an aide and potentially illegal activities.
Mayra Alvarez, a former Huizar aide, said in her lawsuit the councilman instructed staffers to work on his wife's planned council campaign on city time. Pauline Medina, another former aide, alleged that she and other employees were instructed to perform inappropriate tasks, including raising money on city time for his alma mater, Salesian High School in Boyle Heights.
After Medina filed her lawsuit, the Archdiocese of Los Angeles, which operates Salesian High School, issued a statement saying the school administration has "no record of staff members from Councilman Huizar's office participating in fundraising activities at the school."
Alvarez also alleged in her lawsuit that Huizar had instructed her to alter appointment calendars from 2015 and 2016 that had been requested by The Times under the California Public Records Act, removing references to meetings with specific lobbyists and developers.
Huizar called the Alvarez lawsuit "absolute nonsense" and said Medina's legal filing is part of a "coordinated political attack."
Lawyer Terrence Jones, who represents both Alvarez and Medina, said he had been contacted in recent weeks by federal investigators who have "expressed interest" in learning what his clients know. He said that no interviews had been set up but that he would advise his clients to provide any information requested by investigators.
The FBI has shown an interest in Huizar over several years. In 2011, businessman Rudy Martinez told The Times he had been interviewed by two FBI agents who had asked him about repairs that he had arranged at a rental house Huizar owned in El Sereno.
Martinez had been running against Huizar at the time. Huizar's political consultant said that year that the councilman was not under investigation. Still, two former Huizar staffers also told The Times around that time that they had met with FBI agents who had asked about the councilman's bank accounts and other topics.
Huizar's Eastside council district has a history of low-grade scandals involving its politicians. It was long represented by Councilman Art Snyder, who was charged with drunk driving, got into car crashes while driving city vehicles and eloped with a 19-year-old aide.
After leaving the council in 1985, Snyder became a lobbyist. Years later, he was convicted of conspiracy and money laundering.
Snyder was succeeded in the district by Richard Alatorre, who served 14 years on the council. Alatorre decided not to seek reelection in 1999 after it was revealed that he was the target of a federal corruption investigation. After leaving office, he pleaded guilty to felony tax evasion for failing to report more than $40,000 he had received from people seeking political influence.
Huizar has repeatedly won reelection by significant margins, despite his own brushes with controversy. In 2012, while driving a city SUV, he rear-ended a vehicle driven by a retired Huntington Park police officer. The city later paid $185,000 to settle the motorist's lawsuit.
A year later, a former Huizar aide sued the city, alleging the councilman had sexually harassed her. Huizar called the allegations false but said he had been engaged in an occasional extramarital affair with the aide. He and the aide later settled privately.
On Wednesday, word of the FBI searches quickly reverberated through City Hall. Workers in the building, some of them taking photos, watched as FBI agents moved in and out of Huizar's office.
At one point during the search, three Huizar staffers arrived and tried to enter the office. "FBI?" one said incredulously.
An agent told them to remain in the hall. Moments later, the agent invited the three staffers in and asked to see their city IDs. He then asked if they would be willing to answer some questions.
Times staff writer Richard Winton contributed to this report.
---
UPDATES:
4:30 p.m.: This article was updated with additional background.
1:30 p.m.: This article was updated with comments from Jones and Wesson.
10:50 a.m.: This article was updated with comments from Nanz, Kaufman and City Hall staff.
This article was originally published at 9:25 a.m.
The stories shaping California
Get up to speed with our Essential California newsletter, sent six days a week.
You may occasionally receive promotional content from the Los Angeles Times.