Man shot by police near USC tried to take officer's gun, LAPD says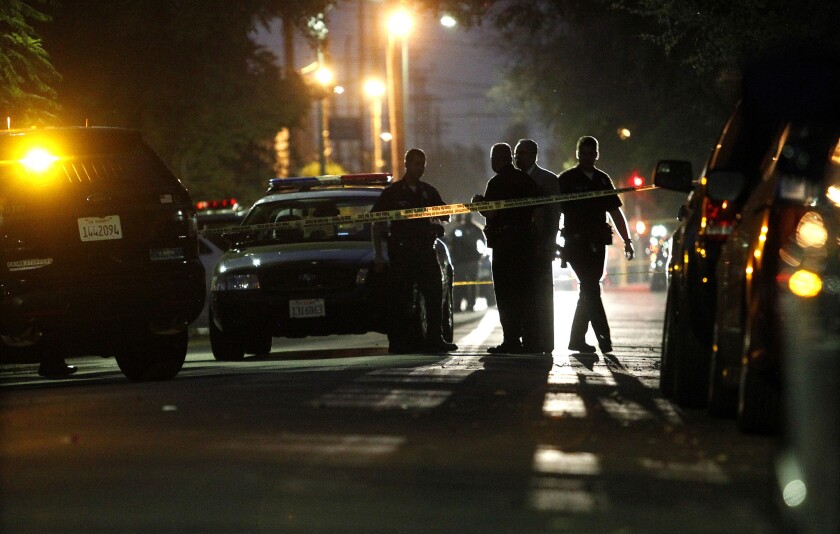 A man shot and wounded by Los Angeles police last week near USC had tried to take an officer's holstered gun, the LAPD said Wednesday.
Police offered new details about the Oct. 27 shooting, saying preliminary information indicated that a struggle broke out between the 30-year-old man and two officers as they tried to detain him after he was pulled over in a stolen car.
Police said in a statement issued Wednesday that the officers and the man fell to the ground and were fighting over a knife when the man tried to take one officer's gun out of its holster, "resulting in an officer-involved shooting."
The man, identified as Oscar Ovidio Diaz, was taken to a hospital with critical injuries.
Prosecutors later charged him with assaulting a police officer and stealing a vehicle, meaning he could face more than 12 years in prison if convicted. He was scheduled to be arraigned Thursday, the L.A. County district attorney's office said.
The events leading up to the shooting began at about 4:30 p.m., when police say two officers assigned to the LAPD's Southwest Division pulled over a stolen vehicle near Magnolia Avenue and 27th Street, just a few blocks from USC.
The sole occupant of the vehicle, Diaz, got out of the vehicle "armed with a knife and engaged in a verbal altercation with the officers," according to the statement from police. That altercation, police said, "became physical when the officers attempted to detain him."
The two officers were also treated at a hospital for cuts and scrapes, the LAPD said. Their names have not been released.
As with all LAPD shootings, the incident will be reviewed by the district attorney's office, the Police Commission and its independent inspector general.
Diaz was the 33rd person shot by Los Angeles police this year. Eighteen were killed.
LAPD Chief Charlie Beck announced Tuesday that his department would compile a "much more comprehensive" review of incidents this year in which his officers used force.
Beck told the Police Commission that his agency's end-of-year report would look at whom police used force against, including a demographic breakdown that could be compared with the demographics of people involved in 911 calls and arrests. The report will also look at where in the city force was used compared with where 911 calls were made and where violent crime was reported.
"If you view these things in a vacuum or with limited comparative data, it's hard to draw conclusions," Beck said. "I want to provide enough data that people can see the total picture, not just one small piece of it."
Follow @katemather for more LAPD news.
ALSO
Assailant killed by police after stabbing five in UC Merced campus attack
Man firing rifle from San Diego apartment building surrounded by police
County weighs public 'john-shaming' campaign to deter child sex trafficking
---
Get breaking news, investigations, analysis and more signature journalism from the Los Angeles Times in your inbox.
You may occasionally receive promotional content from the Los Angeles Times.