City attorney files suits targeting home bases for two South L.A. street gangs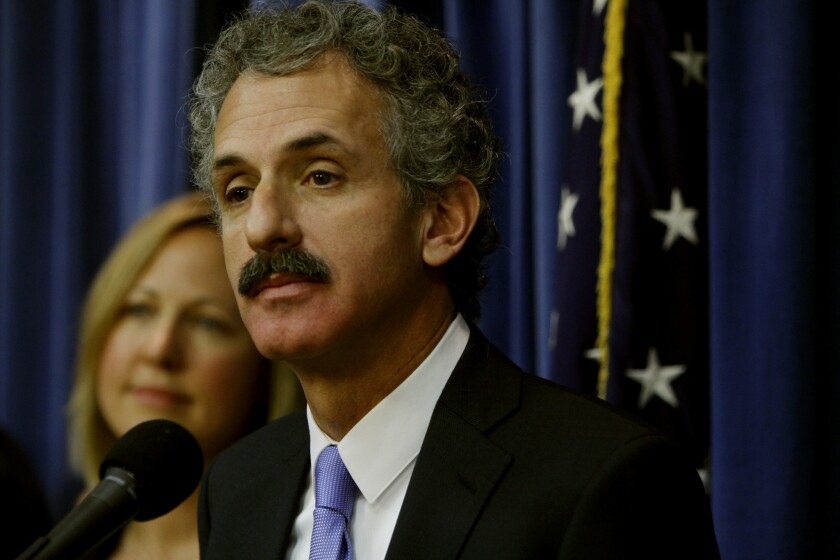 In the last five years, city prosecutors say three apartment buildings in South Los Angeles have amassed a disturbing tally of arrests, shootings and killings.
On Thursday, City Atty. Mike Feuer announced three nuisance abatement lawsuits asking a judge to issue an order stopping gang members from hanging out in the multi-unit buildings on West 82nd Street. The suits also seek to produce an order to compel the managers to make a host of improvements to make the buildings' residents safer.
"It is unconscionable that anyone in Los Angeles has to live in conditions like this," Feuer said in a statement. "We're taking back this neighborhood from the gangs and returning it to the residents who live there."
By displacing the gang members, the city hopes to reduce their ability to congregate and control a neighborhood, said LAPD Chief Charlie Beck.
Interested in the stories shaping California? Sign up for the free Essential California newsletter >>
"The hardest thing to do in law enforcement is to change a neighborhood for the better," Beck said. "Take away their territory, you dilute their power…. the final goal is to make a positive change that lasts."
The suits target the owners of a nine-unit apartment building at 538 W. 82nd Street, a 20-unit building at 601 W. 82nd Street and an 11-unit complex at 723 W. 82nd Street. The area is claimed by the 18th Street and Hoover gangs, who mutually benefit from drug dealing in the area, Feuer said.
There have been two killings, half a dozen shootings, and 35 arrests between the three properties in the last five years, officials said. At a news conference, they displayed five handguns that were found at the properties recently.
"This is what kids are living with on the street, and it's going to change," Feuer said.
If the city's litigation is successful, the owners of the buildings would have to have better lighting, secure fencing and a video surveillance system connected to the Internet. The building would have to have armed, licensed security guards as well as a better system for screening tenants who might cause problems, according to the suits.
If the building owners refuse to make the changes, they could be forced to live on their property until the changes are made or be made to close them, displacing innocent residents at the property owners' cost, Feuer said.
City prosecutors have long resorted to legal action to try to blunt gang activity, arguing that nuisance properties are magnets for crime and jeopardize the safety of people in nearby schools, churches and businesses.
In 2009, the city filed a suit aimed at a Pico-Union apartment complex that was allegedly the center of the Mara Salvatrucha gang empire. The owner of a Venice apartment building was named in a 2007 suit, with prosecutors saying the building housed the Shoreline Crips.
During the last three years, Feuer's office has obtained 56 injunctions to mandate physical and operational improvements at properties that are deemed nuisances. Eight sites that are the locus of drug- and gang-related activity have also been shut down, according to Feuer's office.
For breaking California news, follow @JosephSerna.
ALSO
Christian cross has no place on L.A. County seal, judge rules
21-year-old woman's body is found stuffed in a suitcase behind a San Diego hotel
Man shot and stabbed woman, then texted photo of her corpse to her boyfriend, prosecutors say
---
The stories shaping California
Get up to speed with our Essential California newsletter, sent six days a week.
You may occasionally receive promotional content from the Los Angeles Times.