Metrolink hires its first black, female chief executive: MTA's Stephanie Wiggins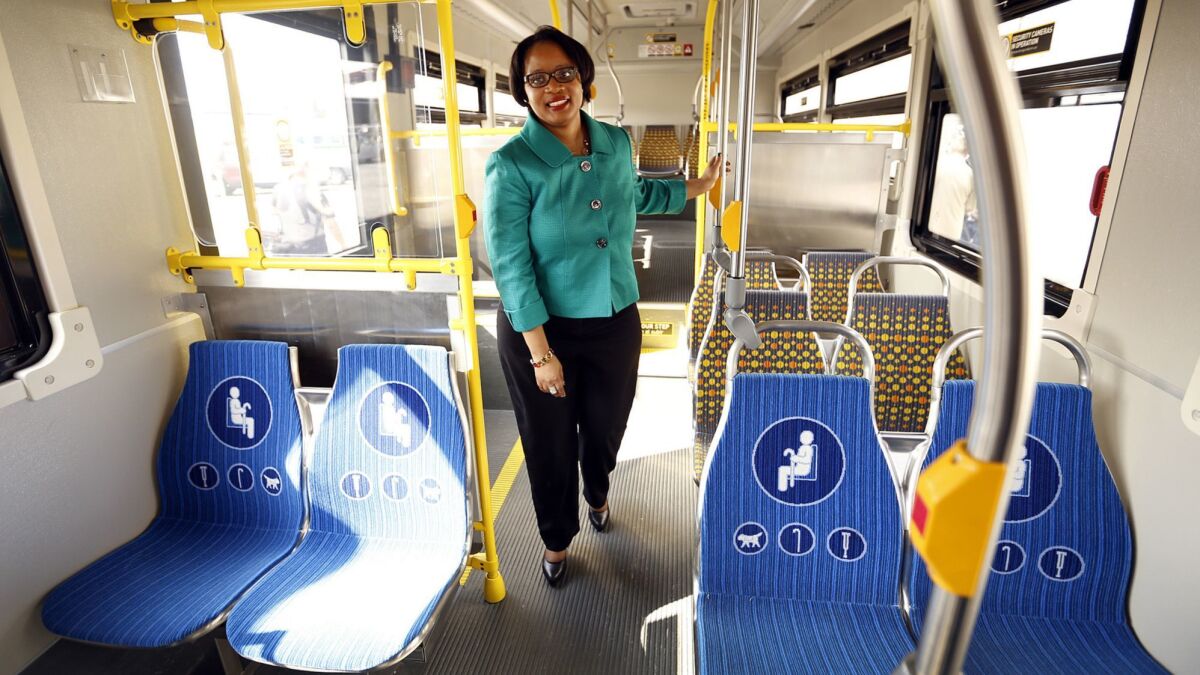 Directors at Southern California's commuter rail agency on Friday hired a new chief executive officer — the first woman and the first African American to hold the position in Metrolink's 26-year history.
Stephanie Wiggins, 49, has worked at three of the transportation agencies that fund and govern Metrolink. She most recently was the deputy chief executive officer at Los Angeles County's Metropolitan Transportation Authority, a position she has held since 2015. Previously, she worked in the transportation field in Riverside and San Bernardino counties.
"I look forward to having a laser focus on enhancing the customer experience for current and future riders," Wiggins said in a statement. She replaces Arthur Leahy, who announced his retirement in October.
Wiggins joins Metrolink at a critical period for Southern California transportation, as driving continues to increase and as officials work to draw commuters off the region's congested freeways and onto public transportation ahead of the 2028 Olympic Games.
The agency, with a budget of $251 million, operates trains on 512 miles of tracks and serves about 39,000 riders every weekday. Trains run through Los Angeles, Orange, Riverside, San Bernardino, San Diego and Ventura counties.
Wiggins will earn a base salary of $349,000, according to her contract. She starts Jan. 2.
In an interview, Wiggins said she would focus on rolling out and finding additional funding for an ambitious $10-billion plan to improve commuter rail service, adding reliability in an effort to reduce driving and better serve visitors during the Olympics.
The plan already has about $1.1 billion in funding, including an $875-million grant awarded by California officials earlier this year that will jump-start the upgrades, including grade separations and new stretches of track.
"People want more frequency, they want more choices, they want to have a link to the greater Southern California region," Wiggins said. Trains will run more frequently "when the business model is ready to support it."
She also will oversee Metrolink's ongoing efforts to replace its aging diesel-powered engines with clean-air locomotives. So far, seven of the agency's 40 engines have been replaced with so-called Tier 4 locomotives, which are designed to emit up to 85% less pollution than the older models.
In addition, Wiggins will oversee an effort to consolidate three separate contracts for train operations, track maintenance and signal maintenance into one mega contract.
The process will take about two years, Metrolink Chairman Andrew Kotyuk said. Multiple contractors working on the rail system sometimes led to conflicts over who was responsible for problems, but with one contractor, he said, "there's not going to be finger-pointing."
At Metro, Wiggins led several high-profile projects, including the creation of Los Angeles County's first toll lanes on the 110 Freeway and, more recently, the creation of a "transportation boarding school" that will serve at-risk youth.
"She has been a tremendous asset to Metro and will be a fantastic CEO," Metro Chief Executive Phil Washington said in a statement. "We look forward to continuing to work with her and the Metrolink team to deliver great mobility options for our region."
For more transportation news, follow @laura_nelson on Twitter.
---
The stories shaping California
Get up to speed with our Essential California newsletter, sent six days a week.
You may occasionally receive promotional content from the Los Angeles Times.