Nipsey Hussle's Marathon store is sacred ground for mourners from far and wide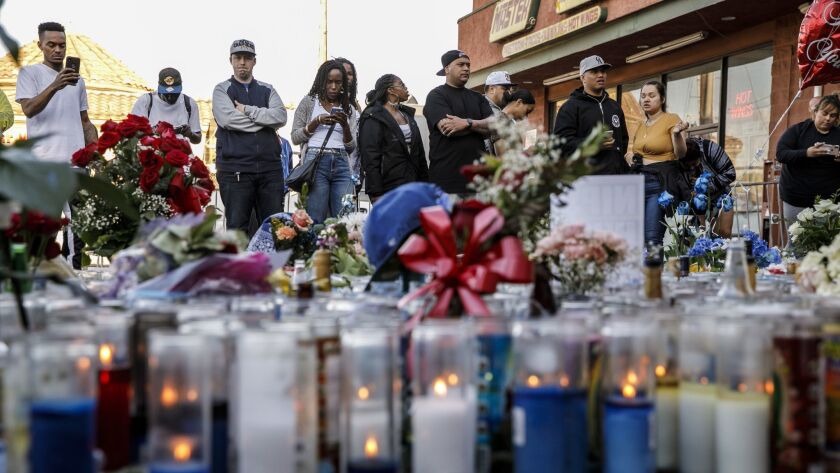 Surrounded by street signs covered in notes commemorating Nipsey Hussle, fans waited patiently Wednesday to honor the slain rapper and activist in the lot of a shopping center where he was shot dead.
In the days since Hussle was killed there more than a week ago, the lot has become a symbol of his vision for a South L.A. community that sees hope in unity.
It is home to the activist's Marathon Clothing store, a barber shop named after his best friend and a fish shack named after his grandfather. Last week, rival gangs walked together in peace in honor of Hussle.
And as preparations got under way for a public memorial service at Staples Center on Thursday morning, the lot at Crenshaw Boulevard and Slauson Avenue — adorned with hundreds of candles, balloons and gifts — remained a draw for mourners.
On Wednesday, people were ushered into an alley sandwiched by two vibrant murals of Hussle. Mourners took photos, kneeled to pray, and looked up at paintings of the Grammy-nominated artist who championed South L.A. and its brown and black communities of Hyde Park.
Nipsey Hussle's dreams were bigger than hip-hop »
They also left messages. Black backpacks were open wide, displaying cans of spray paint artists were tossing to mourning fans to use on the walls of the alley.
RIP Nip, forever a king and a blessing to the streets.
RIP Nip, thank you for leading the way.
Los Angeles police and the Nation of Islam collaborated to keep the line moving smoothly at the lot, near the intersection that will be named "Ermias 'Nipsey Hussle' Asghedom Square."
"We started in this parking lot and he died in this parking lot," said Herman "Cowboy" Douglas, who was a close friend of Hussle's since the pair met and started selling CDs together in 2003. "It's just sad that it took his death for everyone to really notice what we were doing on this corner."
Douglas, 46, has been at the lot every day before it opens at 10 a.m. and after it closes at 10 p.m., helping keep the peace in Hussle's memory. He remembers how Hussle would look at the empty stores before he purchased the lot and shopping center for $2.5 million in January, and say he would own them one day.
Nipsey Hussle's brother found him dying. These are his final moments »
That entrepreneurial spirit has inspired residents of South Central for years.
"From one hustler to another, I had to come give my thanks," said Tecumsah Shackelford, 32, whose family lives in the Crenshaw area. "There have been times I haven't wanted to keep going. I wanted to stop. But he kept you motivated because he showed us that pressure makes diamonds."
Shackelford said visiting the lot where Hussle made it his mission to invest in his community is the best way to honor his memory.
"What drew me to him from day one was his emphasis on helping the community. That's why this lot represents change, a difference, love," Shackelford said. "This corner right here means love."
The lot has drawn visitors from all over the country. After Trey Jones heard of Hussle's death, he booked a flight from Brooklyn to Los Angeles.
"I had to come be here on this soil. This is Nipsey's home," said Jones, 28. "I see the politics of L.A. But here, I just see straight love."
Like other longtime friends and loved ones of Hussle, many of whom have pitched in to help, Adrena Hodge has been at the lot every day making tacos to keep everyone fed. Hodge, who met Hussle in high school, proudly wears an apron with a photo of herself and Hussle when he was selling CDs at the nearby Arco station several years ago.
"In this community, this shopping center has always been a place where you can chill away from the violence," Hodge said. "I'm out here for Nip funding this all by myself to make sure our friends and his family eats for free. It's in my heart and my spirit to be out here for my people."
Hodge, 30, sees hope in how members of rival gangs have come to visit the memorial.
"We needed that," she said. "We haven't had peace in a long time."
Full coverage: Nipsey Hussle gunned down in South L.A. »
Kevin "Big Cat" Doucette, who said he was talking with Hussle about launching a podcast on L.A. gangs, agrees. He first met Hussle when he was about 18 years old selling CDs, DVDs and "whatever else you wanted to buy" across the street from the lot. He treasures the way Hussle opened doors for his community through entrepreneurship.
"The LAPD used to accost us every day in this lot. And today, he owns this lot," he said. "That gives hope not just to me, but it gives to the youth to know there's a different direction that they can go. This gives us hope that one day others can open businesses in this community."
Doucette, 59, hopes visitors to the lot see value in championing their communities as they grow with them.
"That's how the marathon continues," he said. "When I got the call that he was here, bleeding out in this parking lot, my world shattered. Now we're all here picking up the pieces together. The marathon has got to continue."
---
The stories shaping California
Get up to speed with our Essential California newsletter, sent six days a week.
You may occasionally receive promotional content from the Los Angeles Times.