L.A. County ends public defender 'registration fee'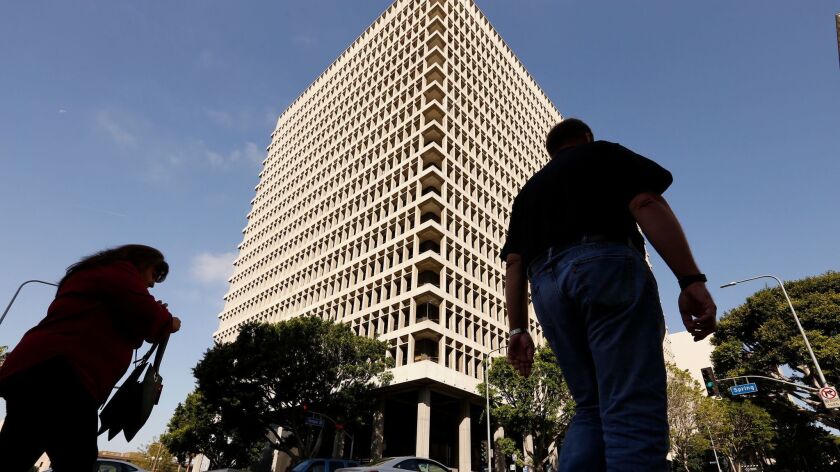 The Los Angeles County Board of Supervisors voted Tuesday to eliminate the $50 "registration fee" that the public defender's office and other court-appointed counsel may charge defendants before providing them with legal services.
The motion passed in a 4-1 vote, with Supervisor Kathryn Barger opposing.
Supervisor Sheila Kuehl, who authored the motion with Supervisor Mark Ridley-Thomas, said at the board meeting Tuesday that the fee is a barrier to defendants' constitutional right to representation.
"The small amount that's collected is really not worth it to the county when compared to the potential bar to representation," she said.
Bruce Brodie, chief deputy of the county's alternate public defender, and Candis Glover, an assistant public defender, both testified in support of the motion.
Representatives from youth advocate, civil liberties and human rights groups also testified in support.
Brodie, whose office already has a policy of not requesting the fee unless ordered to do so by a judge, called it "extremely burdensome" to indigent clients. "[Fifty dollars] is a tank of gas to get to work, a utility bill gone unpaid or even food on the table of poor people," he said.
Glover said that discussing the registration fee during a defendant's first meeting with a public defender, when an attorney is trying to obtain information about the client and case in a short period of time, is "not productive" and harms the attorney-client relationship.
"Most clients are still concerned about, is my lawyer going to fight for me given the fact that I haven't paid this $50?" she said. "No matter what the lawyer says, the client still has that doubt."
In fiscal year 2016-17, the public defender's office received about $300,000 from the registration fees. The office now will absorb that cost out of its existing budget.
Barger, who represents the county's 5th district, said she had concerns about the public defender's office being able to do that.
"I believe that we should address this as it relates to making sure that people understand they don't have to pay the $50," she said. "I just have concerns about backing out [of] revenue that could be generated."
Twitter: @AgrawalNina
---
The perils of parenting through a pandemic
What's going on with school? What do kids need? Get 8 to 3, a newsletter dedicated to the questions that keep California families up at night.
You may occasionally receive promotional content from the Los Angeles Times.