Plan to curb sex trafficking in Van Nuys calls for adding street lamps and trimming trees
A Cal State Northridge study identified up to 40 locations used for illegal sex that could be safeguarded by the addition of street lamps or the trimming of trees.
Night after night, a small group of students and professors from California State University Northridge traveled to Van Nuys last year for an unorthodox mission.
In packs of two or four, they searched for young women standing on dark street corners along Sepulveda Boulevard, then waited for the men who would inevitably come calling on them.
For eight months, the students and instructors followed the johns and the women they sought sex from along a stretch of the boulevard that officials consider one of the busiest prostitution strolls in Los Angeles. The Cal State group documented the places they met and where they had sex in an attempt to help police and city officials stamp out a decades-old problem.
The answer? A little re-decoration.
Based on the academic research, Councilwoman Nury Martinez said Thursday that she has launched a $780,000 program aimed at eliminating locations where johns and young women, many of whom she said are forced into prostitution under threat of violence, meet to have sex. The CSUN study identified up to 40 locations used for illegal sex that could be safeguarded by the addition of street lamps or the trimming of nearby trees, Martinez said.
"It has to do with line of sight," said Deputy Chief Bob Green, who oversees operations for the LAPD's Valley Bureau. "When people feel like they can hide in the shadows to commit prostitution or take something from your car or steal your car, they're gonna do it."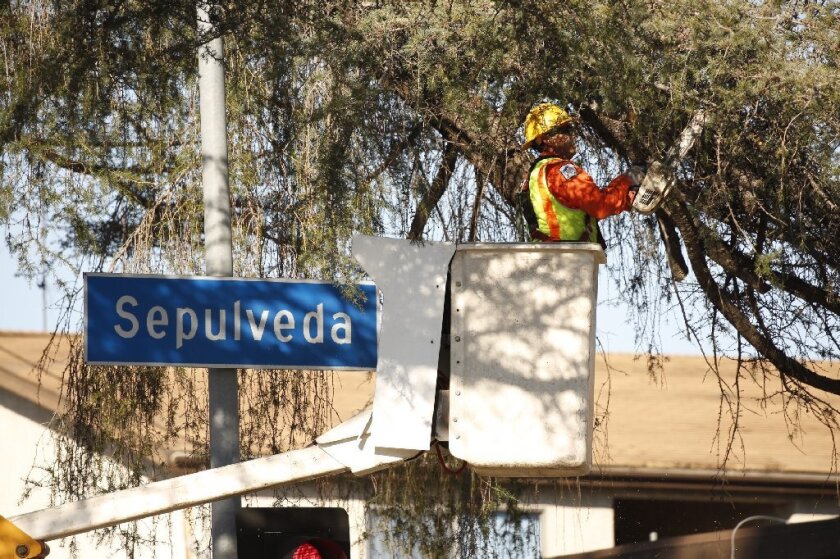 The project is the latest step in a years-long initiative to curb human trafficking and prostitution along Sepulveda Boulevard, Martinez said. The councilwoman and Green came together to spearhead the creation of an anti-trafficking task force in the San Fernando Valley in 2015, a unit that arrested nearly 400 johns last year, according to the LAPD.
Prostitution has been a problem in the area for decades, according to Martinez, who grew up in the neighborhood and said the sight of women waiting on street corners along Sepulveda was common as far back as the 1980s. But in recent years, Martinez said she has noticed a troubling trend. The corners are now populated by girls, rather than women.
"The last couple of years, the age of the women who they traffic on this corridor has gotten younger and younger and younger," she said, speaking over the roar of a saw held by a public works employee trimming a tree across the street. "That, to me, is what's so devastating about this."
The victims, she said, are trafficked to Los Angeles from other major cities, including Las Vegas and Seattle.
Henrik Minassians, an associate professor of urban studies and planning at CSUN who led the study, said anyone trying to have sex with an underage girl would have little trouble doing so along the Van Nuys stretch. During their research, Minassians, criminologist David Lopez and two undergraduate students spoke with several women along the boulevard. When Minassians asked one about the age of the women on the various street corners, he was mistaken for a customer.
"She can bring you underage girls," she told Minassians, before pointing to another woman.
At least 10 trafficking victims have been rescued from the area, according to LAPD records. Five of them were just 15 years old, said Lt. Marc Evans, who heads the LAPD's San Fernando Valley trafficking task force.
Martinez hopes the changes will improve quality of life in the neighborhood and discourage pimps who are trafficking young women in her district.
"To the people living in these neighborhoods, it means that you don't have to find condoms outside of your driveway as you're taking your kids to school," she said. "And also, the 15-year-old girl who sometimes gets sold under these trees, this tree-trimming might actually save her life."
Minassians said the purpose of the study was to eradicate conditions favorable to public sex, in the hopes of making the neighborhood less attractive to pimps and johns. There are several strip malls along Sepulveda with parking lots that remain unlit overnight, he said. The simple placement of a street light would make the area a far less desirable location to have sex, Minassians said.
The use of environmental manipulation to disrupt illicit activity has worked well for other police agencies. When trying to find a way to combat lewd conduct and public sex in recent years, the Los Angeles County Sheriff's Department began using similar tactics, namely trimming trees and improving lighting, to eliminate secretive areas where the sex acts could take place.
In all, Martinez hopes to trim trees in nine locations and place at least 35 new street lamps along Sepulveda. Most of the $780,000 in funding is being provided through federal Community Development Block grants, said Adam Bass, the councilwoman's communications director.
Green promised to continue enforcement of prostitution and trafficking laws along the corridor, but conceded that the LAPD cannot simply "arrest their way" out of the problem. A permanent fix, he said, will require more than handcuffs.
"For community safety, long term, it's about environmental change," he said.
For more breaking crime and cops news in Southern California, follow me on Twitter: @JamesQueallyLAT
ALSO
Missing Porsche belonging to slain renowned hairdresser is recovered
Death of CorePower Yoga mogul was accidental, autopsy finds
ICE agents arrive at San Francisco nonprofit, rattling staff; agents were seeking sex offender nearby
---
The stories shaping California
Get up to speed with our Essential California newsletter, sent six days a week.
You may occasionally receive promotional content from the Los Angeles Times.