'Knocked us out of bed': 7.1 earthquake brings new terror to Ridgecrest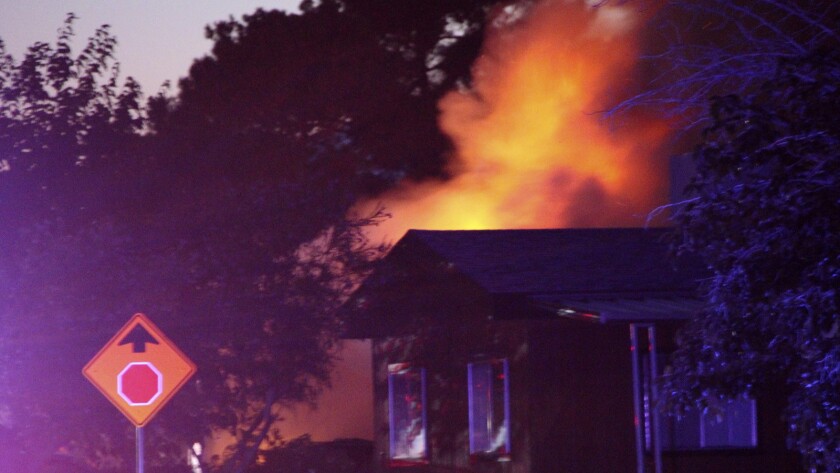 Jeremiah Jones expected more shaking in Ridgecrest. But he was not prepared for the intensity of the 7.1 magnitude earthquake that hit Friday night.
The temblor caused several fires, according to emergency officials, but the extent of the damage remains unclear. The quake hit less than two days after the region was struck by a 6.4 magnitude quake.
Jones was minutes away from his home when the 7.1 earthquake struck.
FULL COVERAGE: Second quake in two days rocks Southern California »
He knew his daughters were out of town, giving him a sense of relief, but he returned to his apartment to assess the damage.
He had prepared for this, putting expensive or dangerous items such as TVs on the floor.
But even with the precautions, his apartment was torn apart.
"All the expensive stuff was secure, but everything off the cabinets and fridge and drawers, closets — everything was thrown everywhere," he said. "I have a lot to do right now."
But Jones is holding off, standing outside his apartment, preparing for aftershocks.
Sirens wailed in the background.
"I'm not afraid; I'm just being safe," he said. "You can't get scared at a time like this. You gotta play it safe and the safest place is to be outside."
Jones was glad he had prepared for this moment.
"It came true," he said. "A lot of people said, 'No, no, there will just be a lot of aftershocks.' But it hit, it really hit."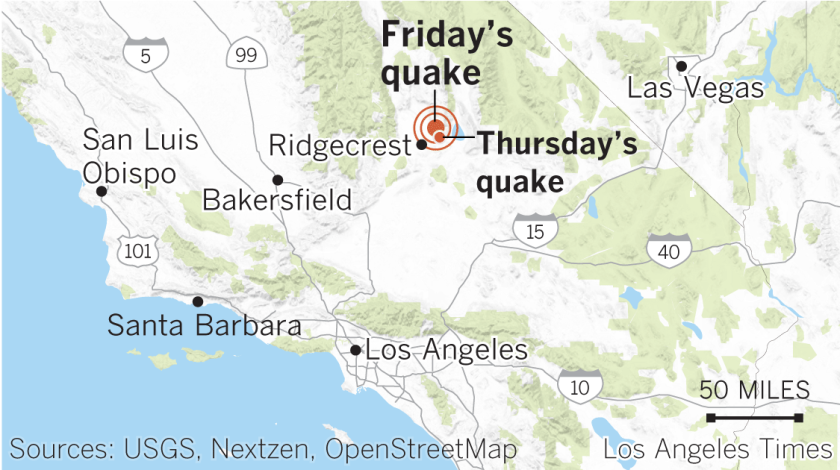 About 3,000 residents in Ridgecrest and the surrounding areas were without power following the earthquake, according to Southern California Edison.
Ridgecrest resident Bill Sturgeon's home suffered damage from Thursday's quake.
He said he and his family were fine after the bigger quake.
"Police and ambulance and the fire department are just going everywhere … but we're OK. We got our trailer completely [destroyed] … all our personal stuff is gone, so the last shake, I don't care," said.
Friday's quake "knocked us out of bed. We checked his house to make sure everyone was OK and their animals were OK. We came up here to check on our neighbors ... across the street. It damaged their trailer enough that it's probably gonna be totaled now too."
In Bakersfield, college student Edith Mata, 22, was doing her homework in her room when she felt the walls shake — again. She knew immediately that it was another earthquake.
"It was shaking really bad; I got super dizzy," she said.
In the kitchen, the table was rocking intensely. For the second time in two days, she grabbed her 1-year-old son and ran outside to see most of her neighbors in the street.
"Everybody came out of their houses," she said.
---
The stories shaping California
Get up to speed with our Essential California newsletter, sent six days a week.
You may occasionally receive promotional content from the Los Angeles Times.