Poway synagogue shooting captured on video, prosecutors say, as they describe attack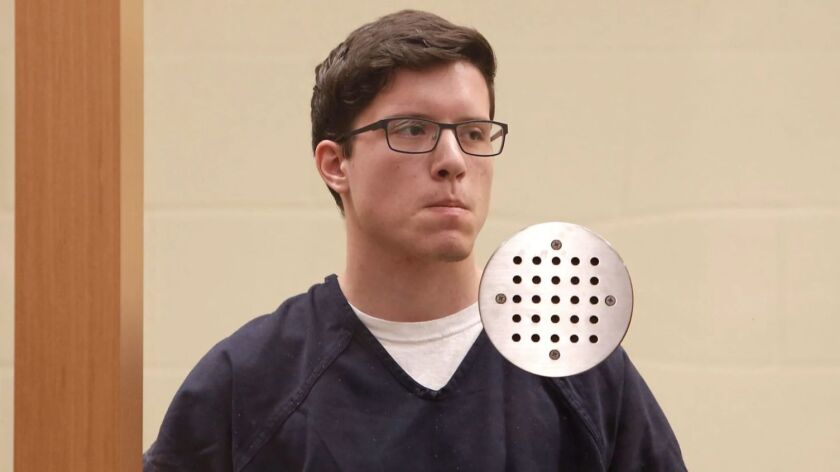 New details have emerged in the attack on a Poway synagogue over the weekend that killed one woman and left three others wounded.
Prosecutors say the suspect, John T. Earnest, legally purchased the weapon used in the attack, which was captured on surveillance video. He has pleaded not guilty. Authorities have not yet determined whether he will face the death penalty.
Here is what we know from the pages of the San Diego Union-Tribune and the Los Angeles Times:
What do prosecutors say about the attack?
Deputy Dist. Atty. Leonard Trinh told a judge Tuesday that Earnest was wearing a tactical vest when he entered the synagogue and had with him a semiautomatic rifle and five 10-round magazines.
The prosecutor said Earnest encountered Lori Gilbert-Kaye in the foyer of the building and shot her twice as she turned to flee. She died from her wounds.
Rabbi Yisroel Goldstein was the next person shot, the prosecutor said. Goldstein was wounded in both hands and lost the index finger on his right hand as a result.
Trinh said the gunman turned toward a room where there were several people, including children, and fired his weapon. Among those in the room were Almog Peretz, 34, who suffered a gunshot wound to one leg, and his niece, Noya Dahan, 8, who was struck in her face and one leg by bullet fragments.
The gunman stopped firing, possibly because his gun jammed or he couldn't eject the magazine to reload, authorities said. Several people chased the shooter out of the synagogue, including an Army veteran who charged at him and an off-duty Border Patrol agent who fired several rounds at the shooter's fleeing vehicle.
Much of that was caught on surveillance video, the prosecutor said.
Earnest was stopped by police on West Bernardo Drive, near Rancho Bernardo Road and the 15 Freeway, and taken into custody without a struggle.
Trinh said a rifle, tactical vest, helmet and ammunition were recovered from the car. Inside the synagogue, 10 bullet casings were found.
What have witnesses said?
The prosecutors' account builds on a dramatic recounting of the attack from Goldstein.
The rabbi froze in the lobby of his synagogue, startled by the stranger in sunglasses pointing a rifle at him. As the shots zoomed toward him, he raised his hands in defense before scrambling to gather the young children nearby and move them somewhere safe.
"Miraculously, the gun jammed," Goldstein recounted.
"Lori took the bullet for all of us," he said, adding that the shooting could have been deadlier.
"[It] will forever scar me, but it's going to remind me how vulnerable we are and how heroic each one of us can be," he said. "No matter what happened, we are going to keep our freedom. We are going to grow from it."
Gilbert-Kaye, 60, died of at least one gunshot wound. Goldstein said he did not see her get shot and did not know whether she jumped in front of him to save him, as some witnesses have claimed.
Where did he get the weapon?
Dist. Atty. Summer Stephan said Earnest, 19, bought the rifle legally. She would not elaborate on whether he purchased it out of state or in California before state law changed this year to ban rifle sales to anyone under 21.
Will Earnest face the death penalty?
On the question of seeking the death penalty, Stephan said she has spoken with some victims and families but would not say whether they have asked her to pursue the ultimate penalty on the murder count or a lesser penalty of life in prison with no possibility of parole.
In March, Gov. Gavin Newsom signed an executive order putting a moratorium on executions while he is in office and providing a reprieve for the 737 inmates on California's death row. That decision, however, does not prevent prosecutors from seeking the death penalty when they believe it is appropriate, because it is still state law.
RELATED: This is the Army veteran who chased the gunman out of the California synagogue »
Prosecutors have to prove why a hate crime was committed by looking at the defendant's words or actions before, during and after the killing, Stephan said.
She said Earnest could get an additional 103 years to life if convicted of the extra charges against him.
What do we know about a motive in the attack?
Authorities say Earnest planned his attack on the Poway synagogue for weeks, inspired by horrific acts that preceded it: mass shootings at a synagogue in Pittsburgh and at two mosques in New Zealand. Authorities arrested Earnest soon after the shooting in Poway.
Earnest appears to have left a nine-page manifesto filled with racist rants and details of his personal life. The Rancho Peñasquitos resident wrote that he is a nursing student from the "depths" of California.
In the document titled "an open letter," Earnest allegedly said he was inspired by Brenton Tarrant, the Australian white nationalist who is accused of killing 50 people in attacks on mosques in Christchurch, New Zealand, on March 15. It was the worst mass shooting in that country's modern history.
That shooting, the author wrote, led to his decision a month ago to attack the Chabad in Poway.
"How long did it take you to plan the attack? Four weeks. Four weeks ago, I decided I was doing this. Four weeks later, I did it," the manifesto said.
An anti-Semitic letter revealed the author's "disgust" for Jews and a desire to kill them. Earnest, who is white, allegedly said he was willing to sacrifice his future "for the sake of my people."
The suspect also championed Robert Bowers — who is accused of killing 11 people and wounding six more in the Tree of Life synagogue shooting in Pittsburgh six months ago — as well as Nazi leader Adolf Hitler.
He identifies himself as a man of European descent. He does not claim any political labels, but asserts that Jews seek to "doom" the white race.
In the screed, which is filled with quotes from the Bible, Earnest also appears to take credit for an arson attack at an Escondido mosque the week after the New Zealand shootings.
"To our great shame, he is now part of the history of evil that has been perpetrated on Jewish people for centuries," the man's family said in an open letter. "How our son was attracted to such darkness is a terrifying mystery to us."
---
The stories shaping California
Get up to speed with our Essential California newsletter, sent six days a week.
You may occasionally receive promotional content from the Los Angeles Times.