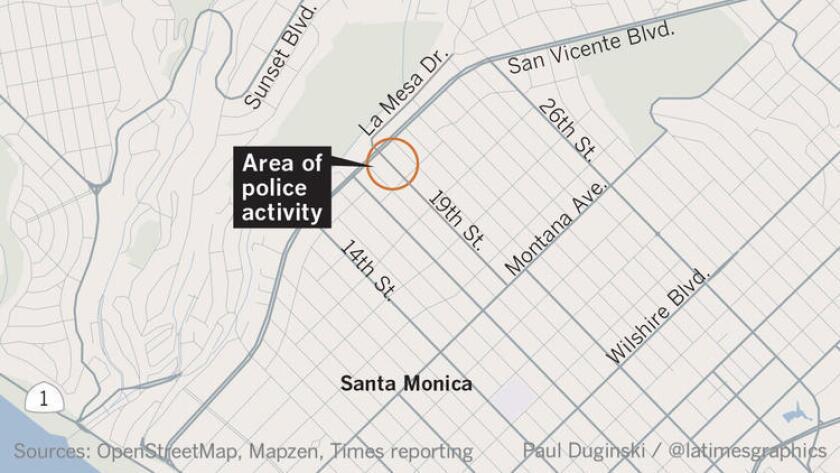 Santa Monica police on Saturday identified a man who was arrested following a home invasion robbery that left two people hospitalized, one with serious stab wounds.
The robbery occurred about 6:20 p.m. Friday in the 200 block of 19th Street in a residential neighborhood near Riviera Country Club, police said.
Officers responding to a report of shots fired encountered one suspect, who fled into the backyard of a home in the 200 block of 20th Street and was immediately surrounded, Santa Monica police Lt. Saul Rodriguez said. The suspect barricaded himself at the rear of the home but had no hostages, he said
That person, a juvenile, was taken into custody after a period of negotiations and with the help of K-9 officers and a SWAT team, authorities said. His name has not been released, but police said Saturday that he was arrested on suspicion of attempted homicide, conspiracy, robbery and a parole violation and was taken to Eastlake Juvenile Hall.
A second suspect, who fled in a vehicle, was arrested late Friday night, police said. Brian Noah Morgan, 24, was booked on charges of conspiracy, robbery and a parole violation and taken to the Santa Monica Police Department's jail.
During the robbery, one person suffered "significant" stabbing injuries, Rodriguez said, while another victim, who was struck with a blunt object, sustained minor injuries. Police did not identity either victim.
As the standoff unfolded, police used Twitter to warn nearby residents to stay inside with their windows and doors locked.
Police Activity in the area of 200blk 19th St. Avoid the area. If you reside in the area keep ur windows/doors locked & do not venture out.

— Santa Monica Police (@SantaMonicaPD) May 27, 2017
Some residents posted pictures of the scene on social media, showing heavily armed officers in the area.
Police cars lined 19th Street and Georgina Avenue as neighbors came out to see what happened.
Julian Davis said he was driving near the area when he noticed police cars. He said he approached the scene and saw someone covered in blood on a stretcher. He said he heard a woman shouting, "My son has been stabbed, stabbed in the neck and the face!"
For more Inland Empire news follow me @palomaesquivel
ALSO
San Diego County fire sparks controversy over popular shooting spot
Carcass of 79-foot blue whale washes ashore in Northern California
Teen shot by U.S. Customs and Border Protection officer in alleged robbery attempt dies
---