Congratulations — you survived the biggest food holiday of the year. At least we're hoping you did, and thus are reading this newsletter in the relative calm of your kitchen or wherever you find peace these days. You might have some post-Thanksgiving leftovers, in which case we have some suggestions for you. You might be on your way to your local farmers market, in which case we'd suggest picking up some mandarin oranges, as eating a few of them out of hand sounds pretty meditative.
If it's time to eat a big dinner again, you could do worse than head to Journeymen in Atwater Village, the subject of Jonathan Gold's latest review. A not-so-big dinner might be a decked-out Sonora-style hot dog, the subject of one of our stories. We also have a story about a new restaurant from a favorite chef, and another about the joy of pairing beer and barbecue. Because that's the thing about holiday dining: As soon as the table is cleared and the relatives returned, it's time to think about dinner again. We hope you had a marvelous holiday.
THE JOURNEY TO YOUR PLATE
This week Jonathan considers the cooking of chef David Wilcox, one of the two Gjelina alums who took over the Atwater Village location of the late, much-loved restaurant Canelé. The new place is called Journeymen, and there our restaurant critic finds vegetable-driven dishes, natural wines, a creditable Basque cake — and lots of versions of duck. It's a bird that you might appreciate more now that the turkey festivities are over.
WITH LOVE, FROM HERMOSILLO
Food writer Margy Rochlin goes in search of the elusive Sonora-style hot dog, a condiment-loaded, bacon-wrapped street food staple that may be easy to locate in southern Arizona but not so much in L.A. She finds some very good hot dogs, including two examples of the item in question, one Compton-based cart, and the other "somewhere on Sunset Boulevard in Echo Park." Somewhere? This is why Twitter exists.
NYESHA'S NEW PLACE
If you often found yourself heading to Venice not necessarily for the beach, but for chef Nyesha Arrington's cooking at Leona, now closed, then maybe read deputy Food editor Jenn Harris' latest restaurant news column. She gets the details on Arrington's new restaurant, Native, as well as a new butcher shop in Fairfax from Jered Standing, formerly of Belcampo Meat Co. And, yes, there's more, including a cocktail bar called Bibo Ergo Sum. Right.
BEER AND BBQ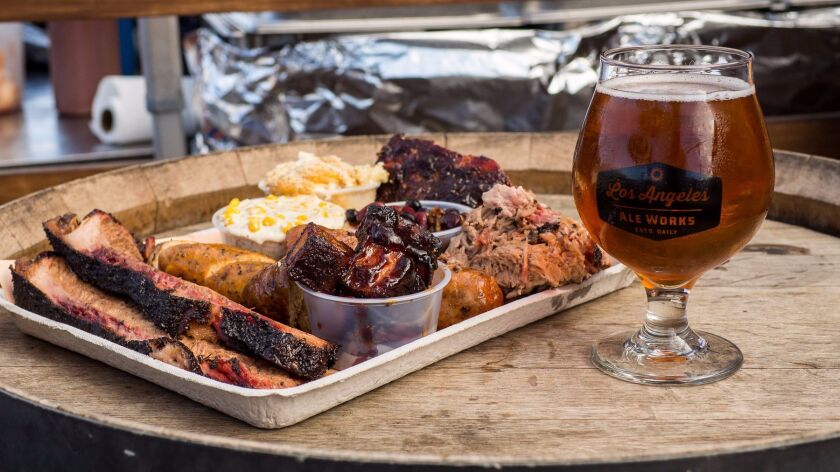 Tired of turkey and wine? How about pulled pork and Mexican lager. Beer writer John Verive gives an easy guide to pairing beer with barbecue, as "craft beer's diversity makes it an ideal accompaniment to whatever style of 'cue you're into." Verive also gives a few suggestions, not just for what to match with sour beer, but where to test out the pairings.
Our Holiday Cookie Bake-off is back! Got a great holiday cookie recipe? Submit your recipe, plus an essay and photo or video by Nov. 25, to latimes.com/bakeoff. We'll take the top 20 vote-getters and narrow them down to our top 5, which we'll bake in our Test Kitchen. The 5 finalists will be invited to our Test Kitchen and their recipes will be featured in the Saturday section in December.
Jonathan Gold's 101 Best Restaurants, the authoritative annual guide to local dining, is online for subscribers and now features his 2016 Best Restaurants. If you didn't get a copy of the booklet, you can order one online here.
Goldbot: You can now talk to Jonathan Gold any time you want — or at least the robot version of him that now lives on Facebook Messenger. You can ask Goldbot for a personal restaurant recommendation based on location, type of food or price. The bot will also deliver Jonathan Gold's latest reviews straight to your device.
The Daily Meal, the food and drink website under the editorial direction of Colman Andrews, is now one of our partners. Check out their stories, recipes and videos.
Check us out on Instagram @latimesfood
Check out the thousands of recipes in our Recipe Database.
Feedback? We'd love to hear from you. Email us at food@latimes.com.
---