Newsletter: City of Gold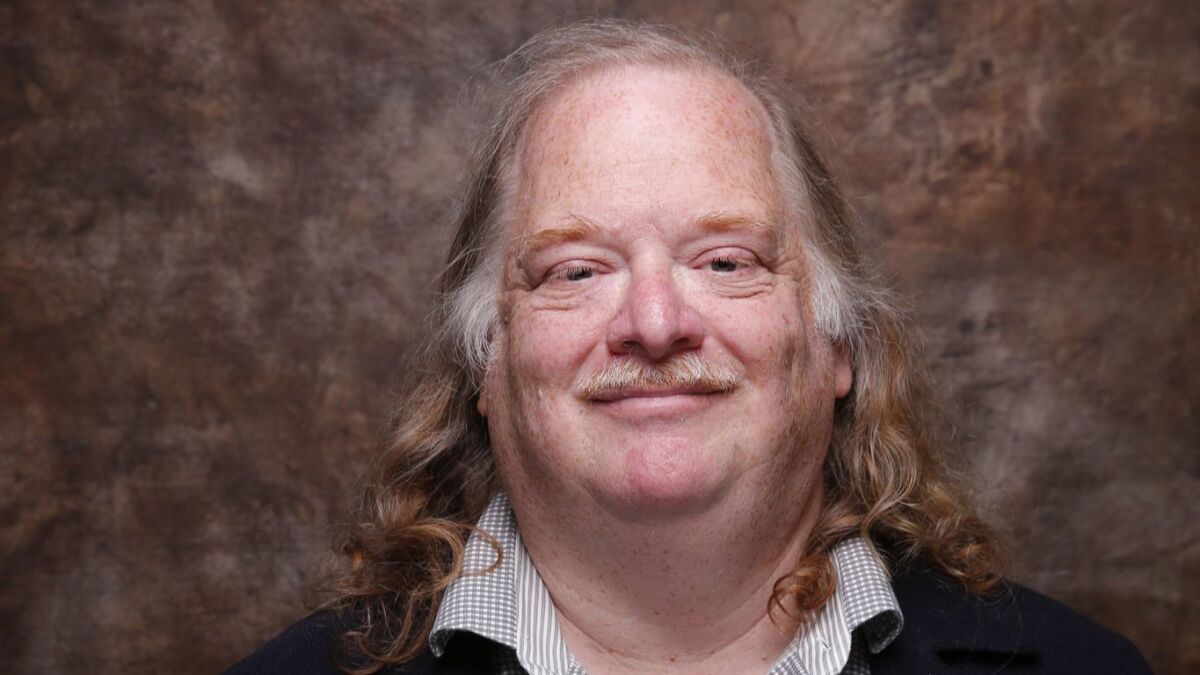 Good morning. Today would have been our late restaurant critic Jonathan Gold's 58th birthday, so not only are we mourning his passing, a week ago from pancreatic cancer, but also celebrating his life and the food he so loved. At sundown tonight, many buildings and landmarks around Los Angeles will be illuminated in gold, making this town an actual "city of gold," the name of Laura Gabbert's 2015 documentary about him.
In the last week, many people have written about Jonathan's profound influence, including Ruth Reichl, Gustavo Arellano and Mark Gold, the critic's brother. We remembered his reviews and his music writing and his advocacy of once-struggling restaurants.
For everyone who wrote in, messaged and called, remembering Jonathan and asking how to show support, there is a public tribute event being planned for Aug. 26 in downtown Los Angeles. His family asks that in lieu of flowers, contributions can be made to the nonprofit organizations L.A. Regional Food Bank, Hirshberg Foundation for Pancreatic Cancer Research, Heal the Bay or Al Otro Lado. And a GoFundMe campaign to help the Gold-Ochoa family with expenses and their two kids' education has been launched.
Happy birthday, Jonathan. We'll be touring your city, from tasting menu restaurant to dumpling house to San Gabriel Valley banquet hall to taco truck. We miss you.
CRITIC AND COOK
While Jonathan was best known for the food he critiqued, he also spent a lot of time at home, cooking. He was a gifted cook, as his family, friends and colleagues knew well. Test Kitchen Director Noelle Carter had the pleasure of testing a number of recipes that he cooked and championed, and so we're reprinting them this week, in his honor: waffles from a favored Oakland breakfast spot, his version of Paula Wolfert's creamed leeks, and the stuffing, hoppin' John and latke recipes he made for holiday parties.
YOUR SUMMER BEER LIST
To state the painfully obvious: It's hot outside. Thus the need for a cold bottle or pint or glass of beer is even more acute (although to again state the obvious, drink a lot of water too). Beer writer John Verive has a list of local summer beer recommendations. From a Torrance Pilsener to a juiced up (literally) IPA from El Segundo to a beer called the Sunbather from a downtown L.A. brewer, there are some fresh options for your table or picnic blanket.
PLUM TIME FOR PLUMS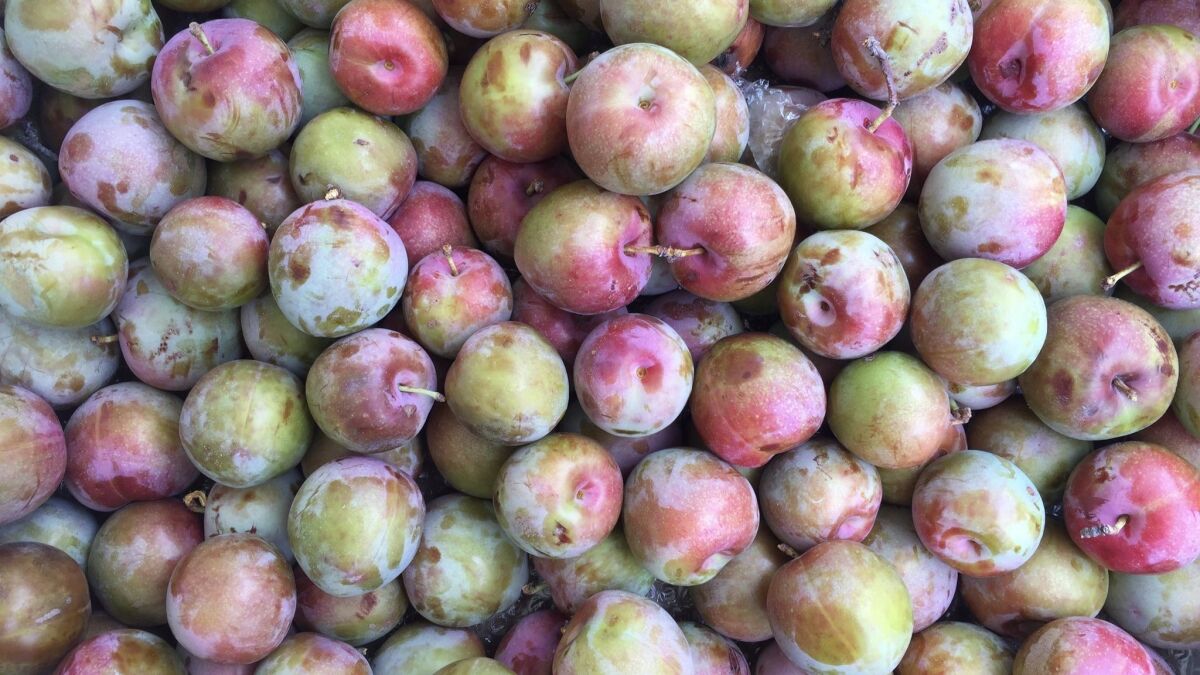 In her weekly Market Report, Noelle catalogs the myriad varieties of plums now loading farmers market stands and grocery aisles, including Santa Rosas, for which many of us wait all year long. Gorgeous in color and wildly fragrant, your best bet is to eat these standing next to the farmer who grew them. (Pro tip: Make granita.)
WHERE THE BUTCHER KNOWS YOUR NAME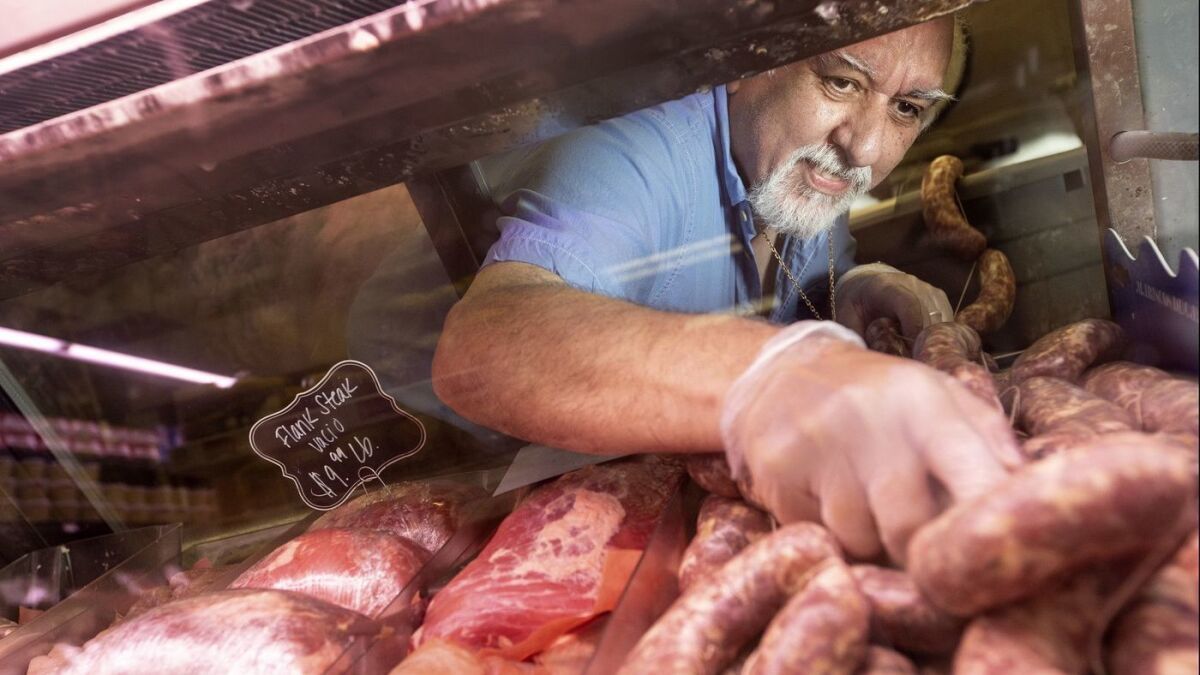 The neighborhood butcher shop — and bakery, cheese shop and fishmonger — used to be the norm rather than the exception. Although supermarkets are far easier to find these days, there are still some local, family-run butchers around. Food writer Sara Cagle tracks down four of them that have been operated by families for generations. You can find Argentine sausages, marinated carne asada ranchera, zabihah halal meat, and organic chicken, as well as grocery and deli items, sandwiches and wine.
MORE THAN A COFFEE SHOP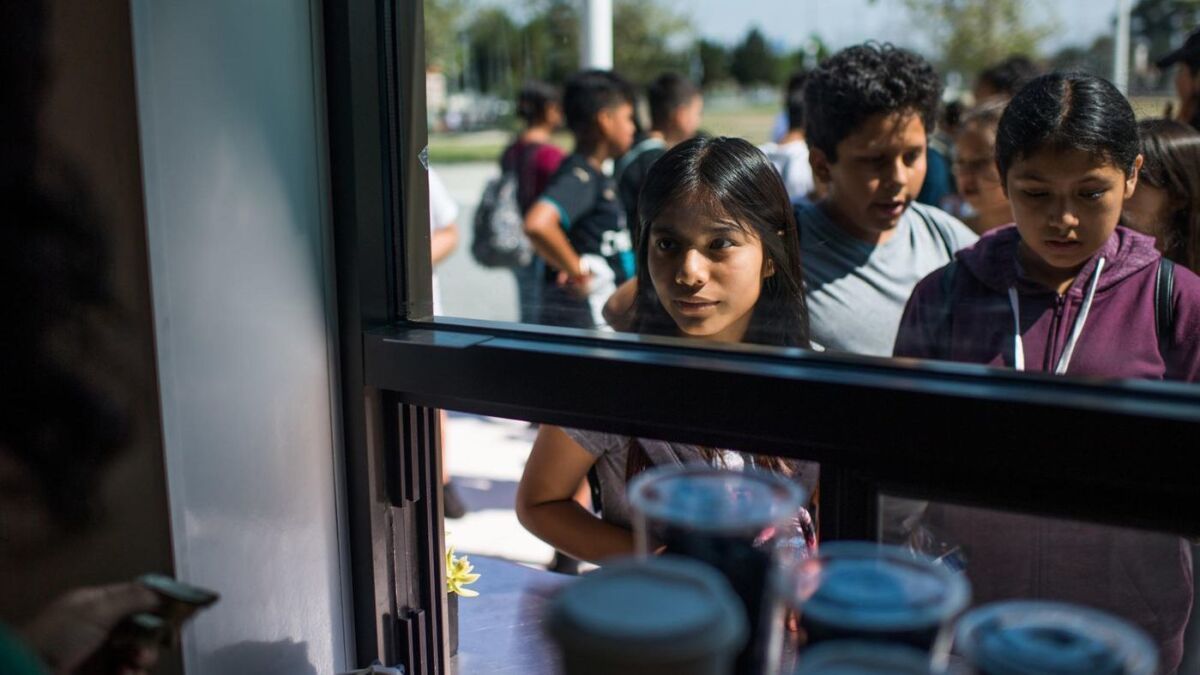 Coffee shops have long been gathering places, from the European coffee houses that were focal points during the Enlightenment to the barista-run joints where half the screenplays in this town seem to be written. The worker-owned cooperative cafe Collective Avenue Coffee is a hub for an even younger crowd, as it occupies the concession window at the Lucy Avalos Community Center at Yvonne Burke-John D. Ham Park in Lynwood. Thus, writes Ben Mesirow, there is excellent coffee, other drinks and snacks — and salsa classes and guitar lessons.
Check us out on Instagram at @latimesfood.
And don't forget the thousands of recipes in our California Cookbook recipe database.
Feedback? We'd love to hear from you. Email us at food@latimes.com.
---