Newsletter: Essential California: Gov. Brown looks back and pushes forward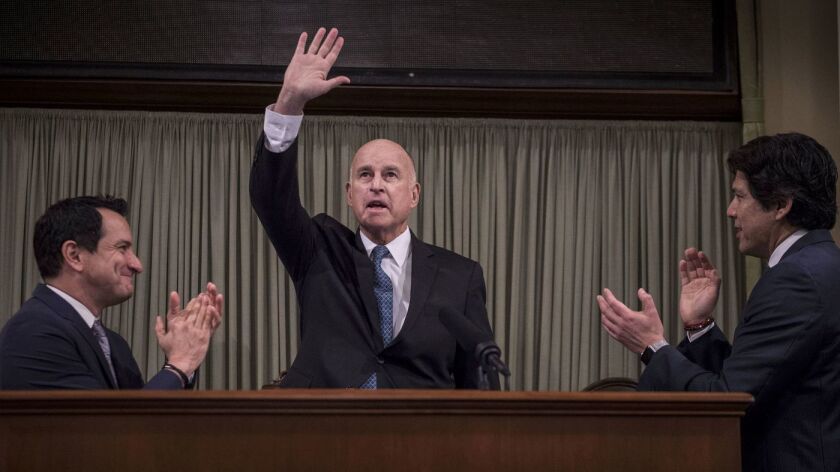 Good morning, and welcome to the Essential California newsletter. It's Friday, Jan. 26, and here's what's happening across California:
TOP STORIES
Brown's 'swan song'
In the opening scene of his final act on California's most prestigious political stage, Gov. Jerry Brown used much of his last State of the State address to remind everyone, here and across the nation, of what's been accomplished in recent years. "Very few places in the world can match that record," he said Thursday to an audience of state lawmakers and guests gathered in the Assembly chamber of the Capitol. While Brown offered a few suggestions for how lawmakers should spend the year, the speech may have been less notable for its specific content than for the moment it marked in the political odyssey of the man who wrote and delivered it. Los Angeles Times
Plus: From dystopia to dogs, memorable lines from all of Gov. Brown's State of the State speeches. Los Angeles Times
And: Here's Brown's speech, annotated by our crack politics team. Los Angeles Times
To DACA or not to DACA?
President Trump is testing the loyalty of his most ardent conservative supporters, proposing a pathway to citizenship for 1.8 million young immigrants who came to the U.S. illegally as children while demanding that Democrats support $25 billion for border security, including his proposed border wall, and strict new limits on legal immigration. The 1.8-million figure would go well beyond the nearly 700,000 immigrants currently covered by the Obama administration's Deferred Action for Childhood Arrivals program, expanding the protections primarily to cover people who were eligible for DACA but did not apply. Los Angeles Times
Ridership down
Despite a growing population and a booming economy, the number of trips taken on Los Angeles County's bus and rail network last year fell to the lowest level in more than a decade. Passengers on Metropolitan Transportation Authority buses and trains took 397.4 million trips in 2017, a decline of 15% over five years. Metro's workhorse bus system, which carries about three-quarters of the system's passengers, has seen a drop of nearly 20%. Los Angeles Times
L.A. STORIES
Weinstein sued: Harvey Weinstein's former personal assistant sued him and his former company Thursday, alleging "endless offensive, degrading, and sexually harassing" acts with almost daily touching at the hands of her boss. Weinstein has through his attorneys categorically denied committing any crimes. Los Angeles Times
Plus: Casey Affleck has withdrawn as presenter of the lead actress Oscar at this year's Academy Awards, breaking with tradition in the shadow of the #MeToo and Time's Up movements surging through Hollywood and beyond. Los Angeles Times
Two lawyers arrested: Two attorneys who previously represented former rap mogul Marion "Suge" Knight during his ongoing murder case were arrested Thursday on charges accusing them of acting as "accessories after the fact," authorities said. Los Angeles Times
Trojans fight on: Protesters are decrying USC administrators' takeover of a student-funded scholarship program. Los Angeles Times
Arson? A Boyle Heights church was damaged in a fire early Thursday, and arson investigators are working to determine the cause, according to the Los Angeles Fire Department. Los Angeles Times
POLITICS AND GOVERNMENT
By the Bay: The Trump administration is jumping into the fracas over free speech at UC Berkeley. The Justice Department on Thursday filed a statement of interest supporting two conservative groups who sued the university last year. Los Angeles Times
Extension offered: A state Senate panel voted unanimously Thursday to extend the leave of absence taken by Sen. Tony Mendoza (D-Artesia) by up to 60 days to allow the completion of an investigation into sexual harassment complaints, even though the senator has not agreed to an extension beyond his planned Feb. 1 return date. Los Angeles Times
In stem cell news: "Today, 14 years after Proposition 71 passed and billions of dollars later, the California Institute for Regenerative Medicine is running out of money, and backers of stem cell research plan to ask voters in the state to pony up for round two. The projected ask this time: $5 billion, in a measure the backers hope to place on the California ballot in 2020." KQED
Becerra speaks: "We're batting a thousand against the Trump administration," Atty. Gen. Xavier Becerra said of his office's lawsuits against the federal government. "The Trump administration, with its actions, has compelled us to defend our interests." The Hill
CRIME AND COURTS
Another accusation: Def Jam founder Russell Simmons was accused in a federal lawsuit filed Wednesday afternoon of raping a woman in 2016 at his Hollywood Hills home. Simmons has denied the claims against him. Los Angeles Times
He says he didn't do it: An Olympic gold medalist and youth boxing coach in East Los Angeles pleaded not guilty Thursday to charges he molested one of his students and possessed child pornography. Los Angeles Times
Former child star arrested: Adam Hicks, who co-starred in the Disney series "Zeke and Luther," was arrested Wednesday on suspicion of committing a string of armed robberies. Los Angeles Times
THE ENVIRONMENT
Fire study: A new task force of scientists and forestry experts will "review thoroughly the way our forests are managed and suggest ways to reduce the threat of devastating fires," Gov. Jerry Brown announced Thursday. Los Angeles Times
Plus: Two bears that were badly burned in last month's Southern California wildfires are back in the wild after doctors used alternative treatments, including acupuncture, to save them. Associated Press
CALIFORNIA CULTURE
Keeping it real: Young rappers are getting honest about doing battle with depression, drug addiction and suicide. Los Angeles Times
Plus: A USC study finds that more than 90% of recent Grammy nominees are men. The awards take place Sunday. Los Angeles Times
Bland fired: USC has fired associate head coach Tony Bland in the aftermath of his arrest last fall in the college basketball bribery and corruption investigation, his attorney told The Times. Los Angeles Times
More cars! "Apple Inc. has expanded its California self-driving test fleet to 27 vehicles as it accelerates efforts to catch up with competitors such as Alphabet Inc.'s Waymo." Bloomberg
CALIFORNIA ALMANAC
Los Angeles area: Sunny, 66, Friday. Sunny, 75, Saturday. San Diego: Sunny, 63, Friday. Sunny, 71, Saturday. San Francisco area: Partly cloudy, 53, Friday. Partly cloudy, 57, Saturday. Sacramento: Partly cloudy, 51, Friday. Partly cloudy, 57, Saturday. More weather is here.
AND FINALLY
Today's California memory comes from Gary Dennis:
"My wife and I moved to North Hollywood, near Victory Boulevard, in May 1973. When we told people where we lived, they often responded, 'You live in the Valley.' We had no idea what they meant. We thought a valley had something to do with mountains, and there were no mountains to be seen in any direction from our home. Then, one August day when the Santa Ana winds blew the smog out of the Valley, we saw the mountains for the first time. It took almost four smog-filled months before we discovered we did indeed live in a valley."
If you have a memory or story about the Golden State, share it with us. Send us an email to let us know what you love or fondly remember about our state. (Please keep your story to 100 words.)
Please let us know what we can do to make this newsletter more useful to you. Send comments, complaints and ideas to Benjamin Oreskes and Shelby Grad. Also follow them on Twitter @boreskes and @shelbygrad.
---