Newsletter: Essential California: LAPD raids home of ex-USC gynecologist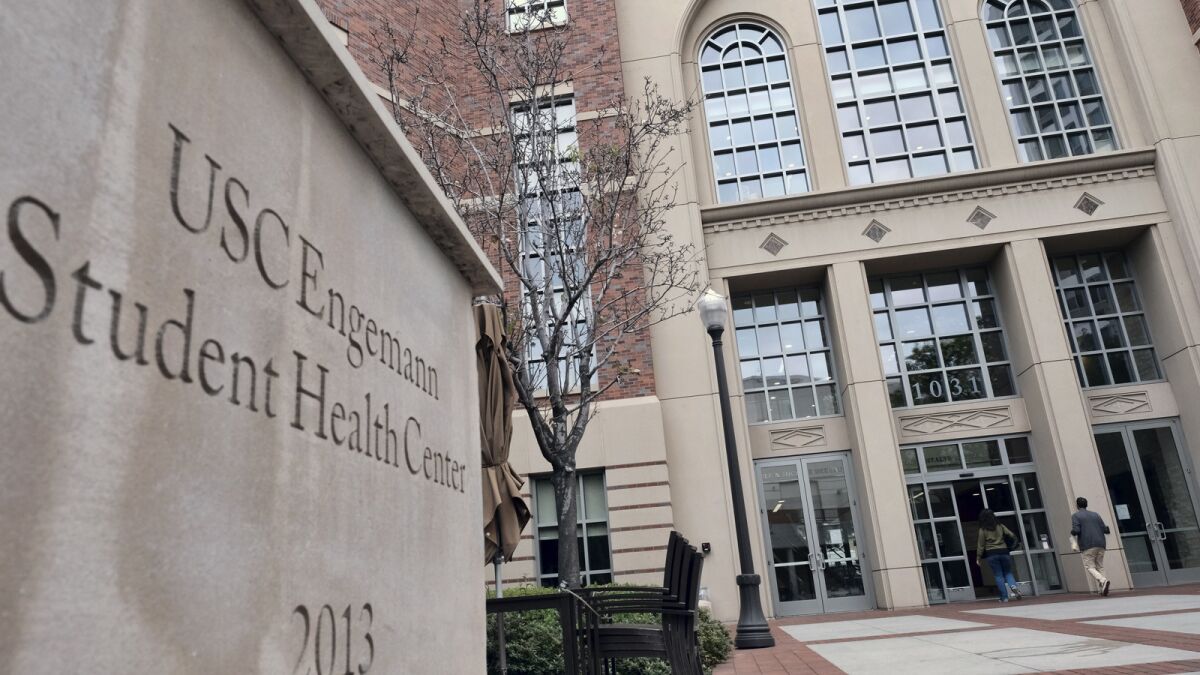 Good morning, and welcome to the Essential California newsletter. It's Friday, June 15, and here's what's happening across California:
TOP STORIES
Police detectives on Thursday served search warrants at the Los Angeles home of a former USC gynecologist and a storage facility as they investigate allegations that he sexually mistreated patients. Detectives said that 135 women have come forward to report issues with the doctor, who has denied any wrongdoing. Los Angeles Police Department Capt. Billy Hayes said sex-crimes detectives talked to George Tyndall and seized evidence during the search but did not provide further details. Los Angeles Times
— More women describe painful experiences with the USC gynecologist. Los Angeles Times
Pushing back
As California moves ahead with policies to limit law enforcement cooperation on immigration-related offenses, U.S. authorities are responding in kind. U.S. Customs and Border Protection agents in recent months have refused to transfer some suspects wanted by California law enforcement agencies for crimes including sexual assault and drug possession. The new approach breaks long-established law enforcement custody protocols and is escalating tension between the federal government and California over the so-called sanctuary state law. Los Angeles Times
Man with a plan
So, who is Tim Draper, the man behind breaking California into three pieces? A third-generation Silicon Valley venture capitalist, Draper has a reputation as an eccentric entrepreneur. He was an early investor in tech companies that hit it big, including Skype. And he's now one of the nation's most ardent supporters of cryptocurrencies like bitcoin. Los Angeles Times
— There have been many, many efforts to break up California over its history. KPCC
— Though the bid is a longshot, the bond markets are nervous. Bond Buyer
— Is this really about "structural apartheid"? CNN
— How did they determine where to draw the lines? Sacramento Bee
— Where does Republican governor nominee John Cox stand? San Francisco Chronicle
Get the Essential California newsletter »
L.A. STORIES
Landmark idea: L.A. used to tear down its landmarks when developers wanted the land. Now, with the effort to preserve CBS Television City, there is a push to keep what is historic while allowing development everywhere else. Los Angeles Times
Sidewalk vendor: Making Puebla-style food for the L.A. masses. Los Angeles Times
— The political importance of an "Authentic Asian Halal" eatery in Inglewood. L.A. Taco
CRIME AND COURTS
Better data: After a state audit that faulted law enforcement agencies including the Los Angeles Police Department for underreporting hate crimes, Gov. Jerry Brown has signed a measure that seeks to improve the investigation and tracking of incidents based on race, gender and sexual orientation. Los Angeles Times
Comedy queen: You can be one of Hollywood's hottest comedians and still feel racially profiled by police. The Hollywood Reporter
Lessons learned: Is junk science behind tough-love camps for youth? San Francisco Chronicle
Compensation idea: A proposed bill related to the state budget may make victims of the Golden State Killer or East Area Rapist eligible for restitution from a fund used to compensate victims of crimes. Los Angeles Times
GOVERNMENT AND POLITICS
Making history: Next month, London Breed will become the first African American woman to lead San Francisco after a hard-fought campaign. "We have to build more housing, and I will be relentless in my pursuit to get the job done," she said. Los Angeles Times
— Why this election is such a big deal. San Francisco Chronicle
Framework: The broad strokes of a new budget for California state government were sent to Gov. Jerry Brown on Thursday, one day before the deadline for action and topping out at some $200 billion in spending and cash reserves. Los Angeles Times
On her way: Ivanka Trump will travel to California next week to attend fundraisers with House Majority Leader Kevin McCarthy. Los Angeles Times
At risk: More concerns about the seismic vulnerabilities of high-rise buildings in San Francisco. New York Times
CALIFORNIA CULTURE
Going to extremes: Reaching the finish line is never guaranteed in ultra running, in which athletes attempt far-longer distances in often harsh conditions. One popular ultra race begins in the searing heat of Death Valley and climbs 8,300 feet to the base of Mt. Whitney. Los Angeles Times
Epic battle: It's the palm trees versus the ocean on the Orange County coast, and the ocean is winning. Orange County Register
No business like show business: Amid the latest round of media mergers, how good a business is entertainment today? Profits are possible, but also a lot of headaches. Wall Street Journal
Fight, fight, fight: A spinoff of "Roseanne" without the star? There is a history there, and many complications. Los Angeles Times
Legendary: He once got a personalized license place, and then got 2,500 parking tickets. California Sun
CALIFORNIA ALMANAC
Los Angeles area: partly cloudy, 78, Friday; partly cloudy, 70, Saturday. San Diego: partly cloudy, 71, Friday; partly cloudy, 66, Saturday. San Francisco area: sunny, 66, Friday and Saturday. Sacramento: sunny, 86, Friday and Saturday. More weather is here.
AND FINALLY
Today's California memory comes from Julia Gombert:
"I had been on location in Florida. When I was there, public beach access was almost impossible. After happily returning home, my stepdaughter and I traveled to San Francisco for a family visit. While traveling north along our beautiful coast, I was grateful it was still perfect and wild. Our California coast is one of out greatest treasures!!!"
If you have a memory or story about the Golden State, share it with us. Send us an email to let us know what you love or fondly remember about our state. (Please keep your story to 100 words.)
Please let us know what we can do to make this newsletter more useful to you. Send comments, complaints and ideas to Benjamin Oreskes and Shelby Grad. Also follow them on Twitter @boreskes and @shelbygrad.
---