Newsletter: Essential California: Why the fires are so bad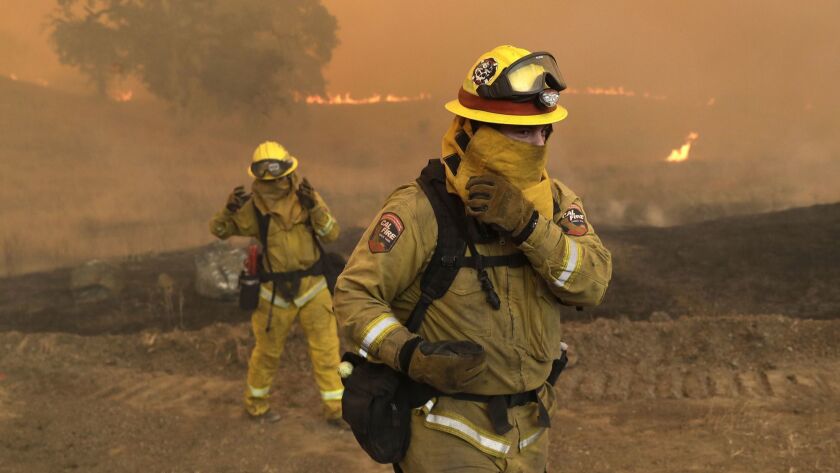 Good morning, and welcome to the Essential California newsletter. It's Tuesday, July 31, and here's what's happening across California:
TOP STORIES
California is in the midst of its worst string of wildfires — dozens dead since October, with more than 10,000 structures lost from San Diego to Redding. There are many reasons why the last 10 months have been so bad for California. But there's also a common factor playing a key role: As the world's climate changes, the state has been facing extreme heat, the likes of which California has never seen before in the modern historical record. "The temperatures have just been almost inexorably warmer all the time," said UCLA climate scientist Daniel Swain, and fires "burn more intensely if the fuels are extremely dry." Los Angeles Times
-- Authorities on Monday were hoping that a slight break in the heat this week could help them gain control of a number of wildfires that have so far scorched more than 200,000 acres and killed eight people across California. Los Angeles Times
-- Eight people have died this year in California wildfires. Here are some of their stories. Los Angeles Times
-- And here are the facts and figures about the various fires burning across the state. Los Angeles Times
Meet the McCues
Lawrence and Carla have been married for almost 31 years and along with their dog Oreo, they're homeless and living in their car. For months, they've been parking on the Department of Veterans Affairs' West Los Angeles campus. Like many senior citizens and veterans, their journey into homelessness was filled with health emergencies, financial upheaval and a persistent struggle to find a place they could truly call home. Los Angeles Times
Plus: Architects were asked to design appealing homeless shelters on a $1-million budget. Here's what they came up with. Los Angeles Times
Street racing for the retweets
Popular Instagram accounts, YouTube channels and other forms of social media have served as a bullhorn for Los Angeles' street-racing community in recent years, law enforcement officials and members of the racing community say. The larger a car club or race organizer's online following, the easier it can draw large crowds to illegal events. The platforms have helped expand Los Angeles' reputation as a proving ground for car clubs from as far away as San Bernardino and Oakland, allowing regional rivalries to gain steam through online wars of words and video clips of racers performing on their home turf. Los Angeles Times
Get the Essential California newsletter »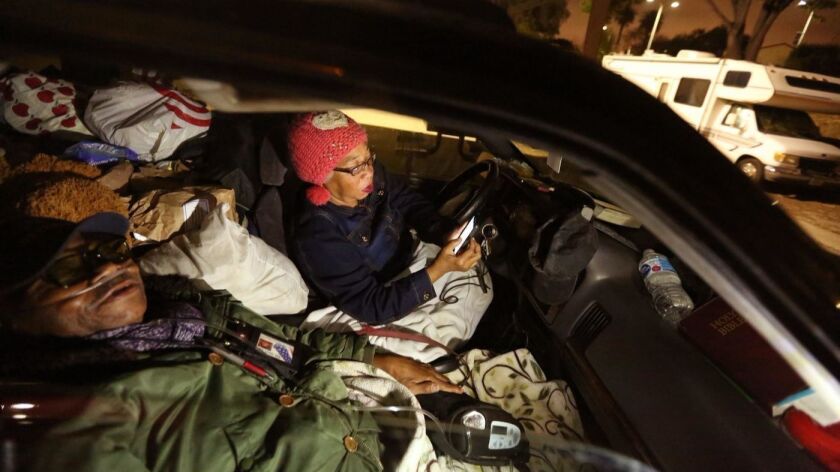 L.A. STORIES
Eye on CBS: Leslie Moonves' future as chairman and chief executive of CBS Corp. took a precarious turn Monday after the company's board of directors took the extraordinary step of launching an independent investigation into allegations that he sexually harassed several women more than a decade ago. Los Angeles Times
Hollywood talk: As the "Guardians of the Galaxy" cast calls for James Gunn's return, Chris Pratt praises him as "a good man." Los Angeles Times
History lesson: When the Jewish bakers of Boyle Heights were radical socialists instead of Trump supporters. L.A. Taco
Wild time at the ballpark: Dodger Stadium experienced a couple of unusual things: First, a fire; then, a blackout causing a delay. Los Angeles Times
IMMIGRATION AND THE BORDER
By the border: "Hundreds of bodies are found in the Sonoran Desert every year. Activists say that number will rise following the Trump administration's immigration crackdown." BuzzFeed
Fast facts: Eleven things to know about living in a "sanctuary state." California Sunday Magazine
POLITICS AND GOVERNMENT
RIP: Ron Dellums, a fiery antiwar activist who championed social justice as Northern California's first black congressman, died Monday of cancer, a longtime advisor said. He was 82. Los Angeles Times
Frustrating: "Drivers are fed up with the DMV. So are California lawmakers." Sacramento Bee
Full steam ahead … maybe: "In the face of sharp opposition and questions about how to pay for it, construction of California's high-speed rail line is roaring ahead." New York Times
CRIME AND COURTS
Tragic: Officials identified one of two men killed Saturday night during a drive-by shooting outside a liquor store in South Los Angeles. Los Angeles Times
Ooooof: Actor Ving Rhames recalls the time in 2016 when police came to his Santa Monica home responding to a 911 call of a "large black man" burglarizing his house. Los Angeles Times
"Cowards": "After 33 years investigating wildfire arson, one thing has become crystal clear to Los Angeles County Sheriff's Det. Ed Nordskog: 'Wildfire arsonists are not like your average thug.'" Mercury News
THE ENVIRONMENT
More on the fires: Meteorologists usually take issue with the term "fire tornado" — but in this case, the phrase seems to be accurate. Also known as fire whirls, these events are typically much smaller than typical tornadoes. Scientists believe that a variety of factors, including climate change, are creating much larger and destructive fire whirls. KQED
CALIFORNIA CULTURE
Music moves: Universal Music Group's parent company plans to sell up to 50% of the venerable record label, looking for a major financial windfall after the rapid rise of online streaming helped revive the once moribund recorded music industry. Los Angeles Times
Changing course: From scooters to small bikes, Harley-Davidson is embarking on a dramatic shift away from its traditional motorcycles. Los Angeles Times
Adam and Eve: The Norton Simon Museum in Pasadena has won a legal fight to keep two masterpieces looted by Nazis. Los Angeles Times
Sad! Berkeley's famed Fantasy Studios, where the likes of John Fogerty, Green Day, Santana and more more recorded music, is set to close in September. San Francisco Chronicle
Taking the heat? Will Elon Musk answer tough analyst questions on Wednesday's earnings call? Los Angeles Times
CALIFORNIA ALMANAC
Los Angeles area: Sunny, 89, Tuesday. Partly cloudy, 88, Wednesday. San Diego: Partly cloudy, 81, Tuesday. Partly cloudy, 82, Wednesday. San Francisco area: Partly cloudy, 63, Tuesday and Wednesday. San Jose: Sunny, 82, Tuesday. Sunny, 80, Wednesday. Sacramento: Sunny, 96, Tuesday. Sunny, 93, Wednesday. More weather is here.
AND FINALLY
Today's California memory comes from Gretchen Allen:
"It's 6 a.m. in August 1984, and I'm 16 years old. I've been up since 5, prepping frozen fruit and chilled juices for the high school football team as they go into 'hell week,' a.k.a. '2 a days,' in this insufferable high desert heat. The beauty of the San Gabriel Mountains, looming above us and giving a moment of comfort as the sun slowly rises from her base, is breathtaking. The guys lumber in, all fortified with fresh summer growth spurts and sexy tans, avoiding eye contact as they can't afford the distraction. We pass out the cool, hydrating treats in silence, as the promise of a new school year fills our ears with the clap of the pads and the groans of defensive linemen. I wonder to myself how many other schools across the Golden State are eating frozen watermelon right now as I contemplate my last year of high school. I have never felt more alive."
If you have a memory or story about the Golden State, share it with us. Send us an email to let us know what you love or fondly remember about our state. (Please keep your story to 100 words.)
Please let us know what we can do to make this newsletter more useful to you. Send comments, complaints and ideas to Benjamin Oreskes and Shelby Grad. Also follow them on Twitter @boreskes and @shelbygrad.
---