Newsletter: Essential California: Wildfires make it harder to get insurance
Good morning, and welcome to the Essential California newsletter. It's Friday, Aug. 31, and here's what's happening across California:
TOP STORIES
As California's wildfires grow larger and more intense, an increasing number of insurance companies are not renewing policies for customers who live in areas they deem too risky to cover. The state estimates that more than 1 million California homes are considered at high risk for wildfires, and officials expect a significant increase in dropped policies after California's destructive fire season this year. In fire danger zones, homeowners' complaints of getting dropped by their plans more than tripled between 2010 to 2016. The situation has whole towns scrambling to stay insured. Los Angeles Times
— He lost his family in the deadly Carr fire, which swept into Redding. He lives with the pain of those final phone calls, and pretends his loved ones are on vacation and not dead. It's the only way he can cope. Los Angeles Times
— What could California's new forest-thinning effort achieve, and will it reduce wildfires? CALmatters
Net neutrality bill advances
California lawmakers advanced an ambitious proposal Thursday to prevent broadband providers from hindering or manipulating access to the internet, bringing the state closer to enacting the strongest net neutrality protections in the country. The proposal prevents internet service providers from blocking or slowing down websites and video streams, or charging websites fees for faster speeds. But it also goes further than the old regulations and measures taken up by other states, placing new limits on certain data plans, and tasking the state's attorney general with investigating cases in which companies might be evading the rules. Los Angeles Times
A question of intent
California lawmakers have sent a proposal to the governor that would widely limit who can be charged under the felony murder rule, which allows defendants to be convicted of first-degree murder if a victim dies during the commission of a felony, even if the defendant did not intend to kill or did not know a homicide occurred. Los Angeles Times
WARNING!
A warning sign known to the state of California to cause anything from angst to "meh" has just become bolder and more specific. As of Friday, consumers have to be told which of the 900 or so compounds "known to the state of California" to cause cancer, birth defects or other reproductive harm are in what they buy, touch, breathe or drink in the course of their day. Los Angeles Times
Get the Essential California newsletter »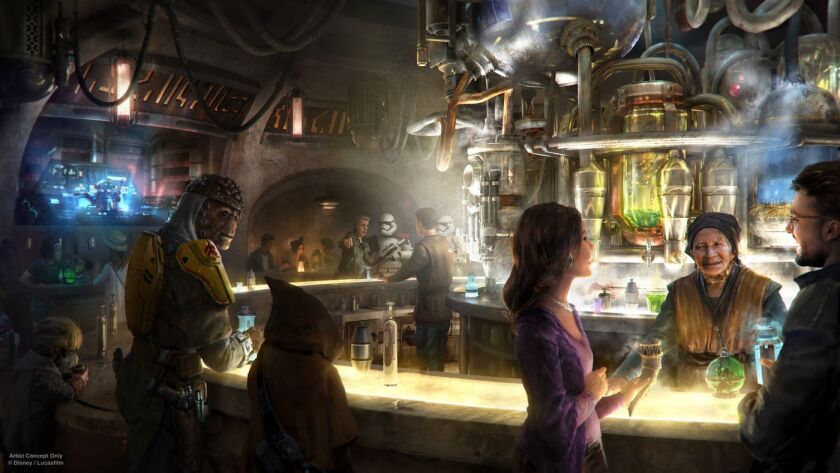 L.A. STORIES
Barred from re-entry: The artists who created some famous Oaxacan murals in Los Angeles now find themselves in immigration limbo. L.A. Taco
Scary: Six Flags Magic Mountain plans to open its 20th roller coaster next year, a thrill ride with side-by-side tracks so that two vehicles packed with screaming riders can zoom alongside each other, reaching speeds of up to 55 mph. Los Angeles Times
Making a comeback: Hop Louie was one of Chinatown's oldest restaurants when it closed in 2016. Now it's ready for a hipster rebirth. Los Angeles Magazine
CRIME AND COURTS
A dark tale: The crazy backstory of a fiery car crash in the Bay Area earlier this year. San Francisco Chronicle
Dilemma: For some immigrants here illegally, jail is the only way to avoid deportation. Fresno Bee
In Orange County: An Irvine man is facing criminal charges after authorities say he posed as a doctor and dispensed a medical diagnosis to a man about a growth on his neck. Los Angeles Times
Privileged communication: Why is the government recording conversations between attorneys and their clients? LAist
He said "enemy of the people": A 68-year-old Encino man was arrested and charged Thursday with threatening to shoot employees at the Boston Globe after the newspaper's editorial board pushed back against President Trump's frequent attacks on the press. Los Angeles Times
POLITICS AND GOVERNMENT
Boycott? A California Democratic leader's call to boycott In-N-Out Burger over a donation to the GOP is meeting its own resistance. Los Angeles Times
Two lines of defense: A closer look at Rep. Duncan Hunter's likely defense against corruption allegations. San Diego Union-Tribune
Future watch: The complexities of "white minorities" in politics, and whether it brings true power to the majority. New York Times
Perhaps not surprising: Sacramento County's sheriff does not seem to like the independent oversight his department is receiving. Sacramento Bee
A billionaire's fight: How venture capitalist Vinod Khosla became the villain of the California coast. New York Times
CALIFORNIA CULTURE
Three disputed songs: "Michael" was the first Michael Jackson album released since his death nearly a decade ago. Ever since, there have been questions about whether the King of Pop actually sung all the songs. The New Yorker
What would Walt say? Disneyland visitors who explore the new Star Wars: Galaxy's Edge expansion that opens next year will be invited to belly up to a dimly lighted Star Wars-inspired cantina where — for the first time in the park — they can order alcoholic drinks. Officials say the tavern, dubbed Oga's Cantina, will serve "libations for adults." Los Angeles Times
Yours, for $5.25 million: A real estate gem in Napa — a working ranch that supplies food to the French Laundry restaurant. Wall Street Journal
"Personal sleeping pods": In Silicon Valley, is the nap break the new lunch break? Wall Street Journal
CALIFORNIA ALMANAC
Los Angeles area: sunny, 84, Friday; partly cloudy, 83, Saturday. San Diego: sunny, 80, Friday; partly cloudy, 77, Saturday. San Francisco area: partly cloudy, 68, Friday; sunny, 65, Saturday. San Jose: partly cloudy, 80, Friday; sunny, 79, Saturday. Sacramento: sunny, 89, Friday; sunny, 91, Saturday. More weather is here.
AND FINALLY
Today's California memory comes from Karen Hall:
"I grew up in Coos Bay, Ore.; my maternal grandparents raised my sister and me. In the late 1950s, they told us that we were going to take a trip to California just so we could say that we had been there. We were so excited; I had read movie magazines, I'd heard about Disneyland and saw California as a state of bright lights, big cities and movie stars. We left early in the morning driving down Highway 101, which took us along the Pacific Ocean and through the small towns on the Oregon coast; we stopped for lunch along the way and then continued on. It seemed like such a long drive, were we never going to get there? Finally, we both fell asleep. We were awakened by my grandmother a short time later, telling us that we were in California. I raised up and looked out the window, such disappointment. There were just more trees, no big city, no bright lights or movie stars. They took us to the Trees of Mystery the next day as well as a small aquarium in Crescent City, then we returned home.
"Many years later, after I married, my husband joined the Navy; our first duty station was in Alameda; our next duty station was San Diego. He retired from the Navy at Mare Island and we finished raising our family here. California offers a little of everything: In a couple of hours, we can be at the ocean or in the mountains. We've been here permanently now since 1982 and I'm proud to call it home."
If you have a memory or story about the Golden State, share it with us. Send us an email to let us know what you love or fondly remember about our state. (Please keep your story to 100 words.)
Please let us know what we can do to make this newsletter more useful to you. Send comments, complaints and ideas to Benjamin Oreskes and Shelby Grad. Also follow them on Twitter @boreskes and @shelbygrad.
---