Newsletter: Essential California: Orange County supermoms, a political force to be reckoned with
Good morning, and welcome to the Essential California newsletter. It's Tuesday, Oct. 30, and here's what's happening across California:
TOP STORIES
On the eve of a heated midterm election widely viewed as a referendum on President Trump, some wealthy, educated suburban women in Orange County — like peers across the country — are going above and beyond showing up at marches and protests and voting to show disapproval for the president. They are cutting their own political ads, organizing candidate forums and hosting fundraisers that raise tens of thousands of dollars in a single night. Like Katie Kalvoda, 43, who retired in 2016 from running a real estate investment fund, many of the mothers she organized with were current or former working professional women with unparalleled organizational and multitasking skills. Los Angeles Times
The props on the ballot
A war between a healthcare union and the dialysis industry it wants to organize has morphed into one of the most expensive ballot measure campaigns in California history. Proposition 8, sponsored by the Service Employees International Union-United Healthcare Workers, would shrink the profits of hundreds of dialysis clinics across California. If enacted by voters, the measure would require clinics to provide rebates to insurers and pay a penalty to the state on business revenues that exceed 115% of certain costs to deliver care. Los Angeles Times
More from our voter guide:
-- A look at all 11 propositions California voters will weigh Nov. 6. Los Angeles Times
-- Unaccustomed as it may be, California stands at the center of the fight for control of the House. Los Angeles Times
-- "Global warming is nonsense" and the "tax scam is a massive middle finger" to families: House candidates on the issues. Los Angeles Times
-- Here are the candidates running for statewide office. Los Angeles Times
Get the Essential California newsletter »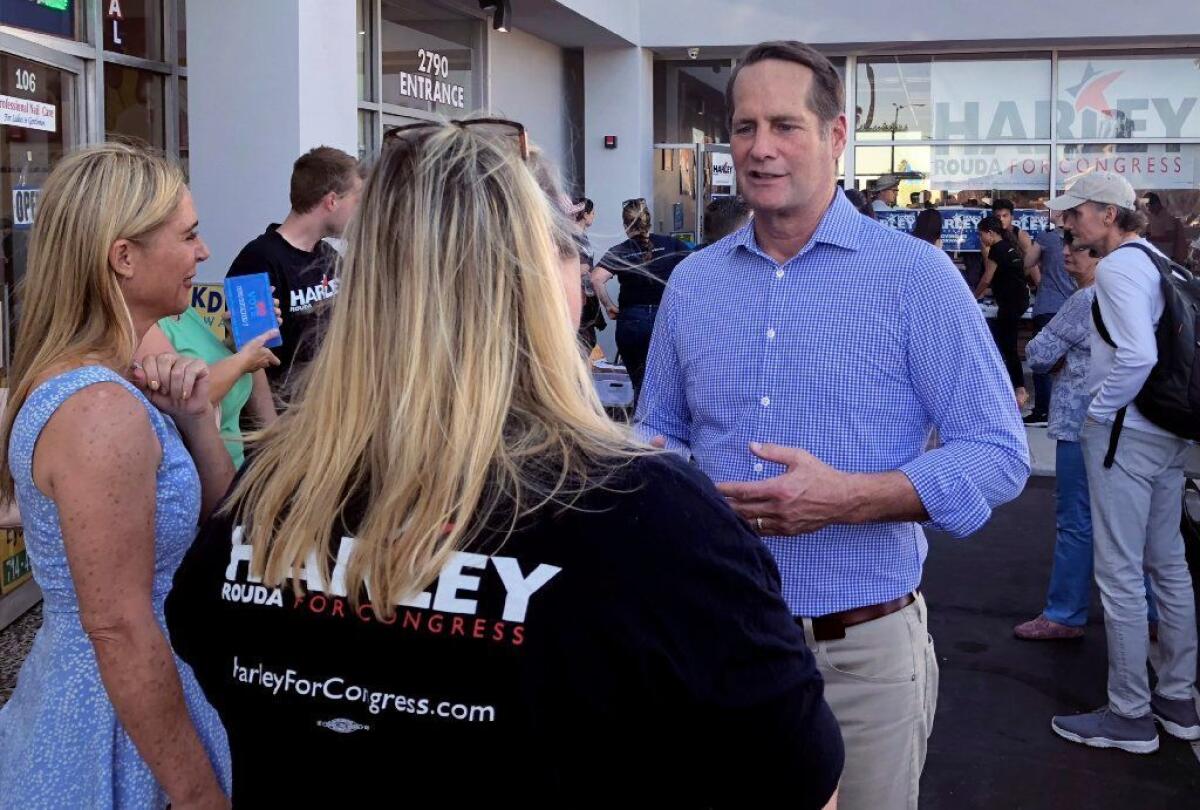 L.A. STORIES
See you in April! The Dodgers must figure out why the regular season was so right and the World Series went so wrong. Los Angeles Times
Brrr: Southern California is getting a taste of fall weather, with spooky dense fog early in the week and howling Santa Ana winds picking up just in time for Halloween. Los Angeles Times
Plus: Over the last eight years, Halloween has been the city's most dangerous holiday. Crosstown LA
Impact: Here's what happened after California got rid of personal belief exemptions for childhood vaccines. Los Angeles Times
IMMIGRATION AND THE BORDER
Just in time for the midterm: The Trump administration ordered 5,200 additional troops to the Southwest border Monday, more than doubling the military presence there and widening the Pentagon's role in domestic policing operations. Los Angeles Times
Plus: The federal government has begun shifting the burden of managing an influx of immigrant families on the border to local organizations and cities across the Southwest border. Los Angeles Times
New data: Statistics show the U.S. is granting asylum requests at the lowest rate in two decades. BuzzFeed
POLITICS AND GOVERNMENT
Down to the wire: In the final days of the close race between Democrat Harley Rouda and Republican Rep. Dana Rohrabacher, the most visible activity is on the Rouda side, as volunteers flood the district to make a last-ditch effort to flip the House and stymie Trump. Los Angeles Times
Poll talk: In this and every election, both sides devote huge resources to getting their partisans to turn out and vote — "motivating the base," in the jargon of politics. But in many close races in California and around the country, a different group, those who don't like either party or its leaders, could hold the decisive votes. Los Angeles Times
In profile: Gavin Newsom, the next head of the California Resistance. The New Yorker
Gearing up: With the help of a group of veteran Democratic advisors, the attorney for porn actress Stormy Daniels, Michael Avenatti, is deep into presidential campaign planning. Politico
CRIME AND COURTS
Huge payout: On the eve of a civil court trial, the Los Angeles Unified School District has agreed to pay $5 million to a young woman who was sexually abused as a teen by a middle school teacher. Los Angeles Times
Police shooting: Los Angeles police shot and killed a suspect who grabbed one officer's Taser inside the locker room of a Hollywood gym Monday morning, authorities said. Los Angeles Times
Big gunfight: Seven people were wounded early Monday in a shooting during a Halloween party at a crowded nightclub in Riverside. Los Angeles Times
Settlement time: The government has agreed to pay $55,000 to settle a lawsuit brought by a San Bernardino woman who was detained by immigration authorities despite repeatedly saying that she was an American citizen. Los Angeles Times
Another prop to watch: "A company backed by private equity is financing a campaign to repeal California's landmark criminal justice reform intended to help the poor." Washington Post
In New York: "Is the case against Harvey Weinstein in jeopardy?" New York Times
THE ENVIRONMENT
Cool story: "This man knows how to make drinking water out of thin air." LAist
CALIFORNIA CULTURE
Hollywood talk: Since buying DreamWorks Animation for $3.8 billion in 2016, Comcast Corp.-owned NBCUniversal has been pivoting the studio heavily toward TV. DreamWorks has aggressively ramped up production of animated TV shows in response to big demand from streaming services such as Netflix. Los Angeles Times
Architecture spotlight: Storybook Style houses can seem less like actual homes than Hollywood sets. As it turns out, that's where their story begins. Los Angeles Times
The uglier, the better: The World of Disney has expanded its ugly sweater offerings at Downtown Disney. Orange County Register
Plus: The Disney theme parks are apparently a favorite spot to scatter family ashes. Wall Street Journal
About the chef: Less than a year after being accused of sexual harassment by more than 30 former employees, disgraced East Bay chef Charlie Hallowell appears to be poised to open a new Berkeley restaurant this week. San Francisco Chronicle
CALIFORNIA ALMANAC
Los Angeles area: Partly cloudy, 75, Tuesday. Sunny, 81, Wednesday. San Diego: Partly cloudy, 71, Tuesday. Sunny, 76, Wednesday. San Francisco area: Sunny, 70, Tuesday. Partly cloudy, 70, Wednesday. San Jose: Sunny, 75, Tuesday. Partly cloudy, 78, Wednesday. Sacramento: Cloudy, 77, Tuesday. Partly cloudy, 78, Wednesday. More weather is here.
AND FINALLY
Today's California memory comes from Mike Hall:
"Since first visiting California as a truck driver in the mid-1980s, I have been a fan. This last year, my family and I spent two weeks traveling and exploring California's treasures. Between the great weather, beautiful landscapes, innovative concepts, and mostly friendly and happy people that get to live there, I have a hope to not have to say goodbye on one of our next trips. Stay unique, my friends, from a fan from Oklahoma."
If you have a memory or story about the Golden State, share it with us. Send us an email to let us know what you love or fondly remember about our state. (Please keep your story to 100 words.)
Please let us know what we can do to make this newsletter more useful to you. Send comments, complaints and ideas to Benjamin Oreskes and Shelby Grad. Also follow them on Twitter @boreskes and @shelbygrad.
Get our Essential Politics newsletter
The latest news, analysis and insights from our politics team.
You may occasionally receive promotional content from the Los Angeles Times.