Newsletter: Essential California: Gavin Newsom's big-budget, high-risk agenda
Good morning, and welcome to the Essential California newsletter. It is Saturday, Nov. 3. Here's what you don't want to miss this weekend:
TOP STORIES
Among all the grand promises made by Democratic Lt. Gov. Gavin Newsom during the 2018 governor's race — providing universal healthcare, stemming homelessness, making housing more affordable — his goal to increase early childhood education and development programs may be the one most in reach. Newsom is using the message as the closing argument of his front-running campaign for governor, a strong sign that it would be among the top priorities if he is victorious on Tuesday. Republican challenger John Cox, the son of a Chicago public school teacher, has criticized Newsom for proposing policies that he says rely too heavily on government funding. Instead, Cox says, the next governor should work to make California more affordable, which would allow families to pay for preschool and child care of their choosing. Los Angeles Times
In the Senate race: Challenging Sen. Dianne Feinstein from the left, Kevin de León has struggled and will probably lose next week. But is he just ahead of his time? Los Angeles Times
Plus: Voters are already streaming to the polls in record numbers, as both sides eagerly seek clues to the outcome. Los Angeles Times
And: A growing number of retired military officers are calling President Trump's decision to order troops to the Southwest border days before the midterm elections a damaging stunt that compromises the military's position as an institution that should be shielded from electoral politics. Los Angeles Times
Get more election coverage on our Decision California page.
More about that sudden retirement
Undercover officers tailing a high-ranking Los Angeles Police Department official witnessed him apparently engaging in sexual activity in a parking lot with a female subordinate, sources with knowledge of the investigation said. The official, Assistant Chief Jorge Villegas, retired suddenly after the surveillance operation caught him engaging in conduct that sources said may have violated the department's policy against sexual relationships with lower-ranking officers and also may have ran afoul of a criminal statute prohibiting lewd conduct in public places. Los Angeles Times
Staying in Dodger blue
Clayton Kershaw, the Dodgers' ace and the face of the franchise for the past decade, agreed on Friday to a three-year, $93-million deal plus incentives to remain with Los Angeles. Kershaw had two years and $65 million remaining on the seven-year, $215-million deal he signed with the Dodgers in January 2014, when he was coming off his second Cy Young season. He had the option to forgo those final two years and become a free agent. He had until 1 p.m. Pacific time Friday to make a decision. The new agreement adds another year and $28 million to Kershaw's current pact, though how the money will be spread remains unclear. Los Angeles Times
AROUND CALIFORNIA
Impact: Huntington Memorial Hospital said Friday that a veteran Pasadena obstetrician accused of sexual misconduct and other improprieties is no longer treating patients at the Pasadena hospital. Los Angeles Times
The scooter wars: Bird has filed a lawsuit against Beverly Hills, seeking to overturn the city's ban on motorized scooters that has led to the impound of more than 1,000 of the company's vehicles since July. Los Angeles Times
Yet another one: Federal authorities have found another suspicious package addressed to billionaire political activist Tom Steyer, an outspoken critic of President Trump, officials said Friday. Los Angeles Times
Defiance of hate: Members of an Irvine synagogue are united "in strength" after their building is defaced with anti-Semitic graffiti. Los Angeles Times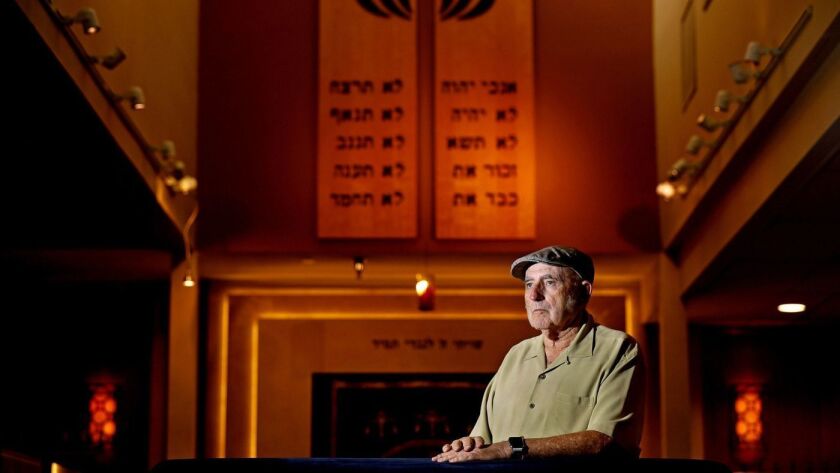 Interesting twist: "The campaign to tackle the Bay Area's housing crisis by forcing residential development in reluctant communities started with a simple idea: Sue the suburbs." San Francisco Chronicle
On the lam: A man suspected of committing a series of Los Angeles sexual assaults who was added to the FBI's Ten Most Wanted list earlier this year was recently spotted in South Carolina, authorities said. Los Angeles Times
Uh-oh: "In a meeting on Tuesday, following a winless two-game trip, Los Angeles Lakers president Magic Johnson admonished coach Luke Walton for the team's sluggish start to the season." ESPN
Weird: Border Patrol agents now have to ask everyone they catch if they're part of the caravan. Vox
On the ballot: The race for Los Angeles County sheriff pits the establishment incumbent Jim McDonnell against the lesser-funded political newcomer Alex Villanueva in a battle that was never supposed to be this close. Los Angeles Times
Gearing up for a win: "House Minority Leader Nancy Pelosi is quietly courting Democratic candidates who've kept her at arm's length throughout the campaign season, aiming to placate potential adversaries who could block her from the speakership." Politico
Something special in the chocolate: The Dulley brothers from Los Angeles worked as importers and exporters of fine chocolate. But hidden in their shipments was something else — large quantities of cocaine, according to federal prosecutors. Los Angeles Times
In the OC: Are Rep. Dana Rohrabacher's days numbered? Rolling Stone
No Chargers, new problems: "Two initiatives aimed at developing the former Qualcomm Stadium site are sometimes described as similar. They're really not." San Diego Union-Tribune
Google walkout: How employees staged a protest over the reported handling of sexual harassment complaints. New York Times
On the streets: Trailed by counter-protesters shouting "shame" and "vigilantism," Long Beach citizen patrols marched before dawn Friday through the beach community of Belmont Shore to protest what organizers called a growing criminal element in the community's homeless camps. Los Angeles Times
Something else to worry about: Daylight saving time ends and clocks will "fall back" an hour on Sunday. Some research shows the effects on health. USA Today
And: You can vote about revisiting daylight saving time via Proposition 7. But there are some tradeoffs to consider. Los Angeles Times
Get the Essential California newsletter »
THIS WEEK'S MOST POPULAR STORIES IN ESSENTIAL CALIFORNIA
1. A San Andreas fault mystery: The "slow-moving disaster" in an area where the Big One is feared. Los Angeles Times
2. This is why Belmont Shore residents plan on patrolling homeless encampments next week. Long Beach Press-Telegram
3. The Dodgers' Rich Hill rips Trump: "There was a mass shooting yesterday." Los Angeles Times
4. Here's what happened after California got rid of personal belief exemptions for childhood vaccines. Los Angeles Times
5. Here's a look at the 11 propositions California voters will weigh on Nov. 6. Los Angeles Times
ICYMI, HERE ARE THIS WEEK'S GREAT READS
Throwing it back: Digging into the Beatles' 50th anniversary "White Album" box set where it all began: Abbey Road. Los Angeles Times
So L.A.! "Rosecrans Baldwin had lived in Los Angeles for nearly four years before he realized he was missing out on something essential to life in the Southland. People all around him were trumpeting new self-improvement projects with cultish devotion: at boutique juice bars, at hallucinogenic ceremonies, at mysterious wellness retreats. So, in an effort to get in on the woo-woo, he tried everything he could for one month. And wound up in darker depths than he ever imagined." GQ
At the Phil: "What makes superstar conductor Gustavo Dudamel so good?" New York Times Magazine
Not on the ballot but on people's minds: Don't call Tom Steyer a mega-donor. The Ringer
Click! How hip-hop learned to pose for the camera. The New Yorker
Ooooof: The day the Chronicle discovered burritos will live in infamy. San Francisco Chronicle
Please let us know what we can do to make this newsletter more useful to you. Send comments, complaints and ideas to Benjamin Oreskes and Shelby Grad. Also follow them on Twitter @boreskes and @shelbygrad.
---